As the family money manager, I have an important responsibility which I never considered before last week. It's a responsibility to insure my wife knows how to get access to all of our financial information and important documents immediately, if something ever happened to me.
This is a serious topic many people don't want to think about or discuss, but its reality. I know because I recently experienced the passing of a family member. Amongst many things that are discussed between family members after losing a loved one is always a need to discuss finances.
Perhaps it's a family member who lived alone or a spouse who managed the money for the family. In either situation, there are a lot of questions about how to keep the lights on, where to find documents, or how to make a mortgage payment. If the finances are unorganized, it's up to family members, or a surviving spouse, to look through everything and come up with a plan.
While my wife participates and helps me in managing our finances, she doesn't know exactly how to get access to all of our accounts and where certain documents are located. This is alarming to me and therefore, I've taken some time to create a small plan to organize this information should she ever need it. I feel so strongly about this, I want to share it with you too.
Many of you may have already set your finances in order for this purpose, but if you haven't, I want to encourage you to avoid delay in performing this important responsibility. If you're not the family money manager, offer to help your spouse or share this post with them.
A Simple Action Plan
1. Set up a safety deposit box at a local bank. Both spouses' names should be included on the box (close family member if single). Note: I suppose a secure/fire proof safe could also be used, but I like the idea of finding a safe place away from our home.
2. Collect and include the following items for the safety deposit box:
Will and other legal documents
Car titles
Insurance policies for life, house and cars
Birth certificates
Social security cards
Passports
Extra keys to the house and cars
Financial information cheat sheet (sealed envelope)
Financial Information Cheat Sheet
Account information for retirement investments, banks, and mortgage (financial institution, purpose of account, website, online username/password & account number). Note: if you use a Word document on your computer to type up this information, make sure you delete all usernames and passwords from the document after printing it for storage in your safety deposit box. You don't want such important information to be easily accessible on your computer should it be stolen or misplaced.
Important contacts (financial advisor, lawyer, tax advisor, insurance agent, etc.)
Special instructions, if necessary
3. Visit the safety deposit box with your spouse or family member and show him or her how to access it. The money manager can collect all of the above information, but the spouse should either participate in filling the box, or be given a tour once the box is ready.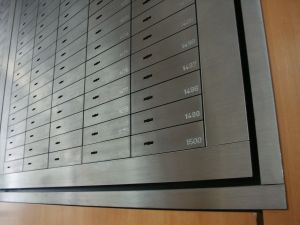 The idea is to include absolutely everything required to set finances in order, or maintain them if the money manager were to pass away or become ill. Ideally, by following this plan my wife could pick up my responsibilities without much effort or ask a close family member to help her in doing so.
It's a difficult subject to talk or think about, especially with your spouse. But having your financial information in such order will provide peace of mind and help insure the surviving spouse or trusted family member doesn't experience additional stress during what will already be a difficult time period.
What additional information, if any, would you include in the safety deposit box? Do you think the safety deposit box is a good idea, or would you store the information elsewhere?
Check out our previous posts on fire safes & safety deposit boxes, and "what if I die" spreadsheets.