Back in March I published the first post in what I call "The Digit + Axos Invest Experiment".
The series of posts was designed to show just how easy it can be to save and invest using today's automated saving and investing solutions.
To facilitate the experiment I opened two new accounts, both with free automated services that I discovered earlier this year.
The first account was an free online savings account from Digit, an account that helps take the busy work out of saving. It analyzes your checking account daily and at regular intervals it saves small amounts of money from your checking and puts it into your Digit savings account – without your intervention. It allows you to save money, a little bit at a time, without even realizing it.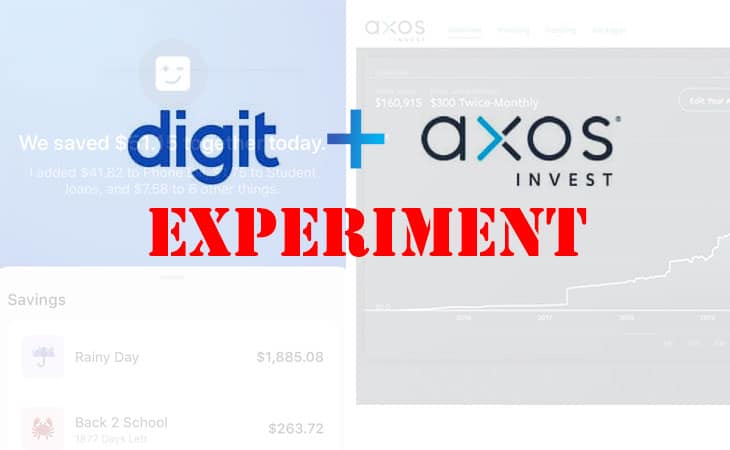 The second account is a free automated investment adviser from the folks at Axos Invest. When you have an investment account from Axos Invest, their system will allow you to regularly invest in a taxable or tax advantaged retirement account, and it will automatically invest your funds in a portfolio of low cost ETF index funds. It's a great new long term investing site, along the lines of Betterment or Wealthfront, but without any account management costs.
Digit and Axos Invest are both big on the idea of automating things in order to make them more efficient, more cost-effective and better for your bottom line. I liked the idea behind both sites, and after signing up I decided to take them on a trial run and to run an experiment.
Just how much could I save automatically for the year using Digit's tools? How much would I be able to invest at no cost using Axos Invest? How much intervention would I need to have – and just how much could I save over time? First, let's take a brief look at these two accounts.
Digit Savings Account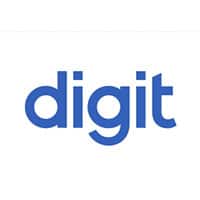 According to Ethan Bloch, the founder of Digit, the company was started to help people, "maximize their money, while at the same time driving the amount of time and effort it takes to do so as close to 0 minutes per year as possible"
So how does Digit work? You sign up for an account, and link your checking account. Digit will then analyze your income and expenses, find patterns and then find small amounts that it can set aside for you – without any pain for you.
So once you sign up and turn on auto-savings, every 2 or 3 days Digit will transfer some money from your checking to your savings, usually somewhere between $5-$50. Digit won't overdraft your account, and they have a "no overdraft guarantee that states they'll pay any overdraft fees if they accidentally overdraft your account.
Open Your Digit Savings Account
Axos Invest Investing Account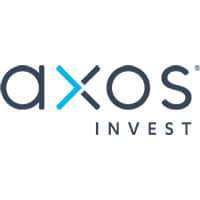 Axos Invest launched with the goal of being the world's first completely free financial advisor. Their founders had a mission "to ensure everyone can achieve their financial goals, which starts with investing as early as possible. This is why there is no minimum to start and we do not charge fees."
Axos Invest's founders understood that one of the drags on the typical person's portfolios is the fees that they're paying to invest, as well as the friction point of having to invest thousands of dollars to start. They changed that with no minimums to invest, and no fees charged for investing. Axos Invest will be releasing some premium add-on products for their users, which they will charge for, but a basic investing account will not cost anything beyond the mutual fund expense ratios associated with your investments.
What do you invest in with Axos Invest? Axos Invest will invest your funds based on Modern Portfolio Theory (MPT). Your investments will be diversified, low cost and recognize the value of long term passive investing by investing in ETF index funds. Plus, when you sign up now, you'll get a $20 Signup Bonus!
Open Your Axos Invest Investing Account And Get A $20 Bonus
The Digit + Axos Invest Experiment (D+AI Experiment)
So for my Digit + Axos Invest Experiment, the goal was not only to take these two free products for a spin, but also to show just how easy (and low cost) it can be to invest. There really should be no excuse to not get started.
When I started in early February my goal was to allow Digit to automatically pull money from my checking account and put it into my Digit savings. Whenever the amount in my Digit savings reached $75 I would transfer that money over to my Axos Invest account and invest it in their highly diversified set of ETF index funds.
Why was I doing it this way? I did it this way because Axos Invest has no minimums and you can buy fractional shares, so why not? I can transfer money in small chunks, and engage in a bit of dollar-cost averaging while I'm at it.
So how are things going now that we're in the 4th quarter?
The Experiment In Progress
After setting up my Digit and Axos Invest accounts I put the plan in action and allowed my Digit account to start saving on my behalf.
Digit started saving small amounts in my account when I first began. $5 here, $15 there. Over time multiple transfers and deposits ended up adding up to larger amounts in my Digit account. My first transfer to my investment account was about $186.
From then on every time the amount reached around $75-$100 or more, I transferred the money to Axos Invest.
Amounts Withdrawn And Invested So Far
I'm now around 8 months into my little experiment, and I've withdrawn my Digit savings balance and invested it in my Axos Invest Roth IRA 20 times.
Here are the amounts that I have withdrawn and invested, with the most recent investment first:
$445.41
$173.84
$419.66
$112.68
$155.20
$142.02
$74.36
$79.76
$121.75
$82.03
$95.67
$81.27*
$93.28
$109.47
$76.20
$99.08
$99.32
$90.88
$74.72
$186.00
A total of $2812.60 has been invested in my Roth IRA over these months.
Here's a screenshot from my Digit account showing my latest $445.41 withdrawal for the purpose of investing.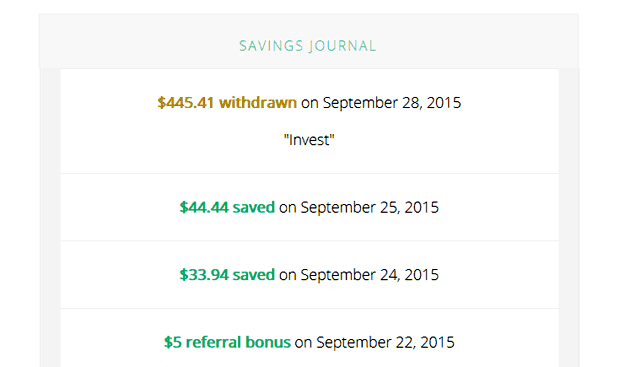 After withdrawing the money I then transfer it from my checking account over to Axos Invest. Here's a screenshot from my latest deposit with Axos Invest. The screenshot shows how deposits can be used to purchase fractional shares of the ETF index funds used in the account.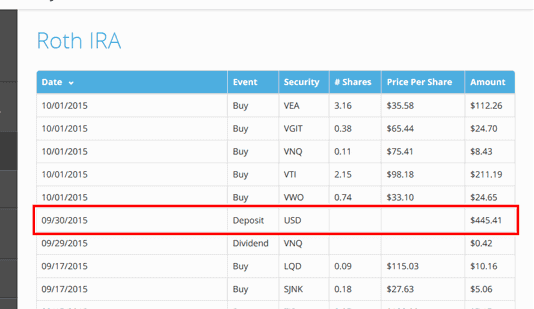 Now that the latest deposit of $445.41 has gone through, I have $2,750.06 invested at Axos Invest, slightly less than the amount deposited since the investments (and the markets) have gone down almost 2.5% since I started.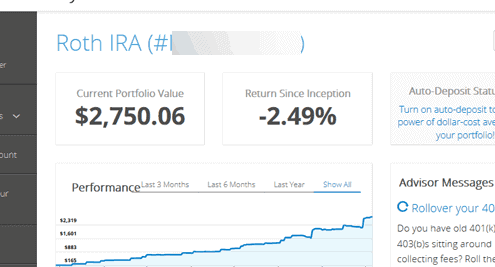 Here's my portfolio's asset allocation in my Axos Invest account. It is a bit more aggressive than in my other retirement accounts.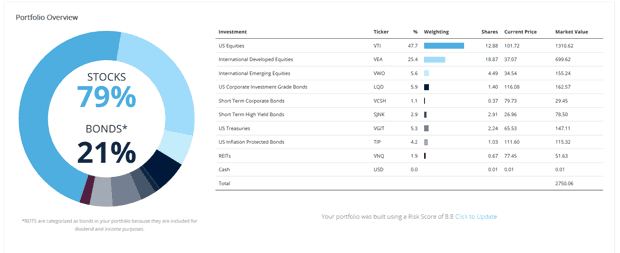 The funds that Axos Invest currently uses, and their expenses, are shown below (but are subject to change)
We'll see what kind of returns my account sees over the coming months/years, but I'm sure it will be close to what the market does. Since I'm not paying any account management fees to invest, I'll be coming out ahead as compared to some other automated investment advisers.
A Recap Of My Progress So Far
So how is the experiment going 3/4 of the way through the year? In my book it's been a rousing success. I've saved $2812.60 over the 8 month period. If we divide that over 8 months, it means an average saved of about $351.58/month.
Multiply the $351.58 by 12 months and it means that if I continue this experiment for an entire year, I could expect to see somewhere in the neighborhood of $4218 saved for the year.
If you look at that $4218 amount, it's about three quarters of the annual $5500 contribution limit for a Roth IRA. So essentially, 3/4 of my year's Roth IRA contributions are happening without me having to actually think about it.
The money is slowly coming out of my accounts – usually in amounts that don't even really register. The savings amounts tend to be in the $10-50 range, although a few have been $100+. It's amazing how fast those small amounts really add up!
The Power Of Investing Over Time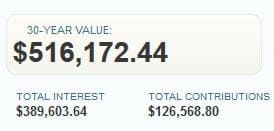 Let's say you were in your 20s and you were to do something similar to what I'm doing with this experiment. You could end up with a pretty nice start to your nest egg over time.
Just setup automated savings and investments, and in my case that $4218 contribution for the year when extrapolated out over 30 years at an average 8% interest, will end up as just over $516,000 over 30 years.
To me that's the power of long term investing. You can take small savings and investment amounts like this, and make it grow. In the end those small amounts end up adding up to a large lump sum in retirement. That's pretty powerful. Why not get started now?
Join In The Digit & Axos Invest Experiment
I'll be maxing out the Roth IRA this year when taking into account my small regular auto-investments with Betterment in addition to the Roth IRA from this experiment. Not too shabby for setting things on auto-pilot, and not even noticing the saving is happening!
Interested in joining the "Digit and Axos Invest Experiment"? I invite you to join in!
Open your accounts here:
After your accounts are open, sit back and wait for the savings to pile up – then invest! Piece of cake! Give it a shot and let us know how it goes!