My wife and I have had a whirlwind past couple of years where we've had to deal with health scares, hospital stays, new babies and a couple of minor car accidents.
It's definitely been a roller coaster ride, but one thing that all of the ups and downs have crystallized for me is the fact that life is fragile. You never know when the good Lord is going to call you home. You can be healthy one day, and in the hospital near death – as my wife was – the next.
Because of that it's important to make sure you plan ahead for the worst case scenario – just in case. If that time does come God forbid, at the very least you don't want your loved ones to have to worry about how they can access that online savings account, or who to call to claim your life insurance.
I've put together some of our important financial information in the past, but never in a format that my wife could probably make sense of if she needed to.
When we were re-starting our family budget this past week using You Need A Budget, she voiced the fact that she didn't feel like she had a very good handle on where all of our accounts were, and how she could access them if and when I were to pass away or have a disabling accident. Now that we've got a child to take care of in addition to just her, this has become even more important to her – and to me.
This week I've been putting together a spreadsheet that lists our financial life – all in one place. I'm calling it the Total Financial Picture Spreadsheet. Here's a look at what I'm including, and what I think you should too.
What Should Be In Your Total Financial Picture Spreadsheet
The idea behind this spreadsheet is to give your loved ones a snapshot of your total financial picture. It should give them the confidence they need to be able to carry on if you were to pass, without a lot of confusion.

Here are some of the things that I'm including in my Total Financial Picture Spreadsheet.
Bank account information: I'm including all of my checking and savings accounts, both at physical banks and online accounts. For each bank I'm including a url, phone, username and password, routing number and account number, as well as any other pertinent notes about the account.
Investment and retirement accounts: It's important to include all retirement accounts, brokerage accounts, peer to peer lending accounts and any other investments. As with banks I'm including url, user/pass, phone, account number and estimated balance in each account.
Credit card accounts: I listed the account type, the company the card is with, the url, user/pass, phone and an account number.
Mortgage information: List your first mortgage as well as second mortgage if you have one. Also include investment properties if you have them. Also include a url, user/pass, phone and account number.
Other Liabilities: Have other debts or liabilities that are yet to be paid off like a car loan or student loan? List them here as well as including urls, usernames and passwords, phone numbers and account numbers.
Insurance: A listing of all our insurance information from life and disability insurance (which you may need now) to homeowners, auto and health insurance. Contact information and account numbers included for reference. A writeup in the notes section on who to call and how to claim the benefits may be helpful.
List of assets: It can be a good idea to leave a listing of assets so that the surviving spouse will know just where they stand. I've listed normal things like our house, cars, wedding ring and other miscellaneous items. You may also want to list non-traditional assets. For me that includes listing this site which could be sold for a good sum of cash if needed. I included login information for this site and my hosting provider so that my wife or others helping her could continue the site or sell it.
Income:While the income may be going away with your death, some may be continuing. I listed all income sources on this tab including sources that will continue earning income passively – like this blog.
Expenses: I made a listing of regular recurring expenses that can be expected every month. Things like homeowners association bill, electric and gas bills, to homeowners and auto insurance. A listing of everything that is due every month so the surviving spouse can carry on without having to figure out what bills to pay when.
Other important information: I included another tab for "other" important information. Things you can include here vary – but I've included things like a login for my mint.com financial aggregator account, email account logins, photo backup service logins, rewards accounts and more. Figure out what other important information you need to pass on and add it.
Use A Password Software
It's important to have all of the important information included above, but in some instances you may want to be a bit more careful about security and not include all of your usernames and passwords in your spreadsheet.
What we have done at our house is to use a software called LastPass that is a vault for all of the important username and password information we want to have handy.
With LastPass you can setup emergency contacts within the software, which will give your trusted contacts access to all of your usernames, passwords and other important information in case of emergency.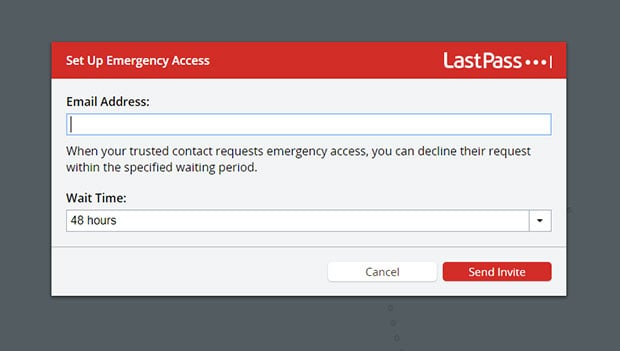 Just give them emergency access and then if you are incapacitated they can access your account within 48 hours unless you deny their request.
Just make sure that your emergency contacts know how it works.
Make Sure Your Loved Ones Have Access To Your Spreadsheet
Once you've added all of your important information into your spreadsheet the next thing you need to do is figure out where you're going to save it so that your loved ones can find it easily if you were to pass. You'll also want to make sure that it's secure.
For us once I'm done creating the spreadsheet I'm going to print a copy for my wife and leave it in her file folder in the filing cabinet (and show her where it is).
I'm also going to zip a copy and password protect it, and save it in our DropBox online storage (off-site in case of fire/flood). I'll also place it in my wife's "my documents" folder on her computer.
I may also put a copy on USB thumb drive and put it in the fire safe.
Want to use the spreadsheet that I set up? You can download it here:
Download "Total Financial Picture Spreadsheet"

Total-Financial-Picture-BMM.xls – Downloaded 20660 times – 16.50 KB
In Case Of Emergency Binder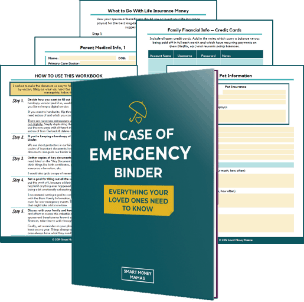 If you'd like something a little bit more comprehensive than our little spreadsheet above, our friend Chelsea over at SmartMoneyMamas.com has put together what she's calling an In Case Of Emergency Binder.
The Binder is a complete package that can help you plan for pretty much any eventuality. It's over 100 pages of simple, printable worksheets (in a fillable .pdf) to organize everything your family may need to know if you're gone.
It includes sections for things like household information, medical information, key personal documents, financial documents and logins, important contacts, important memories and more.
The binder costs $29, but it's well worth the cost in my opinion as it will lead to giving you peace of mind that your loved ones are covered in case the worst case scenario were to happen.
So there it is, the Total Financial Picture Spreadsheet. Are there things that I'm forgetting to include, or things that you would add as well? Have you already created your own spreadsheet – and if so, have you also talked with your spouse about what to do if you pass? Tell me what you think about all this in the comments.