We've been talking about Lending Club on this site for just over two years now. In that time I've been converted from a skeptic of the whole P2P lending genre to becoming a big proponent of it. I now think that it can be a great thing for both lenders and borrowers under the right circumstances.
Lending Club recently announced that they have now originated over $325 million in total loans and paid out over 22 million in interest to investors. They now have over 50,000 individual investors and 32,000 borrowers on the platform.
They've gone from the new kid on the financial block to becoming the next big thing for people looking to get a more stable investment with good returns, or to find a lower rate on a consumer loan. They are now, dare I say it, mainstream.
Check out my original Lending Club review
My Lending Club Investments Continue To Perform Well
My Lending Club investments have been showing good returns, with my net annualized return currently checking in at a nice 10.76%. That number has been slowly going up as I continually add new loans, mixing in some higher risk loans with my low risk loans.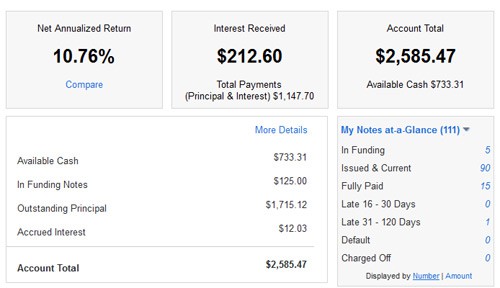 Net Annualized Return of 10.76%: Up from 10.53% in June, and 10.13% before that. That puts me in the 55th percentile. My returns are higher than 55% and lower than 45% of all investors. So that means I've already reached my goal of doing better than 1/2 of other investors. Now to make it better than 75% of other investors!
Number of defaults remains at zero: Despite all odds I'm still showing zero defaults on my account, despite having given out over 100 loans so far. I'm actually surprised I haven't had at least one or two. I do currently have one loan that is late, however. The funny thing is that once again the late loan is one of the Grade B loans, not one of the lower grade ones. Go figure.
Fifteen loans have been paid off early: Eight were A grade loans, and the other three were C grade loans, three were grade B and one grade E. Looks like grade A loans, while they're more likely to be paid back, may also be more likely to pay off early – reducing returns.
My account balance still going up: I currently have $2,585.47 in my account, with $730+ of that ready to invest. I'll be the first to admit that the last couple of months I haven't added many loans as I've been distracted by other things. I'll probably be trying to invest that money sitting in the account soon as I find loans that I like.
I'm still diversified by investing across a large number of loans: I've got 111 loans, with no more than $25 in each loan. That way if I do have defaults, while my return may go down, my risk will be minimized. Lending Club noted earlier this month, that 100% of their investors who have invested 800 notes or more had positive returns. Not too shabby, not everyone in the stock market can say that!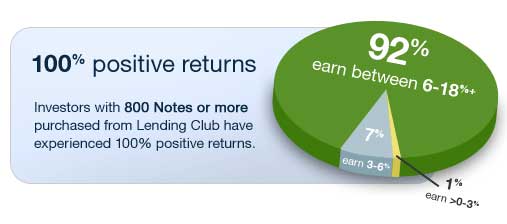 Stock Market Fluctuations: Could It Lead To More People Trying P-2-P Lending?
The stock market has been doing some wild gyrations over the past month or two, and because of that a lot of people are questioning whether they should still be in the markets. Even if they want to stay the course (as we are), they're still looking for some alternative investments now that will be a little less volatile but still show a good return.
I think that Lending Club, Prosper and other P2P lending institutions may benefit from the stock market being so up and down. Lending Club and Prosper have both had a bunch of good press lately, and seeing as how investing in Lending Club has been proven to be a relatively stable performer for those who have a diversified portfolio, I think a lot of people will be drawn to the relative security of a Lending Club portfolio.
Does that mean investing in Lending Club is a sure thing? Of course not. But at least in my own situation I've seen that a properly diversified portfolio with handpicked loans will show good returns. I've yet to see a down month, or a single default! What stock market investor wouldn't give his or her right leg to see that kind of stability!
Lending Club Gets $25 Million In New Funding
Lending Club continues to have good news after good news. After reaching their 4th anniversary earlier this year they have now announced that they've secured another round of funding, and that their post funding valuation is now at $275 million, up from 80 million last year. From WSJ.com
Lending Club, the peer-to-peer online loans marketplace, said it has raised a new $25 million round of funding that pegs the start-up at a $275 million post-money valuation, up from $80 million last year.

The financing comes as Lending Club has gathered momentum. The start-up, which matches lenders and borrowers online, has seen the loans it has originated grow 125% on a compound annualized rate while revenue has risen 180% year over year and is expected to reach $15 million to $20 million this year, according to Laplanche. Lending Club now has 50,000 individual investors and 32,000 borrowers on its platform, he said. Overall, Lending Club has surpassed $325 million in loan originations and its average loan size is $10,000, he added.
I think investors in Lending Club see the company's potential, and are jumping in on the ground floor with this company as it continues to grow.
Lending Club T-Shirt Giveaway!
A few weeks ago Lending Club was nice enough to send me a swag pack after I won a contest on Twitter. Included in the pack was a nice messenger bag (which I use every day now), some pens and a nice Lending Club T-shirt similar to the one you see to the right.
Problem is, the t-shirt doesn't fit me as it's a size large, and as a tall guy at 6'4″, I wear a slightly larger size. My loss is your gain as this week I'm giving away my Lending Club T-shirt!
For your chance to win all you have to do is:
Leave a comment on this post telling me whether you think Lending Club is now mainstream, and whether more people will be using them now that the stock market has started showing such volatility. Feel free to also tell us how it's performing for you if you're already signed up!
For a second chance at winning, sign up for Lending Club through this post, and then leave a comment telling me that you've done so!
I'll be choosing a winner of the contest on Friday, August 19th at 12pm via Random.org. That's it!
UPDATE: Imad is the winner! Congrats!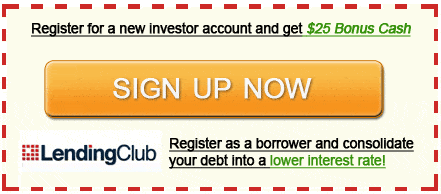 Do you think that Lending Club has arrived as a legitimate investment option? Do you think it will see an influx of dollars as people look for more stable investment options? Tell us your thoughts in the comments!