I've been writing about peer to peer lending on this site for some time now, mainly in reference to the P2P lending company called Lending Club. I've been lending money with the site for around 2 years, and to date I've enjoyed some pretty amazing returns. Right now my net annualized return with Lending Club is sitting at about 11.13%, which would be tough to equal in the stock market right now.
My returns have only been increasing since I've started following advice from a variety of other sites like nickelsteamroller.com and SocialLending.net. I've increased my returns from about the 8.5-9% range to the 11.13% that I'm sitting at now. I'm starting to come around to the idea that diversifying some of your holdings and putting it into P2P lending may be a much more solid proposition than some had thought in the past. I think it can be an important component of a well diversified portfolio.
Because I'm becoming more interested in social lending through sites like Lending Club and Prosper I've also been looking into places where I can educate myself a bit more about how this whole peer to peer lending paradigm works, and how to maximize my earnings.
While doing some research on the topic I came across a variety of good educational resources that I thought I'd share today.
Peer To Peer Lending Educational Resources
First, there are a ton of great blogs out there that focus mainly on the social lending sphere. Many of these sites have been extremely helpful for me. Here are a few of my favorites:

MY LATEST VIDEOS
As with any topic, it's a good idea to read a variety of sources, and then bring together the best of what they're all telling you and apply it to your situation.
Video Education On P2P Lending
While the blogs mentioned above are great resources, to some degree they only scratch the surface of what's going on when you sign up to become a P2P lender. They also tend to jump from topic to topic without giving a comprehensive guide or tutorial on how social lending works. There really is so much more depth to the strategy of P2P lending.
This past week a blogging colleague of mine, Peter Renton over at Social Lending Network, launched a new educational resource for people wanting to take their social lending experience to the next level – and set themselves up to succeed.
He launched his new video course called P2P Lending Wealth System that is designed to help investors get the most out of their P2P lending investments. It goes over both the Lending Club and Prosper platforms, and looks at how to best use their tools, as well as outside tools to improve your returns.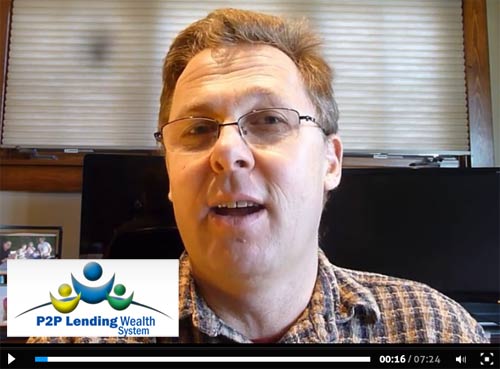 From an email he sent out last week, Peter describes the course:
Next week I will be launching the world's first ever video course dedicated to p2p lending. It will be called the P2P Lending Wealth System. It is a practical, hands-on course that provides investors with everything they need to be successful.

The P2P Lending Wealth System digs deeply into the investment platforms of Lending Club and Prosper. We talk a lot about loan filtering on both platforms and we also show investors how to leverage p2p lending statistics sites Lendstats.com and Nickelsteamroller.com.

The course will have some informational slides but I really wanted to leverage the power of screencasts where I take investors through the most important components on the various websites.
He goes on to talk about some of the topics that are covered in the video program. Among them:
An Introduction to Peer to Peer Lending: He gives a background and overview of the P2P lending space talking about it's dramatic growth and why it's done so well.
Risks of P2P lending: He discusses some of the risks involved in social lending and what to look out for. He also talks about some of the government regulations involved.
Investing with Lending Club: He goes over the Lending Club site in depth talking about their tools they have available to you, as well as some site specific things to be aware of.
Investing with Prosper: A tutorial of the Prosper site and tools, as well as strategies to make the best of Prosper.
Maximizing your ROI: To me this is the meat of the class as it talks about how to improve your returns when lending with Prosper and Lending Club. Important stuff!
Note Trading Platforms: He goes into how to use the note trading platforms at Lending Club and Prosper and how to use them to maximize returns.
Peter's investment strategies: Peter goes into some of his own strategies for making the best of social lending, and gives some of the tools and spreadsheets he uses to maximize his returns.
As mentioned previously I've already been using some of the strategies espoused by Peter, and my returns thus far have been awesome. I've now been watching the videos in Peter's course, and it really extremely helpful, even for someone who's been using Lending Club for a while like myself.
If you're seriously considering adding P2P lending to your investment portfolio (and you should!), I'd highly recommend checking out Peter's video course and the hours of training contained therein. You'll be setting yourself up to have the best chance at succeeding in this new and exciting investment arena. Want to hear more about the course first hand from Peter? Click on the banner or link below to check it out.