Between a tight economy and the demands placed on the sandwich generation (that group who finds themselves both helping to take care of their aging parents while continuing to raise their own children to adulthood), more and more families find themselves living in multi-generational households. According to Money Magazine, "Roughly 16% of the population is living in a house with at least two adult generations." This is the "highest level in 50 years."
While Americans don't typically embrace this living arrangement, it is common for many Asian and Hispanic families. My husband is from Japan, and his paternal grandparents lived with his family until they died. My husband's sister has a home right next door to their parents that his parents built so she could care for them in their old age.
My own family had a modified multi-generational arrangement. My grandparents lived in a 5th wheel trailer parked right next to our house from May until October, after which time they lived in Florida for the winter. While I still think fondly on the time I got to spend with my grandparents and the benefits of having them right next door, multi-generational living must be considered carefully. While it offers plenty of benefits, there are real downsides that might make the arrangement uncomfortable and inconvenient for others.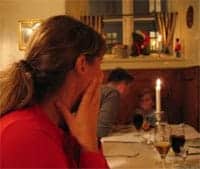 Is Multi-Generational Right For You?
Before agreeing to a multi-generational living arrangement, consider the following:
Do you and your parents get along? This seems obvious, but many people enter this arrangement falsely thinking they will be able to smooth over any difficulties. Living with your parents again can bring up some issues you and your parents had when you were younger. Sharing a space will take some getting used to and can naturally cause tensions until everyone gets used to the arrangement. Once you make this type of arrangement it tends to be permanent, so make sure you can live with your parents and their idiosyncrasies and they, yours.
Are both you and your partner agreeable to this? Even if you get along with your parents and can comfortably live with them, can your spouse? You and your spouse must be in complete agreement about this living arrangement to make it work. Unfortunately, having parents move in has caused tension in more than one marriage.
How much space do you need? Some people have no problem sharing living space with their parents. The parents simply take over a bedroom and share all other areas of the house. For many, though, this arrangement is too cozy. If you and your parents each need your space, consider living in a house with an in-law suite so your parents have their own place to retreat. Some make it work by building an entire small apartment for their parents above the garage, for instance. Just keep in mind that as your parents age they may be less likely to be able to navigate steps.
Benefits Of Multi-Generational Living
While there can be significant drawbacks to multi-generational living, there are also numerous benefits to multi-generational living.
Your kids have immediate access to their grandparents as they do to your children. Grandma and Grandpa may be agreeable to a night of babysitting so you and your spouse can have a night out. In addition, living in such close proximity can deepen the relationships between your kids and your parents.
Both generations can share living expenses, which will result in lower costs for both parties.
You can share more family meals. If you are busy working, your parents may like to have dinner on the table for you; alternatively, if your parents are prone to eat frozen meals because they don't like to cook, you can share your meals with them and make sure they eat nutritiously.
As your parents age, you can keep an eye on them and assist them as they need.
However, these benefits can be diminished if you or your parents are uncomfortable with sharing a space or if you don't get along. Multi-generational living can be a positive experience for many families, but think carefully about all of the consequences before agreeing; make sure your parents have also considered all of the repercussions. If both parties are agreeable to compromise, the situation may work very well for you.
Have you lived in a multi-generational household? Would you recommend it?