When you read blogs, you can always tell when the person writing the blog is passionate about the subject matter that they've chosen. Their writing sucks you in, and keeps you coming back. You know those blogs will most likely take it to the next level.
A blog that I've been mightily impressed with lately is the one written by Jeff Rose, an Illinois Certified Financial Planner(TM) and co-founder of Alliance Investment Planning Group. His blog, Good Financial Cents, is a financial planning and investment blog.
Jeff recently did a post for this blog, and I asked if he might be available to do a quick blog interview to talk about his life as a CFP, a veteran and as a new blogger. He graciously agreed to that interview, and promptly responded to my questions. Here goes: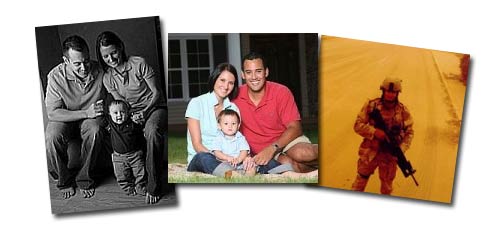 Jeff, can you tell us a little about yourself, your background, and why you started blogging recently?
First, I want to thank you for the interview. I've truly enjoyed Bible Money Matters and look forward to its continued success. Also, thanks for the great logo for my blog! (nice intro plug)
My background is a little something like this. I was born on the west coast (Los Angeles) but primarily raised in Southern Illinois. I graduated Southern Illinois University of Carbondale with a degree in Finance. While in school, I was also an intern at the local A.G. Edwards office (now Wachovia). Turns out I was in the right place at the right time, because upon graduation I was the youngest financial advisor to be hired out of the office to date. Once the buyout occurred with Wachovia, I had the opportunity to leave and start my own firm, Alliance Investment Planning Group, with three others. We just celebrated our one year anniversary and despite a horrible 2008, our firm has done well. It's been a crazy year all together. I've been married for four years to my beautiful wife and we currently chase around our 17 month old son who rules our world. I'm also a combat vet that did a tour in Baghdad from 2005 to March of 2006 while I was in the Illinois National Guard.
Blogging is something that I kind of just stumbled upon. I've always looked for neat ideas to market myself and my practice, in addition to educating the masses on basic investment and financial planning tips. I've done things in the local community, but knew there had to a bigger and better platform to do so. Then one day I learned about this thing called a "blog". One of the greatest discoveries of my life (second of course to my beautiful wife). When I first started Good Financial Cents, I never really intended to post more than twice a week. Well, that has totally changed and now I try to make a diligent effort to post 5 times a week. I know that my practice and family will have priority, so I hope my readers will be understanding if I don't keep up with that schedule:)
You're a certified financial planner. For those who don't know, what exactly does a CFP do?
To become a financial advisor you have to pass your Series 6 or 7 and pass the appropriate state exams. To become a Certified Financial Planner™ you have to have been in the business for at least three years and then pass a grueling 2 day exam that is administered by the Board of Financial Planning. Literally, the worst test I've taken in my life! The reason for being becoming a CFP® was to differentiate myself from all the other "financial advisors" out there. Currently there are 58,000 CFP® certificants and between 500-800k "financial advisors". For me, being a CFP® means that I am the complete advisor for the client. Whether it be investments, retirement planning, tax or estate planning, college planning or business retirement planning; I can take care of it. It allows me to be able to focus on every aspect of a clients life. There's nothing more rewarding that being able to help people make "cents" of their investments and guide them along life's journey.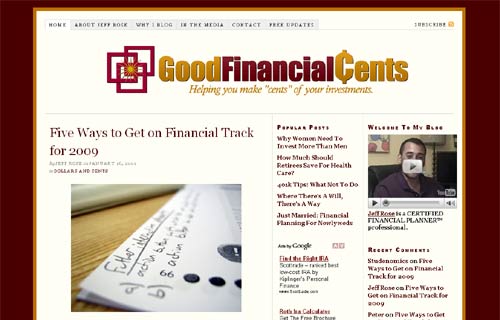 What are some of the most common questions that people have when they come to you for financial advice?
Believe it or not, many the questions are basic. How do rollover your 401k? What's the best way to save for my kids college? Now I've heard about the IRA, but can you explain the rules on the Roth IRA? And the most common question I get from retirees is, "Are we going to be okay?" That can be a tough one to answer depending on how well they did for themselves.
If someone were to come to you deep in debt and looking to get out, what steps would you suggest they take?
First, we need to understand why we got into debt in the first place. Saying "You need to pay those credit cards off", will not do anything if they don't understand what they are doing to themselves. I've had people hide their debt from me because they were ashamed.
If you truly want to get out of debt you have to face it head on. After we understand how or why we got into debt, following the Dave Ramsey's principles, we list all our debt and paper and then work towards paying them off one by one.
In these tough economic times, what are some steps you think people should be taking to protect themselves and their families?
I think what the past market has taught us even more is two things:
Being Diversified is Key
Be in Control of Your Finances
Being diversified is not just your 401k. You need to have a Roth IRA with different investments than your 401k (check here for a discussion of best roth ira rates). You need to have a good chunk in savings or in a CD Ladder for your higher amounts of cash. Maybe even consider diversifying your income so that your not dependent on one source. Being in control of your finance is not letting yourself fall too far into debt and once again making sure that the emergency fund is intact.
What are your goals for your blog in 2009? Where do you see it at this same time next year?
Readers, Readers, Readers! Just trying to get more. I've been blogging since July 08 but didnt' switch to WordPress until the 9th of last December. Since then I've seen my traffic and readers grow immensely. I just plan on doing what I'm doing and I think it will pay off. Shooting at the hip, I hope to have 300-500 subscribers by the end of the year. I don't know if I'm short changing myself, but I'll start modest for now :)
If you haven't subscribed yet, please do. Also, I have a book idea that I will try to launch in the next several months. It's hush hush for now, so stay tuned.