I've been writing about money on this site for going on 5 years now, and in that time we've made a lot of strides at our house as far as getting rid of debt, increasing our income, doing a family budget and starting to invest for our future. I think one misconception that a lot of people have, however, is that personal finance bloggers always have their act together. I'm probably the poster boy to show that's not always the case.
Life can get busy and stressful, and in the process far too often your finances can start to take a back seat to other issues that seem more pressing. I know at our house the last few years have been extremely stressful because of health issues that my wife and son have been going through, and I know all too well just how much financial things can fall through the cracks when times get tough.
Creating A Plan That Can Weather Bumps In The Road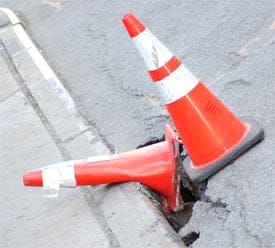 So what's a family to do in order to make sure that even when things get tough, the finances stay in relatively good shape?
First, your family needs to have a plan in place that is flexible enough and automated enough to function even when you're not paying as close of attention. At our house we've got things to a point where we don't have a ton of bills beyond the regular utilities and our mortgage, so those things are relatively automated.
Things like investing and saving happen automatically with direct debits from our accounts monthly, so those things continue to happen from month to month.
We have a budget in place, and we've been doing it for a while now, so we're pretty good about staying on top of it, although this is one area where we don't revisit it and review our spending as often as we should. We need to do family budget meetings more often.
Emergency Funds And Other Contingencies
In order to make sure that you're ready in case the worst case scenario happens, it's a good idea to plan ahead for life's contingencies. You can do that by having the following:
Emergency fund: We have a 6 month emergency fund where we save up to cover us in case of any number of scenarios, from a car breaking down to a job loss. It gives a lot of peace of mind knowing that we have that money there in case we need it.
Insurance:We have many different kinds of insurance to keep us from having catastrophic costs due to unforseeable events. We have health insurance, life insurance, disability, homeowners insurance and more.
Having that emergency fund and insurance will keep you from having to worry too much about unforeseen negative events, which a majority of us will have in any given 10 year period – as you'll be covered in most instances.
Making Things Automatic
As mentioned above, one important piece to making sure your financial plan stays on track is making parts of your finances automatic. We setup certain bills and payments to be automatically deducted from our accounts, so that we don't forget them every month. Things like utility bills, satellite TV and savings and investments are all deducted without need for our intervention. Some larger bills like our mortgage we still prefer to pay by sending in a check.
To a certain degree I think it's a good thing to make things automatic in your financial plan, because it take out the human element, and makes sure you don't forget a payment or neglect to send it in one month because you thought your spouse sent it.
On the other hand don't let the automation of your finances be an excuse to let things slide, and avoid having regular family budget meetings.
Realizing That You Need A Fresh Start
At our house I think for the most part we're in a pretty good place with our finances. We're debt free except the house, we're able to save and invest every month, and we're able to do it on one income while my wife stays at home with our son.
On the other hand, we have a tendency to get into ruts, especially when other things in our lives are going haywire. Case in point is probably right around the time that my wife was in the hospital for a month for a blood clot. For the following few months we really didn't pay as close attention to our finances. Because of that our budget was out the window, we started overspending on eating out and other categories, and we really weren't saving much of anything those months. We didn't get into an awful place because we had planned ahead with an emergency fund and insurance, but we also were spinning our wheels to a degree. We had to re-start our financial plan after those months.
We're getting to that point right now I think as well. We've had some stressful situations this year – from having my wife and son being sick most of the first few months of the year, to other family issues. We've been letting our budget meetings slide, and our spending has been getting a bit out of whack as well. We need to re-tool our budget, make sure our spending gets back into line and start getting back on track with monthly budget meetings.
Refreshing, Retooling And Restarting
So what can you do to get back in the game with your financial plan? Here's what we plan on doing:
That's where we'll be starting, and I think that will be a good start to get us back on track.
How about you, what do you do when your finances start to get a little bit out of whack? Tell us in the comments.