My wife and I went camping this past weekend, and we had a crazy time! We had decided to go camping a few weeks back, but we never made reservations anywhere. Our good friends, who we were going with, knew of a campground that they had been to years ago that always had an open spot. After checking their website we found that they guarantee that they'll always have an open site since they've got such a huge campground. We decided to go camp at this campsite.
The campsite was situated in a beautiful wooded area about an hour from our house. Our campsite was sitting beside a beautiful stream (see photo above). If that had been where it ended, we probably would have had a relaxing weekend, sitting around the fire, enjoying each other's company. What we didn't realize was that the campground is actually a huge party campground.
We should have noticed the signs when we pulled up. Near the front office there were dumpsters where people were supposed to leave their garbage when leaving. When we drove by the dumpsters were overflowing with beer cans and liquor bottles. That was clue number one.
When we pulled into the campground it was full to overflowing with college aged kids getting ready for a long night of partying. Many of them were drinking early in the afternoon, and most of them were already drunk. That was clue number two. Not a good sign.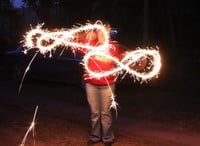 After setting up our tent at our campsite by the stream we had a good time hanging out, cooking dinner over the fire, and just chatting. Every once in a while a large group of tubers would float by our campsite on the river, drunk, spouting obscenities, laughing loudly and screaming. Apparently this campground was also known for tubing, which apparently draws a loud drunken crowd of party people. Duly noted.
Around midnight we decided that we were going to head to bed. Unfortunately for us the rest of the campers weren't quite so ready to hit the hay. We lay in our sleeping bags listening to the loud sounds of drunken revelers until the wee hours of the morning when I'm assuming they all passed out. The same thing happened both nights we camped there.
Needless to say we won't be camping at that campground again any time soon – at least not on a weekend when the crazies come out. How can people find this type of thing fun – getting drunk to the point of passing out and engaging in all sorts of horrible behavior? So sad.