As I've studied personal finance in the Bible, I've found four main financial principles that God emphasizes, repeatedly.
Those principles are contentment, hard work, stewardship, and generosity. As I've written about these principles and discussed them with others I've discovered that balance is absolutely essential. When we overemphasize any of these four principles it can be detrimental to how we are honoring God through our finances.
To get a better idea of what I'm saying, let's look at what happens when you focus too much on just one of these principles and downplay the rest.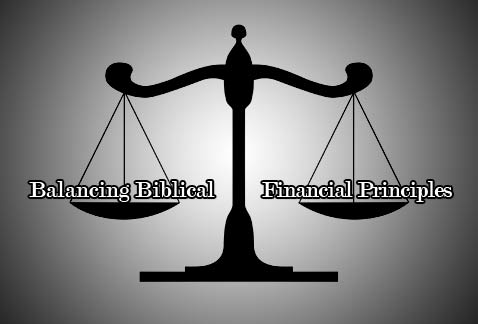 Contentment
I doubt very many of us are in danger of overemphasizing contentment. We do a pretty good job of satisfying all our wants and reaching for more. In its healthy form, contentment helps us spend less and keep our focus on eternal things. But we can create an imbalance in our efforts to honor God if we get a distorted view of contentment.
We can take contentment to the point of asceticism – inflicting a severe strictness against spending money on ourselves even to the point of denying our needs. Now I'll be the first to tell you this can be a good thing. It would not be terrible for you to choose to give more by deciding to live a simpler life. But if you do this without the love of God in your heart or if you develop self-righteousness from it, you can very easily be dishonoring God with your thoughts and actions.
Another way this plays out is the person who is so "content" and "spiritual" that they don't want to have anything to do with money. They don't want to think about it. They don't want to earn more. They don't want to touch it. Again, that's pretty extreme but I've seen it in some people. This isn't healthy either because it leads to ignoring the other Biblical principles.
Hard Work
When approached correctly, hard work helps us earn more money. Combine that with contentment and you've got a powerful tool in your hands. But what if we work so hard that we neglect our time with God? Or our family? Or helping others?
What happens when we make our work our identity instead of Christ?
Are we honoring God if we work hard just so we can have more for ourselves?
It's clear that focusing too much on work can skew our relationship with money and with God. I don't think I need to elaborate on any of the questions I've posed here. We've all seen the ill effects of a distorted view of work in our own lives and in the lives of others.
Stewardship
Stewardship has its place in helping us to use God's gifts well. It helps us provide for our own needs and the needs of our family by being responsible and following Godly wisdom. When used alongside contentment and hard work, stewardship puts us in a position to generously bless others.
On the other hand, overemphasizing stewardship can have at least three terrible consequences.
If we neglect generosity, stewardship can lead to greed and a focus on building up wealth for ourselves.
Focusing only on stewardship can make us preoccupied with the practical aspects of money while completely missing the spiritual implications and lessons in Scripture.
A Christian consumed by stewardship can begin to place all their trust in money instead of God.
Obviously, there's a real danger in becoming distracted by stewardship and ignoring God's desire for contentment, hard work, and generosity in our lives. We know that Jesus had severe rebuke for those who trust in riches. He said it is extremely difficult for a person who trusts in riches to enter the kingdom of God. That's a pretty strong warning against overemphasizing stewardship, yet we still do it!
Generosity
I include this one with some trepidation. Honestly, I think it would be difficult for us to be too generous. In fact, as I read what the Bible says about personal finance, I tend to find that God's desire for how we handle money points to this end. You see, as our hearts are changed by God's love, our lives will pour out that love in unselfish giving. It will look like ridiculous generosity to the world, but it's really only following the pattern of Jesus' life and teachings!
Jesus even called some of his followers to give away everything so they could follow Him. Talk about overemphasizing generosity! You can't go any further than that! And yet, it doesn't seem to be a requirement for all followers of Christ.
To be sure, we must have a loose hold on our possessions if we want to honor God in our finances. But we should also be careful to keep that balance with the other Biblical principles. If we give everything away without being sure that it is God's specific will for our lives, we can make ourselves a burden to others or neglect our family's needs. God can provide, but should we expect Him to provide if we go outside of His will?
There's also the danger of emphasizing generosity but neglecting love. As the apostle Paul said, "If I give all I possess to the poor and surrender my body to the flames, but have not love, I gain nothing." (1 Corinthians 13:3 – NIV) Giving apart from the love of Christ profits us nothing. We can talk about giving, think about giving, and try to give all that we have, but if we're not doing it from God's love working in us then we're completely missing the point!
Balance Is the Key
These four financial principles work so very well together when all are given proper attention. Keep it balanced and you'll see contentment and hard work help you widen the gap between your income and expenses. Add in some good stewardship (in the way of smart money management), and you'll be in a position to give extremely generously to those in need. But if we get distracted by focusing on one principle over the others, we can mess up God's plan for our finances and turn it into something awful.
How Do You Keep Your Balance with Money?
Let's talk about how we can keep a balanced approach to money that honors God in the comments below!