Welcome to Bible Money Matters MSN Smart Spending readers! Thanks for stopping by, we hope you'll sign up for free daily updates via RSS or via email, and check out some more of our content on how to budget, save, make extra money and live a debt free life!

Extra income
One thing I am a big proponent of on this site is making extra income wherever you can in order to improve your family's bottom line. I've done that here on this blog by monetizing the traffic I get through adsense ads, selling banner ads, becoming a part of affiliate programs, and a variety of other things. I've found that a little bit of income here and there can add up very quickly.
With that in mind I wanted to bring to your attention another great way to make a little bit of extra income. I was recently introduced to a site called Ciao.com. Ciao is a site where you can go to find consumer reviews of different products, movies, events, and a ton of other things. It's a great place to go if you're trying to find opinions about that digital camera you were thinking of buying, or that new xbox game.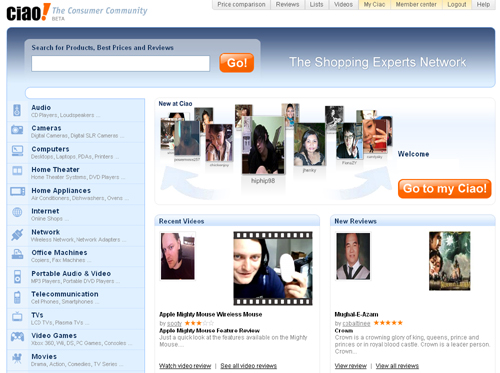 Writing reviews for money
I think I had heard of the site before a couple of days ago, but what I didn't realize is that not only can you write reviews of all the products you own, but you can get paid for writing those reviews.
Another blogger wrote about how they had written a few reviews and had gotten paid like $5 to do so. I thought I would try it out as well, and see how much I could earn within a few days.
The signup process was simple, it only asks for the basic information you're normally asked for when signing up for just about anything – Name, address, email, etc. Within short order I was on the site and writing reviews.
To write a review isn't very hard, you just need to write about your experience with the product, how you used it, what your impressions of it were, pros and cons, etc. A full review needs to be 150 words in order for you to get full credit.
In addition to writing that review it also asks you to rate the product on a scale of 1 to 5, and then give some advantages and disadvantages of the product. To finish it off you just answer some questions about the product through some drop down boxes – and y ou're done!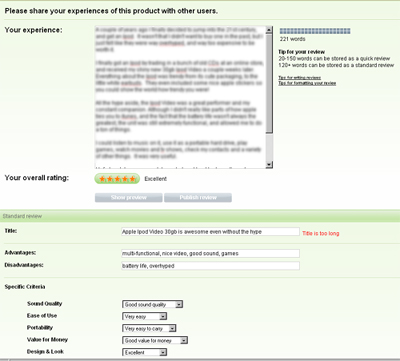 Cashing out
I've filled out quite a few reviews now within three days – about 8-10 per day. I wanted to see what the actual earning potential of the program was. As of today I've now earned over $30 from writing reviews ($1 per review it seems), as well as income from people reading and rating my reviews well. Not too shabby!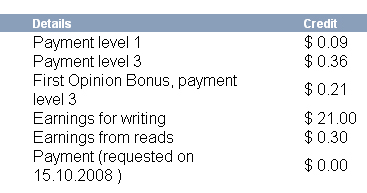 To get payment for the money that you've earned all you have to do is enter a paypal email address, and request payment when you've reached a point where you want to cash out. By the second week of the following month you should receive your payment. Quick and easy!
Writing reviews on Ciao.com isn't going to make you rich, but if you consistently write good reviews and follow up on it, you could definitely make enough money every month to make it worth your while.
Check it out here!
UPDATE: As of June 17th, 2009 Ciao.com will no longer be making referral payments, or payouts for reviews. Ciao.com is being integrated into the new Bing.com Shopping section, and will no longer be available at the old address as of July 1st. From the statement made by Ciao.com:
Ciao's shopping expert network will no longer be available on the old domain, Ciao.com, beginning July 1,2009. After this date you will not be able to log in to the Ciao community, read or write product reviews, or have access to other community features.