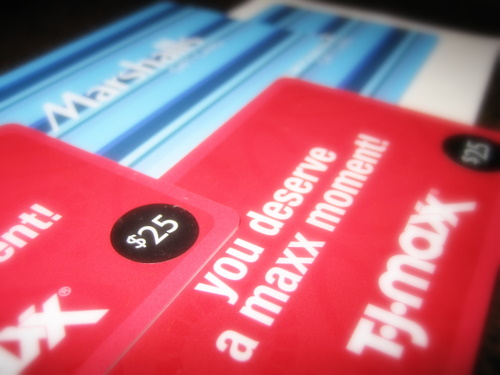 Christmas is over and the gifts are unwrapped. And now its time for some more shopping for a couple of lucky winners of $25 gift cards.
One of our winners will get a $25 gift card to Marshalls. The other will receive a $25 gift card to T.J. Maxx. I've already used my own gift cards, and you can get a bunch of great stuff for that much!
I chose our winners using random.org to ensure that it was fair.
And our winners are
$25 Marshalls Gift Card – Winner – Email Subscriber: mhabrych
$25 T.J. Maxx Gift Card – Winner – Alyssa Francis @ kingdomfirstmom.com
Congratulations to our two lucky winners. I'll be contacting your shortly via email to get your mailing address so I can send out your gift cards. Thanks everyone for participating, and I look forward to a wonderful 2009 here on Bible Money Matters!