This past week has been a rough one at our house. It all started last week when we heard that my wife's uncle had passed away. His passing wasn't a huge surprise as he'd been struggling with a variety of illnesses over the past year or two, and had been going slowly downhill. He passed on Tuesday, and his funeral was scheduled for this past weekend. He was 73.
Just that alone would have been sad enough. But then on Friday we had another shock as my wife's cousin passed away prematurely. She also had a history of some health problems, but hadn't really had anything life threatening recently as far as we knew. She was only in her fifties, and she leaves behind a son who recently turned 25.
They always say that bad news comes in threes, and today we had confirmation of that old saying. We got the sad news that my aunt Jan, my mother's sister, had passed away down in Illinois at the young age of 68. She also had health issues, but for the most part those problems were being managed – we certainly thought that there wasn't anything that would be life threatening in the short term. But apparently there was.
Aunt Jan, We'll Miss You

My aunt Jan had been heading out for the day today to see a local play that my cousin was directing. When they got to the show apparently my aunt started having problems breathing, and quickly lost consciousness. By the time they got her to the hospital her heartbeat was faint and she was no longer breathing on her own. She passed away shortly thereafter.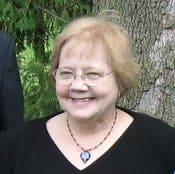 Aunt Jan's passing leaves a big hole in our family. She was always such a cheery person, who always had a kind word or a warm chocolate chip cookie for us nephews and nieces.
Jan never married or had children of her own, but she truly did love children. She was a teacher her entire career, shaping and molding young minds in the Illinois schools. We could see that teacher's no-nonsense attitude at times when we misbehaved, however, we knew she loved us.
She also was the kind of person who could make others feel special. She never forgot one of our birthdays. She would always send a card and a check in the mail. It will be strange not getting one on my birthday this year for the first time since I was a small child.
I remember doing crafts with her as a child, and eating all sorts of delicious food that she would make. She was a great cook.
Most of all I remember her laugh. She was always smiling and laughing, and having a good time with us kids, and the rest of the family.
I remember one night a few years ago all of the cousins were together at her lake home. We had gathered there to play games, talk and to just be together. Jan was there that night playing games right along with us, laughing and having a good time. I think that's the picture I'll keep in my head of her. Smiling, laughing and having good times with family and friends.
Jan was a strong Christian, always very involved at her church, in women's groups and singing in the choir. I know tonight that she's singing in God's heavenly choir with my grandparents – as they did so often here on earth. Tonight, however, they're singing in the presence of our heavenly father. Praise God!
Jesus said to her, "I am the resurrection and the life. The one who believes in me will live, even though they die; 26 and whoever lives by believing in me will never die. Do you believe this?" John 11:25-26
We'll miss you Aunt Jan, and we'll never forget you, but we know that tonight you're in a better place, singing to our savior.