Being debt free is great, but be careful or it won't last!
My wife and I paid off our last debt, a student loan, just over 2 years ago. It was such a freeing feeling to finally be debt free (except for the house) and we vowed to never go in debt again.
The problem is, debt is so easy.
While were in a Financial Peace University class recently one of the things the class leaders did was have everyone bring in all the offers of credit that they received in the mail, and see how much credit we could potentially open. The 7 couples in the class were sent credit card and other loan offers in excess of 1 million dollars – all within a few weeks!
Credit card companies and banks want to give you credit, and want you to be in debt. It's how they make their money. Because of that it is easier than ever to go into the red.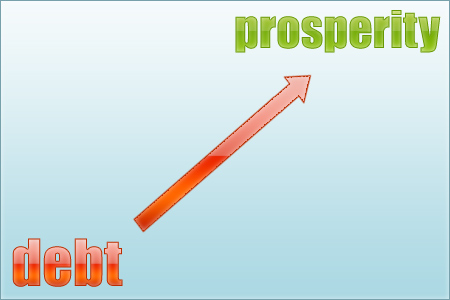 7 things you can't do if you want to be debt free
You constantly need to be on guard because if you aren't, you can quickly find yourself back in debt.
Here are 7 things you can't do, or continue doing, if you want to stay out of debt.
You can't spend more than you make! If you need to, cut back on expenses, or increase your income.
You can't keep moving forward without a plan. Set up a zero-based budget, and give every dollar a job! Know where your money is going, how much you need to save, and how much you're going to spend on every category.
You can't continue buying on a credit. Save up for big ticket items instead, you'll be glad you did, and it's more rewarding. Just plan on those big expenses, and make them a line item in your budget. Sometimes you'll find by the time you save the money you don't want or need the item anymore!
You can't constantly buy the new things just because they're new. The lure of the newest Iphone or digital SLR camera can be so tempting. But if you already have an old MP3 player or a point and shoot digital camera, make do with what you have. Hey, it still works! That new thing will be old again in a few months anyway!
You can't try to keep up with the Joneses. Things can't make you happy, and trying to buy status with things won't work. Wow them with your ability to save, not your new Escalade!
You can't use credit when you have the cash. Sometimes it can feel nice to buy something on credit thinking that you'll pay it off within a paycheck or two because you'll have more of a cushion then. The truth is that credit card debt often starts off small, and builds from situations like these. If you can't pay it off comfortably with cash right away, don't buy it!
You can't depend on a credit card for emergencies. Instead, save up an emergency fund of 3-6 months of expenses for those inevitable "emergencies" that always have a way of cropping up at the worst possible times.
Those are just a few things that you can avoid doing if you are serious about getting out of and staying out of debt. While it's not an exhaustive list, it's a good start.
What are some things that you are avoiding in order to stay debt free?