Are you in a financial rut? Do you need some motivation to get you back on your feet and move forward? Perhaps you've been trying to build and emergency fund this year and emergencies pop up as quickly as you deposit money into your savings account. Or, perhaps you've paid off all your debt and can't seem to find the drive and motivation required to move onto your next goal.
Pressing onward isn't easy, but it must be done to accomplish your financial goals.
Here are 20 tips to fire up your turbo charger, avoid distractions and stay on track!
20 Tips To Turbo Charge Your Financial Goals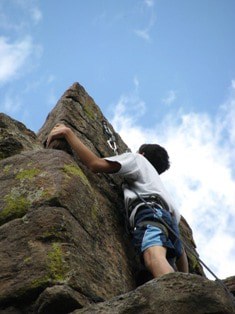 Forget what is behind. We've all experienced financial blunders and made mistakes. Stop beating yourself up over them! You can't change what is in the past, but you can impact today and tomorrow.
Move forward to what is ahead. Know why your blunders and mistakes occurred and make sure you've dealt with the root cause. Next, step forward and take action on fixing the issue, i.e., getting on a plan to get out of debt.
Learn from mistakes. Never forget your mistakes and why you made them. Forgetting mistakes results in repeating them over again. Were you tempted to purchase something on credit without the cash to purchase? Did you act on the temptation? Do you regret it because you're now making a monthly payment with high interest? Figure out what caused you to act and get it corrected.
Celebrate along the way. As you make progress, learn to take the time to celebrate. There are many steps and goals along the journey. It's a long road, so don't forget to celebrate the wins and include family and friends.
Find a way to give back. As you step forward, some will be a step behind. Don't forget what allowed you to move forward and share with others what got you there. I've found that helping others along the way helps learn and become more motivated towards my own journey.
Ignore the naysayers. Many will question your methods and ask why. Dave Ramsey always says that people will think you're strange and that usually means you're starting to do things right! The bottom line is that it really doesn't matter what others think or say. It's you underlying values and reasons for the goal that make the difference.
Watch the horizon closely. Keep an eye out for things that can pull you off track to achieving your goals. A car that starts making funny noises, an older washer and dryer can all be things that could be on the edge of costing you money. If you think about them and can plan for them, you can avoid emergency spending.
Educate yourself. Learn from others and best practices. A great way to learn is to follow some personal finance blogs, or subscribe to a personal finance publication. I always like to investigate and explore information that is available based on my current goal.
Invest the right amount of time. Getting better at playing a sport takes practices. Improving grades requires studying. Improving your personal finances takes investment of time in managing your money, but also in learning. Investing a little bit of time each day adds up to a large return over time.
Don't go at it alone. Make sure you're using wise counselors along the way. Even if you're not in trouble, it's a good idea to find someone who can hold you accountable to your plan (other than yourself) and provide you counsel based on their experience or area of expertise.
Realize when it's time to go to plan B. Paying off debt is important, but if you sense your job might be in jeopardy pausing debt pay off to further build your emergency fund may be required. The point is that you need to have a plan, but have the flexibility to change your plan based on circumstances.
Reflect often to maintain focus. It doesn't do any good to lose sight of your plan. Once your plan for savings or debt reduction is in place, you need to review it often to make sure you're following it. Understand things that have caused you to move off track and take corrective action to mitigate the risk of them occurring again in the future.
Make sure your visions have goals and your goals have plans. If your vision is to become financially free, determine the goals to get there. Build a plan to achieve each goal. If you don't have any action steps to take to achieve your goal, you're going to have a hard time taking a step forward.
Make it a community affair. When it comes to getting out of debt or overcoming past financial blunders remember there are many people out there trying to do the same thing. Hello! We've all made mistakes. Connect with a community of people who are traveling the same road and share the same passion.
Find your motivation in God's word. The Bible is full of financial guidance and financial principles. There are over 2300 scriptures in the Bible related to finances. Feel down or lost about your money? Seek guidance and find peace and security in God's money design.
Don't talk about it, be about it. Finally, we've all spent time talking about everything we need to do. Stop talking about it and take action. Talking is great when there is action to follow it up. Talking without action is just a waste of breath.
Take a break. If all you've done lately is talk about money and personal finance, drop the subject for a while. Perhaps you're burned out and your spouse is too! You're spouse will probably appreciate it and it'll help you rest your mind. Schedule the time to talk about your next objective when it's a neutral time, there are no distractions and you can think clearly.
Brainstorm a solution. Not sure where to do? Play a brainstorming game. Spend 10 minutes writing every single (unfiltered) thought or potential solution to your challenge on sticky notes. Tip: find some friends and family to participate along with you. Put all the stick notes on the wall when time is up and organize them based on what seems realistic and achievable. Pick the top 2-3 and create action steps associated with them.
Listen to others talk about their situation. A few times a week I'll listen to the Dave Ramsey Show. Nothing gets me more motivated than hearing people talk about challenges and Dave Ramsey directing them to the right path. Its powerful hearing so many people talk about how they want to become debt free and overcome their financial struggles.
Tell someone else about what you plan to do. There is something about making a public commitment. It helps us live up to our word and avoid the situation of having to tell someone you didn't do what you said you were going to do. So, if you say to your friend you're going to start a spending plan this month, or get out of debt in one year, be prepared for a follow up question in the near future asking you where you are with your goal!
Now go out there and make it happen!