Current ShareBuilder promotion: Open an account today and get $25 bonus. Open an account and use code 25WO10
I've been looking into the many options available to me lately when it come to discount online brokerages.  It seems like just about everyone has a service that they like best, and that they prefer using.  The first one I had heard recommended was OptionsHouse, which I reviewed last time.  It had a good mix of research tools, low cost and ease of use.  Definitely one to look into, especially for active traders.
Sharebuilder is another one that I had heard good things about, and since I already have a savings account with ING Direct, I thought I should give it a look.
ShareBuilder Background
From Wikipedia:
ShareBuilder Corporation, is a United States based online stock brokerage firm founded in 1996 (as NetStock Direct). It encourages recurring, automatic purchases of shares of stock, ING Mutual Funds (Class O) and exchange-traded funds. All transactions occur online and are entirely at the discretion of the account holder, thus it is an execution-only service. The company does not have brokerage sales representatives or advisors.

Account holders can use ShareBuilder's online research tools to investigate stocks, similar to other online brokerages such as Scottrade, TD Ameritrade and Fidelity. In 2005, ShareBuilder began offering 401(k) plans to small businesses. On November 19, 2007, ShareBuilder Corporation was purchased by ING Direct, a subsidiary of ING Group for USD 220 million. In June of 2009, ShareBuilder moved its headquarters from Bellevue, Washington to 83 King Street, in the Pioneer Square district of Seattle, Washington.
Awards
ShareBuilder has earned a bunch of awards and has been recognized as one of the top online brokers for beginning & long term investors. Among the awards:
Forbes Best-of-the-Web awards in January 2003 and January 2004
Kiplinger's Personal Finance ranked Sharebuilder #1 in "25 Ways to Invest $1,000."
ShareBuilder Fees, Commissions And Minimums
Probably one of the most important things to consider when opening an online brokerage account is to consider what fees, commissions and minimums you'll see when using an account.  Here is what you'll find at ShareBuilder:
Stock Trades
Sharebuilder has middle of the road, to expensive, fees when it comes to stock trades.  They have  $9.95 stock trades. Compare to some others like OptionsHouse at $2.95 or TradeKing at $4.95 a trade, and they definitely seem a little high.
On the other hand, if you're less of an active trader and more of a buy and hold investor, their automatic investments may be a good fit for you, and more affordable.  Automatic investments, done on Tuesdays,  will cost only $4.   If you sign up for their Advantage plan, you'll get 12 per month for free included in the $12/month subscription, and it's only $1 for each additional.  They offer a dollar cost averaging plan as well.
Options Trades
Sharebuilder has a fee for options trades of $9.95 per online trade,  + $1.25 per contract.  If you're signed up for the Advantage plan ($12/month), that drops down to $7.95 per online trade,  + $0.75 per contract.

Fees And Minimums For An Account
ShareBuilder doesn't have account maintenance fees, monthly minimums or inactivity fees.  All prices are charged on a flat rate, and what you see is what you pay.
There is no  minimum account funding level, although if you want to get the $25 bonus mentioned above, you need to fund with at least $25.
Here's a basic fee comparison with other discount brokerages:
Investment Account Options
ShareBuilder offers a plethora of other investment account options for investors. Among them:
Individual Account
Joint Account
Traditional/Rollover IRA
Roth or Conversion IRA
ShareBuilder ESA (Education Savings Account)
Custodial Account
ShareBuilder Tools & Tutorials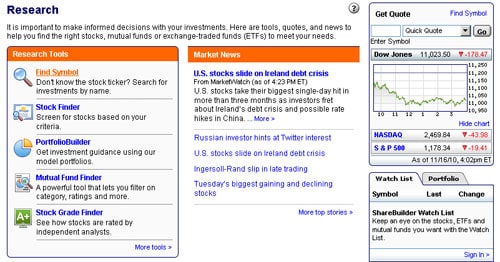 In the past ShareBuilder may have been a bit short when it comes to the research and education departments.  Within the last few years, however,  ShareBuilder has really built up their library of educational tutorials and investment tools.
They now have a variety of tools including such things as a stock screener, a portfolio builder, fund/stock/ETF selectors, reports, simulators and calculators.
They also have a wide variety of investment information for beginning investors including tutorials and articles in their investor library.
One thing others have noted that is missing, however, is a forum or community of some sort where you can talk with other investors to get advice.  Several other online brokers have something like that, and it would be nice to see ING add one for ShareBuilder as well.
Easy Linking To ING Direct Savings Or Orange Checking
Another thing that I like about ShareBuilder is that you can easily link it to your ING Direct Orange Savings account or Orange Checking if you have them.  I personally already have an ING Direct Savings account (review here) and being able to easily link the accounts for automatic investments is nice.
Conclusion
When considering an online discount brokerage ShareBuilder is definitely one of the best options out there for long term investors who want to set up automatic investments and do long term dollar cost averaging. If you're more of an active trader you may want to look elsewhere for a lower cost option, someplace like OptionsHouse.   But if you just want a plan that will allow you to automatically invest over the long term, ShareBuilder would be a good place to check out.
Have you used ShareBuilder, or considered using them? What has your experience with them been like? Are you happy with them?   Tell us your thoughts in the comments.
To open an account with Sharebuilder click here.
Check out our comprehensive listing of discount brokerages and mutual fund companies

Last Edited:

31st May 2011
Related Posts