March Madness – Help Me Win!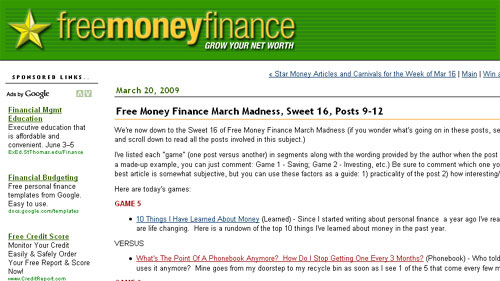 A week or so back I posted on this blog to beg for everyone to vote for me in round 2 the Free Money Finance March Madness competition. It seems to have worked as I eked out a win to move on to the sweet sixteen!
Round 3, or the Sweet Sixteen, launched today! If you feel so inclined, please head on over to Free Money Finance and vote for me this weekend, and help put me over the top! Just vote for my article, 10 Things I Have Learned About Money (Learned) in the comments.
In case you're interested, I'm playing in this game so that I can win money for my charity, Second Harvest Heartland. Second Harvest is a great organization, and for each $1 donated, Second Harvest Heartland will distribute more than $9 worth of grocery products to those in need in our communities. First place in the contest means $500 donated to the charity of the winner's choice, all the way down to $100 for fourth place.
That means a 1st-4th win for this blog would help donate anywhere from $900-$4500 worth of groceries to needy families! Help me make that happen! Vote now!