These past couple of years we've been hearing a lot of talk about how the rich aren't paying their fair share, they aren't taxed enough, and that they ought to be spreading the wealth around.
Personally I don't think that us taxing the rich more, or trying to bring others down will end up leading to more prosperity for others.
Someone else in our history knew how many like to tear others down, and talked about how they shouldn't be doing that because having the rich there as an example, is an encouragement to others that they may someday achieve great things.
Quote from Abraham Lincoln:
Property is the fruit of labor; property is desirable; is a positive good in the world. That some should be rich shows that others may become rich, and hence, is just encouragement to industry and enterprise. Let not him who is houseless pull down the house of another; but let him labor diligently and build one for himself, thus by example assuring that his own shall be safe from violence when built. – Abraham Lincoln in a March 21st 1864 address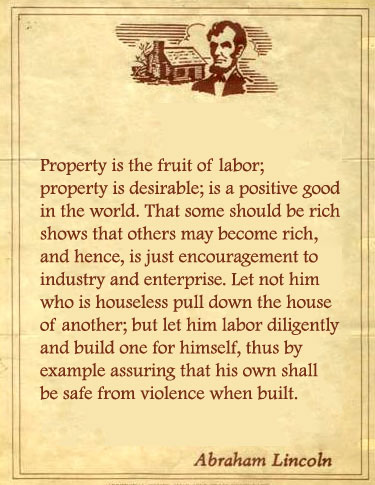 Originally I had the quote below as the basis for this post, but upon further examination I realized that it wasn't an authentic Lincoln quote. Even so, I think the sentiment mirrors the one in the actual Lincoln quote above.

You cannot bring about prosperity by discouraging thrift. You cannot strengthen the weak by weakening the strong. You cannot help the wage earner by pulling down the wage payer. You cannot further the brotherhood of man by encouraging class hatred. You cannot help the poor by destroying the rich. You cannot keep out of trouble by spending more than your earn.
You cannot build character and courage by taking away man's initiative and independence. You cannot establish security on borrowed money. You cannot help small men by tearing down big men. You cannot help men permanently by doing for them what they could and should do for themselves.
The quote above, called the "The 10 Cannots" was written by William J. H. Boetcker, a Presbyterian minister and included in a pamphlet titled "Lincoln On Limitations". From Snopes.com:

These words are often attributed to Abraham Lincoln, but according to the book They Never Said it: A Book of Fake Quotes, Misquotes, & Misleading Attributions, they are not from Lincoln.

The quotes were published in 1942 by William J. H. Boetcker, a Presbyterian minister. He released a pamphlet titled Lincoln On Limitations, which did include a Lincoln quote, but also added 10 statements written by Boetcker himself.
Do you think the points that these two quotes make are still valid today? Why or why not?