Proverbs 13:7 – One man pretends to be rich, yet has nothing; another pretends to be poor, yet has great wealth.
I don't actually know the guy who owns the car below, but I do know a lot of people driving cars like his are "faking it."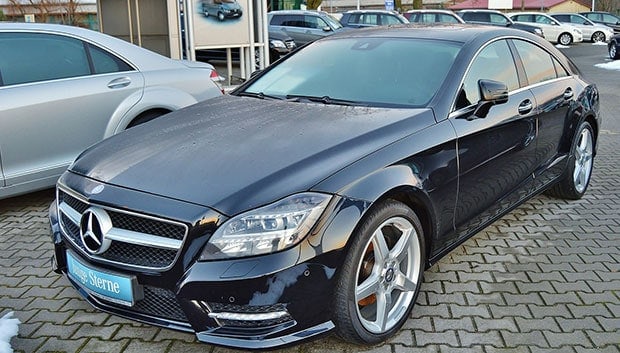 Living A Lie – A Fake Lifestyle
They are people who have credit cards maxed out, huge car loans, and vacations from two years ago that they haven't paid for yet. Leasing a luxury sports car and having lots of "stuff" purchased with plastic money does not make you rich or successful.
I'm not saying you can't have nice things, but I am saying that you shouldn't pretend to be able to afford things that can't actually pay for yet. I'm not saying you shouldn't take nice vacations, I just don't want you to pay 20% interest on them. Vacations are so much nicer when you just bring back pictures and not a huge credit card bill.
We All Make Mistakes
I'm certainly not perfect, but I've worked hard to fix the mistakes I made when I was younger. When I graduated from college and got a job I thought I "needed" a newer car.
I ended up spending about $16,000 on a 2 year old car. At least it wasn't completely new.
Thankfully they gave me the loan without my parents co-signing, because if they hadn't I'm sure I would have made that mistake as well. A few months later I was introduced to Dave Ramsey's baby steps. I really wish I knew what I know now back then.
Paying Cash Is A Better Plan
I worked hard, saved, and paid off that 5 year loan in 18 months. During that time I also paid off my college loans and became completely debt free. That was a great feeling, and I was able to save up a decent amount of money once I had no debt. I managed to pay cash for a nice engagement ring as well as a wedding ring. I also paid for a nice honeymoon and had a good emergency fund by the time we got married.
By this time I had learned my lesson. My wife didn't have a car so I had an opportunity to make a better decision. Instead of getting a new car loan and going deeper into debt, I let her drive my nice paid for SUV.
I then bought a $2500 beater for myself with cash and couldn't be happier. My wife brought a lot of college debt into the marriage and we decided it was much more important to pay that off than have a nice car.
By Not Faking It You Can Get Ahead
In eight months we have paid off $21,000 in debt, and we hope to be debt free again by June. Some of my friends think I'm really crazy. A few that are on board with Dave Ramsey still think I'm a little crazy. I take it as a compliment. Normal is broke.
Common Sense was a book by Thomas Paine arguing that it was common sense for the colonies to rebel against England. Christian Common Cents is my argument that it is common sense to rebel against the "normal" way of handling money.
By not faking it we are going to be in a pretty decent financial position soon. We will have no debt other than our mortgage and few months worth of emergency fund by our first anniversary. We are also committed to paying off the mortgage as fast as we can. The lower we can get our monthly expenses the easier it will be to retire. The peace of mind that will bring will be amazing.
I also truly believe in Proverbs 22:7:
The rich rule over the poor, and the borrower is servant to the lender.
If you have ever been deep in debt you know that this verse is true.
Have you ever been guilty of "faking it" like I was? Have reached the point where you look at debt as servanthood? Let me know in the comments.
This is an article written by Derek Clark of Christian Common Cents. Christian Common Cents is focused on biblical solutions to financial problems, specifically getting out of debt. If you are interested please consider subscribing to the Christian Common Cents RSS feed.