Mastering your money isn't easy.
We've all struggled with our finances at one time or another.
Whether it's dealing with credit card debt, being weighed down by crushing student loans, or just figuring out how to do a budget, we've all got our unique challenges when it comes to money.
The hard part of changing your financial situation is just figuring out what resources you need in order to get started.
Today I'm helping to promote an awesome "super bundle" of financial resources, that can help you to get a fast start from the starting line. It's called the Master Your Money Super Bundle.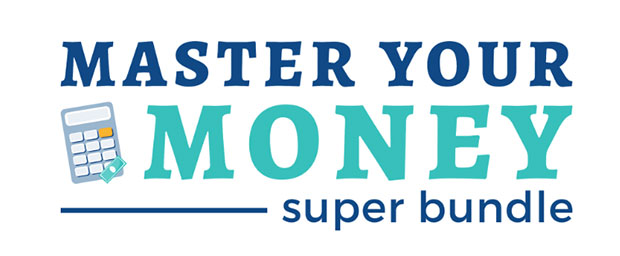 What exactly is included in the bundle?
It's a collection of tools, videos, ebooks and courses from financial experts that can help you to create your first budget, design a plan to crush debt, increase your income or find ways save money. It's got something for everyone!
The bundle includes the following:
12 eBooks

12 eCourses
11 videos
9 workbooks and printables
3 free bonuses
Based on the normal individual prices of each of these tools, this bundle would normally sell for a grand total of $1211.67 if you bought them individually, $1319.61 if you include the free bonuses.
During this limited time sale from today through Monday, April 1 2019 at 11:59pm ET, you can get the entire bundle for only $37.
That's an enormous value, especially since many of these items sell for more than that on a regular basis.
Let's take a look at what's included in this massive bundle.
The Master Your Money Super Bundle is $1200+ worth of financial tools from financial experts that will change your finances forever.
Click To Tweet
Better Budgeting Tools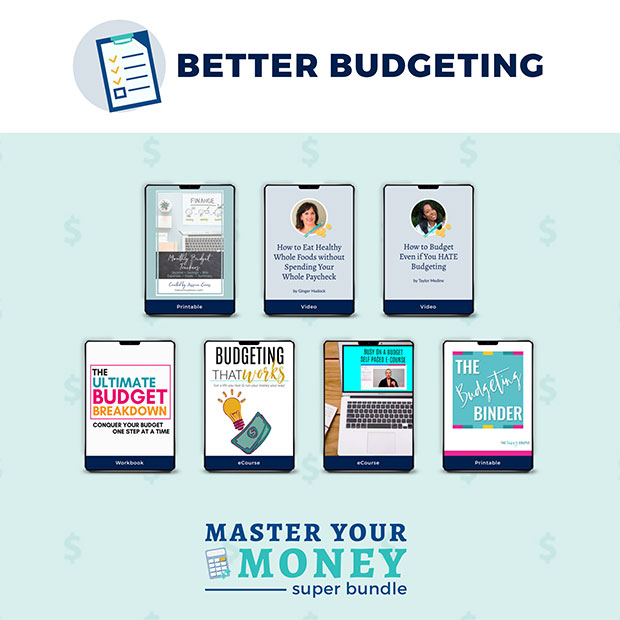 Budgeting That Works: Live a life you love & run your money your way!
eBook by Caroline Vencil ($47.00): Unlock the secret key you've been missing to finally make a budget that clicks and sticks!
Busy on a Budget
eCourse by Cara Harvey ($59.00): A self paced e-course that helps you learn to create a budget for your family that is simple to follow, learn how to pay off debt fast and help you gain control of your finances!
How to Budget Even if you HATE Budgeting
Video presentation by Taylor Medine ($19.00): Learn how to better manage your money even if you're not the best at budgeting and you prefer not to maintain regular budget spreadsheets.
How to Eat Healthy Whole Foods without Spending Your Whole Paycheck
Video presentation by Ginger Hudock ($19.00): Watch this video and learn 10 tips to help you budget for your groceries and save money on healthy whole foods.
Monthly Budget Trackers: Making Every Penny Count
Printables by Jessica Evans ($2.95): Simple printable pack to help you track your monthly budget and expose wasteful spending.
The Budgeting Binder
Printables by Kelan & Brittany Kline ($9.00): This 20+ page printable and digital budget binder comes with everything you need to help you start a budget that actually works, track your spending, prepare for emergencies, pay off your debt, and release some of the financial stress in your life.
The Ultimate Budget Breakdown
Workbook by Amy Raines ($27.00): Helps you create a budget that works for your life with step-by-step instructions.
Tools To Defeat Your Debt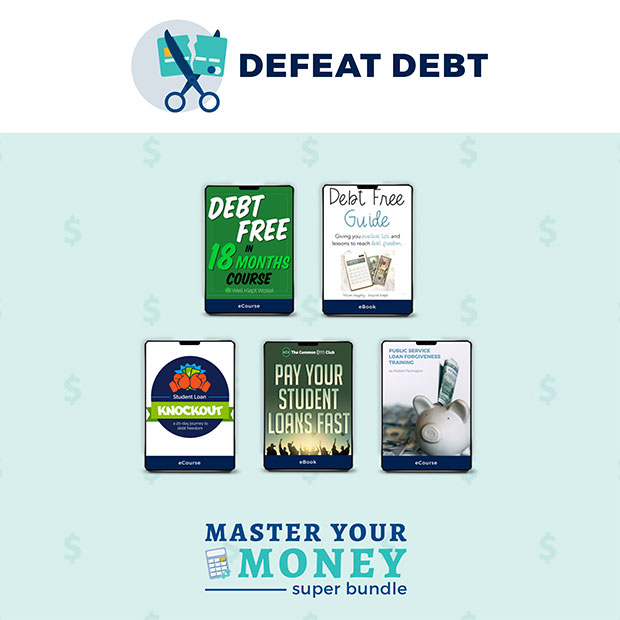 Debt Free Guide: Practical Tips and Lessons To Reach Debt Freedom
eBook by Allison Baggerly ($19.00): Teaches you how to pay off debt fast and stay motivated even when you live paycheck to paycheck!
Debt Free in 18 Months
eCourse by Deacon Hayes ($67.00): A proven strategy for eliminating $52,000 in debt in 18 months.
Pay Your Student Loans Fast: A Proven Plan for Eliminating $42,000 of Student Debt in Less Than 3 Years
eBook by Val Breit ($3.99): A proven plan and inspiring guide that shows exactly how to eliminate over $42,000 in student loans in less than 3 years.
Public Service Loan Forgiveness Training
eCourse by Robert Farrington ($9.00): Everything you need to know about Public Service Loan Forgiveness.
Student Loan Knockout
eCourse by Zina Kumok ($49.00): This course shows you how to master your finances, take control of your student loans and create a financial plan that works for you.
Tools For Family Finance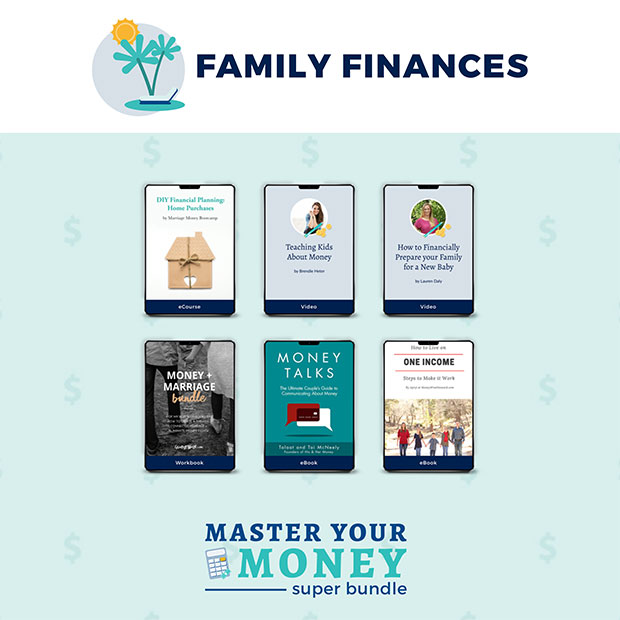 DIY Financial Planning: Home Purchase
eCourse by Marriage Money Bootcamp ($80.00): Step-by-step video course for creating a financial plan for your first home purchase.
How to Financially Prepare your Family for a New Baby
Video presentation by Lauren Daly ($19.00): Lauren shares how her family saved thousands for their new baby, and how they came up with just how much they need. She will show you how to bring baby home with one less (financial) worry!
How to Live on One Income: Steps to Make it Work
eBook by Apryl Griffith ($5.00): Living on one income is possible. For the past 10 years Apryl has been living on one income. She is excited to share the steps she took to make it work.
Marriage & Money: Making the Marriage of a Saver and Spender Work!
Video presentation by Caroline Vencil ($19.00): Money troubles are one of the biggest causes for divorce – learn how to successfully talk about money in your marriage even if you and your spouse are total opposites!
Money & Marriage Bundle
Workbook by Nicole Rule ($27.00): A money coach bringing joy into money management. Communicating openly and authentically about money is the key to eliminating scarcity, anxiety and money fights in a marriage. Make a life you love. Start with your money. Do it together.
Money Talks: The Ultimate Couple's Guide To Communicating About Money
eBook by Talaat & Tai McNeely ($9.99): Helps you open the lines of communication with your spouse, and reveals how you and your spouse can align yourselves together financially.
Teaching Kids About Money: Practical Ways to Raise Financially Savvy Kids
Video presentation by Brendie Heter ($19.00): Shows parents how to take advantage of every day "teachable moments" and change the financial path of the next generation. Brendie, a trained financial coach, wants parents to feel confident regarding this sometimes overwhelming topic.
Tools To Help Increase Your Income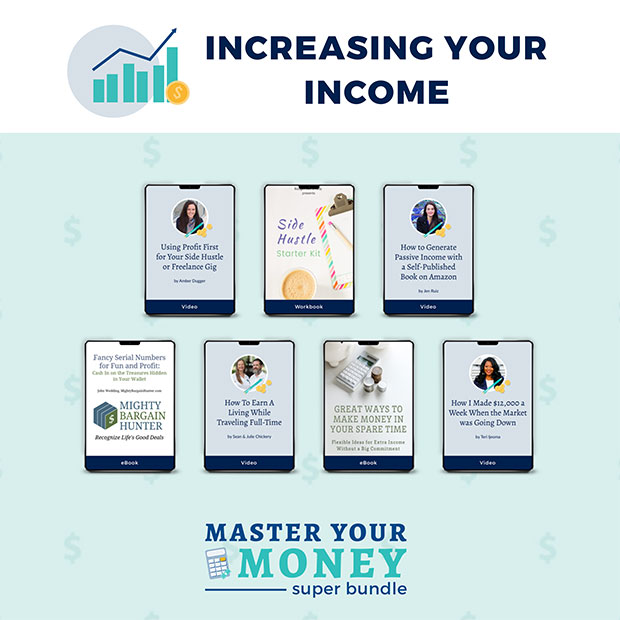 Fancy Serial Numbers for Fun and Profit: Cash In on the Treasures Hidden in Your Wallet
eBook by John Wedding ($7.77): Learn how to cash in on treasures called "fancy serial numbers" that could be in your wallet right now; gain knowledge that can turn that dollar bill into a nice dinner — or even a weekend getaway!
Great Ways to Make Money in Your Spare Time
eBook by Angie Nelson ($7.00): This eBook will introduce you to some great ways to earn extra cash without a lot of extra time.
How I Made Over $12,000 Investing When The Stock Market Was Falling
Video presentation by Teri Ijeoma ($19.00): Teaches you the top four secrets to make regular daily or weekly income using the stock market.
How To Earn A Living While Traveling Full-Time
Video presentation by Sean & Julie Chickery ($19.00): Identify ways to earn an income while realizing your travel dreams.
How to Generate Passive Income with a Self-Published Book on Amazon
Video presentation by Jen Ruiz ($19.00): Learn how to self-publish your book.
Pay Yourself with a Profitable Side Hustle using Profit First
Video presentation by Amber Dugger ($19.00): Amber wants to help you make the most out of your side hustle so that you are able to meet your financial goals, have enough set aside for taxes and pay yourself consistently using principals from the best selling book Profit First by Mike Michalowicz.
Side Hustle Starter Kit
Workbook by Nicole Butler ($27.00): Ready to start making extra money from home but you don't know where to begin? Do you want to see your idea come to life? Includes a Business Launch Plan, Expense Tracker and more!
Tools To Help You Manage Your Money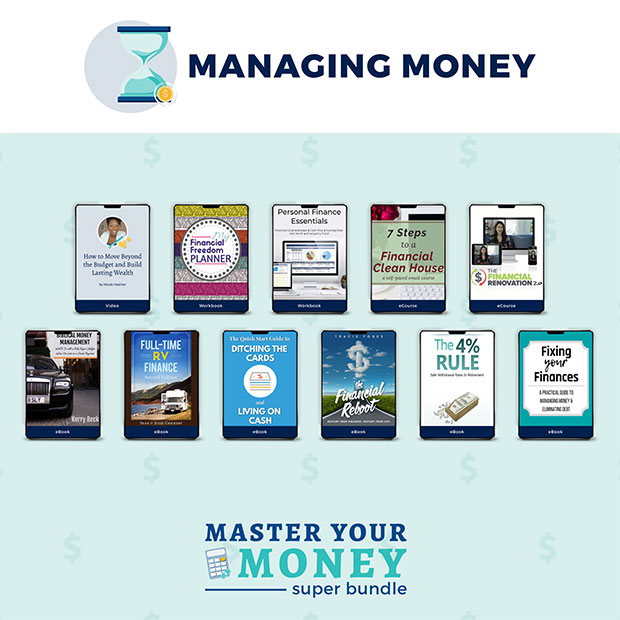 7 Steps to a Financial Clean House
eCourse by Dawn ($36.00): This email course will step you through the process to finally take control of your money and build financial security.
Biblical Money Management: What to Do with a Rolls Royce Lifestyle, When You Live on a Honda Paycheck
eBook by Kerry Beck ($15.00): After reviewing what the Bible says about money, Kerry offers practical examples on how you can manage your money and teach your kids good money management skills.
Financial Freedom Planner
Workbook by Jen Smith ($19.00): An all-in-one guide to help you make long-term financial goals and short-term action plans that will get you to financial freedom faster.
Fixing Your Finances: A Practical Guide To Managing Money and Eliminating Debt
eBook by Ellen Ross ($8.99): Explains how to take control of your finances in a realistic manner and achieve your financial goals.
Full-Time RV Finance: Learn How to Afford Your Full-Time RV Travel Dreams
eBook by Sean & Julie Chickery ($3.99): Helps you prepare financially for the full-time RV lifestyle.
How to Move Beyond the Budget and Build Lasting Wealth
Video presentation by Nicole Hatcher ($19.00): Learn why budgeting is critical to achieving financial freedom (but also why it's only the tip of the iceberg).
Personal Finance Essentials
Interactive Workbook by Kathryn Hanna ($24.00): This spreadsheet will change the way you view your finances by helping you organize and analyze your data to reach your financial goals.
The 4% Rule: Safe Withdrawal Rates In Retirement
eBook by Todd Tresidder ($4.99): The knowledge contained in this book will help you remove the uncertainty around retirement savings and deepen your understanding of strategies other than the 4% rule so you can retire worry-free.
The Financial Reboot: Take Control of Your Finances
eBook by Tracie Fobes ($9.99): Helps you get out from beneath the financial burdens keeping you up at night.
The Financial Renovation
eCourse by Lauren Greutman ($99.00): This course helps families create financial freedom by sharing simple, easy ways to take back control of their money, live within their means, and create the simpler, happier life they've always dreamed of.
The Quick Start Guide to Ditching the Cards and Living on Cash
eBook by Angela Davis ($27.00): Shows you step-by-step how to transition from using your credit and debit cards to pay for life to using cold hard cash. Includes worksheets and a customizable spreadsheet to help you live on less than you make and meet your financial goals.
Tools To Help Shape Your Money Mindset
21 Day Money Challenge: Jumpstart Your Journey to Financial Freedom
eCourse by Nicole Hatcher ($21.00): A complete in-depth course that includes 21 real-world money lessons to help you get financial results quickly without overwhelm.
5 Ways Savvy Women Practice Financial Self Care
Video presentation by Takisha Artis ($19.00): Teaches you how to start confidently handling your money and make better financial decisions with these 5 savvy tips to make financial self-care part of your lifestyle.
Change Your Money Story
eCourse by Eileen Adamson ($63.00): An exciting 5 day course to help to create a happier, healthier and wealthier relationship with money.
How To Be Frugal
eCourse by Jennifer Roskamp ($99.00): This self paced course teaches you how to create a budget, how to feed a family frugally, how to shop smart both online and in the store, how to use coupons, how to save money around your home, and so much more.
Managing Money God's Way: A 31-Day Daily Devotional About Stewardship and Biblical Giving
eBook by Bob Lotich ($9.99): Join Bob in this 31-day daily devotional as he shares his own experiences, insights, questions, and discoveries about Biblical money management and what we can do to be better stewards of our money.
The 5 Life-Changing Steps to Making Budgeting FUN!
Video presentation by Nicole Rule ($19.00): An overview of the Greatest Worth signature process of money management. A process that eliminates money worries and instead brings you JOY and fulfillment. Make a life you love. Start with your money.
Tools To Help Save Money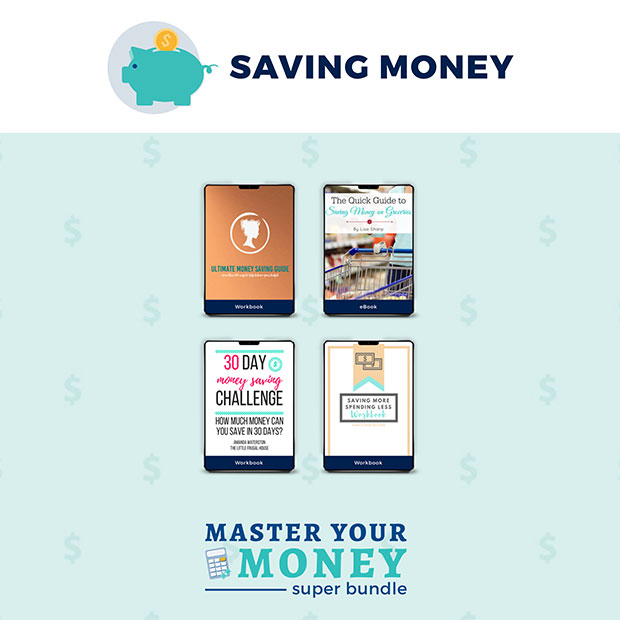 30 Day Money Saving Challenge
Workbook by Amanda Waterston ($21.00): Will help you find new ways to save and manage your money if you're up for the challenge!
Saving More, Spending Less
Workbook by Isabel Freitas ($19.00): This workbook will help you actually enjoy the money you already make and put it to work for you! So you can start living more and giving more!
The Quick Guide to Saving Money on Groceries with Printable Pack
eBook by Lisa Sharp ($5.00): Helps you reduce your grocery budget without sacrificing quality.
Ultimate Money Saving Guide
Workbook by Lauren Daly ($27.00): Lauren shares over 250 tips and tricks to cut your monthly expenses, many which you can do TODAY without sacrificing your quality of life.
Bonus Partners
FREE 2-month membership to Wallet Win Academy – Worth $54
Money is a touchy subject, so most people have not been taught how to use it effectively to reach their goals without breaking the bank. WalletWin provides the information you were never given on how to get out of debt, build wealth, and change the world through generosity. WalletWin aims to turn your personal finances from a source of frustration into one of freedom through fun, engaging, and strategic financial teaching.
FREE 3-month membership to Focuster – Worth $44.97
Focuster automatically schedules your To Do list in the empty slots in your calendar. Now you can focus on what's important, rather than the tedium of managing your schedule. Focuster updates your schedule to maximize your productivity when your calendar changes. And if you don't finish, Focuster will move it to the next available time. Recover your focus from distractions or interruptions with intelligent notifications that will remind you until you complete your top priority.
FREE 3-month membership to HomeBinder – Worth $8.97
HomeBinder is an app that helps homeowners stay organized and easily manage their homes. We provide maintenance reminders, alerts if appliances are recalled, project tracking, contractor contact management, document storage and much more! HomeBinder is available on the web and through our mobile app.
Get The Ultimate Bundle And Save!
By themselves many of the resources are well worth their purchase price, in fact, many of them are priced higher than what the total bundle costs all together.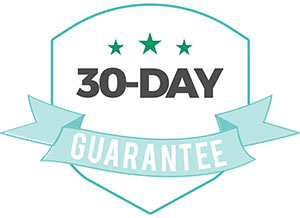 For example, Lauren Greutman's $99 "Financial Renovation" class is top notch and is worth every penny, but in the bundle this week you can get it, and all the rest of the resources, for only $37.
Another favorite of mine is Deacon Haye's $67 "Debt Free In 18 Months" eCourse. It's a great course if you're trying to dump debt, and at $67 if purchased separately, it already costs more than the bundle does. In my opinion, that makes this bundle a great value!
I highly recommend checking out the bundle and purchasing it before it expires on April 1st. Even if you don't use all the resources right away, the value proposition is huge, and you can find value in all of these tools in the coming months and years. Buy the bundle before it's gone!
If you're worried if the bundle won't be for you, you don't need to worry. The bundle comes with a 100% satisfaction guarantee. Just try it out and if you're not satisfied, just ask for a refund within 30 days. You'll get your money back, no questions asked.
Bible Money Matters Exclusive BONUS
If you order your bundle through my link, forward me the receipt to my email – peter @ biblemoneymatters.com and I will send you my Blueprint For How To Make Money With A Blog ebook package as a free bonus! The book normally sell for $19.95.
Hurry up and order, the super bundle is only available through Monday!

Get The Bundle Here >> Master Your Money Super Bundle!