If you're pregnant, congratulations! If you're in the beginning stages of planning for a new addition to the family, congratulations. Possibly one of the largest financial mistakes that future parents make is to underestimate the cost of a baby. It's hard to say no to the sometimes called biological clock and the pull it has on us and that can sometimes make us forget that a baby costs money, and a lot of it.
Rather than taking a more business-like approach and using a budget spreadsheet to see if we can really afford a baby, we sometimes says yes to a child without figuring out if we really can afford it. Make your financial situation just as large of a part of the decision to have a child as other decisions you'll make. With that in mind, let's look at how a baby will impact your finances.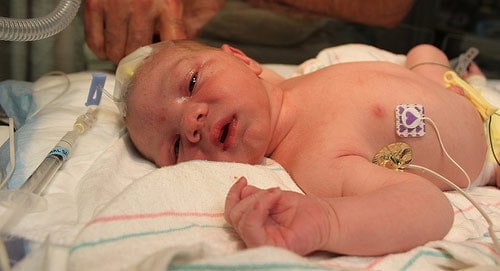 Total Cost
Ready for this? According to babycenter.com, the total cost of raising a child from birth to age 18 is about $200,000 and that doesn't include the cost of a college education.Although the monthly costs will change as the child grows up, that is an average of $925 each month.
In the current economy, starting a college savings account is a necessity if your child is to avoid the crippling effects of student loans. Parents can expect to pay $78,000 for a four year college education starting in 18 years. Not counting any investment income that comes with a tax advantaged education savings account, that's $361 per month making the total more than $1,200.
Any amount of money saved for college is a great start and $361 may end up overfunding the account but remember that the overfunding could be used for a second child or even yourself.
Furniture
Furniture is an upfront cost that comes with welcoming a son or daughter in to the world and compared to your bedroom suite, the cost is relatively small. Designer cribs could cost $1,000 or more but other models may cost as little as $100. Sites like Craigslist may have great deals on higher end cribs for very reasonable prices.
Along with the crib comes the changing table and maybe a rocking chair for the baby's room. All of these together might cost $450 or less depending on how skillful you are as a thrifty shopper.
Disposable or Cloth?
Now we reach the great debate among moms. Should you use disposable or cloth diapers? According to Diapering, the cost of disposable diapers is $2,700 over three years while cloth diapering is only a fraction of that since cloth diapers are washable. A set of cloth diapers comes with a $300 price tag but saves money over time. If it were that easy, there would be no debate so this may be an issue that will require a lot of reading during those nine months.
Baby Formula
A year's worth of formula will cost between $1,000 and $3,000 depending on what you buy. If you're looking to cut down on those costs, a breast pump costs about $300.
We've all heard how the price of food is skyrocketing and baby food has seen the same inflation. There are so many variables that estimating a cost is nearly impossible as a general number but some people learn to make their own baby food to save on the cost of grocery store food.
Final Thoughts
Although looking at the costs of a child may take all of the joy out of your plans, just as you would with any other financial decision, collect all of the facts and design your budget around the added cost. Being prepared now instead of surprised later is the best way to avoid financial disaster.