This week we'll be celebrating a big holiday here in the United States, Thanksgiving.
When President Abraham Lincoln declared the final Thursday in November as a national day of thanksgiving, it was designed as a day to reflect and thank God for the bountiful blessings we have received.
Unfortunately, it has become something a little different. It has become a day to self indulge, a day off to sleep in, gorge ourselves on a thanksgiving meal and be thankful for our worldly possessions. Then we prepare ourselves to go out for a full day of shopping the following day on Black Friday to collect more "things" to be thankful for.
"If the only prayer you said in your whole life was, 'thank you,' that would suffice." – Meister Eckhart
I'm not saying that enjoying the thanksgiving feast or going shopping the day after is wrong, however, I am saying that our focus on the holiday has become a bit warped. It has become focused on being thankful for things and material blessings, and on making ourselves happy.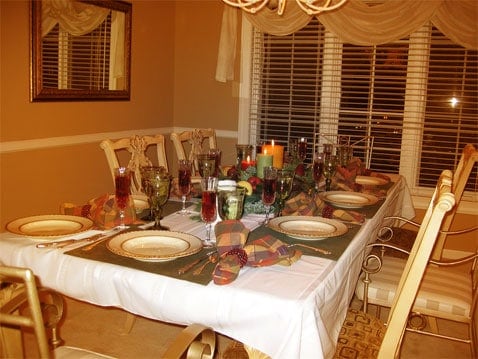 Change Your Focus From Inward to Outward
While we're taking part in our Thanksgiving festivities this year, it would behoove us to remember the true meaning of the day, to change the focus from our inward needs to one of outward gratitude. We need to be thankful to God for all he has done, and to praise him – even in the midst of hard time. He has given us wonderful families and friends that love us, and a warm place to sleep at night. Most of all He has blessed us with his love and saving Grace through his Son Jesus Christ. What more could you ask?
Sing and make music in your heart to the Lord, always giving thanks to God the Father for everything, in the name of our Lord Jesus Christ. Ephesians 5:19-20


Now, our God, we give you thanks, and praise your glorious name. 1 Chronicles 29:13

I will give thanks to the LORD because of his righteousness and will sing praise to the name of the LORD Most High. Psalm 7:17

I will praise God's name in song and glorify him with thanksgiving. Psalm 69:30

We give thanks to you, O God, we give thanks, for your Name is near; men tell of your wonderful deeds. Psalm 75:1

Give thanks to the God of heaven. His love endures forever. Psalm 136:26
Why Be Grateful?
This year let's do our best to be grateful not only in the big things, but also to be grateful for the little things. After all being thankful in all things can really help to change your worldview, and make you a happier person.
Thankfulness reminds you of positive things in your life: Sometimes we forget just how much we actually have. Being thankful makes us realize just how much we've got.
Thankfulness helps to turn the bad into good: Received a pay cut recently? Be thankful that you have a job in the first place. Don't have as much money for gifts this Christmas? Be thankful that you can still pay your bills!
Thankfulness reminds us what is important: Being thankful helps us to realize the things that are most important in our lives, like family, friends and God.
Being grateful every day makes you a more positive person: If you make an effort every day to be thankful, you'll become a more positive person because you're constantly reminding yourself of the good in your life – and helping other people to feel your gratitude – making them happier!
Being thankful improves relationships: When you express gratitude to others, it has the nice side effect of improving the relationship because you are telling the other person how much you value their contribution in your life. It will also improve your relationship with God when you are thankful, because we are made to be in relationship with Him, to praise Him and be thankful to Him.
Ways To Be Grateful
Living a more thankful life can be done in a variety of ways. Here's a few that popped into my head.
Be thankful in prayer: When you pray, be sure to offer thanksgiving and praise to God first. It will often change how you pray for the rest of your "needs".
Tell someone how thankful you are: Tell someone how thankful you are for the things that they have done for you. It's a small and easy step, but often neglected.
Show thanks by giving back to others: You can show your gratitude by being more giving towards others. Volunteer at a soup kitchen, donate your time or money or just do something small for a friend.
Give thanks for even the hard times: Sometimes we neglect to thank God for the hard times, even though they are an important part of shaping our character and building our faith. Thank God for the hard times.
What are a few things that you are thankful for this Thanksgiving? In what ways can you show your thankfulness this to others this coming year? Tell us your thoughts on thankfulness in the comments!