I first heard of the investing website Betterment.com about a year ago when I was looking into our options for investing outside of my company 401(k). We were hoping to open a Roth IRA where we could invest for myself and my wife, and after doing quite a bit of research we had narrowed it down to a couple of options including TD Ameritrade, Vanguard and Betterment.
One thing that attracted me to Betterment was the fact that they were so simple to use for the average investor, they are basically a set it and forget it type investing option where you can set your investing on auto-pilot and invest for the long term. You basically choose how much you want to invest in stocks, how much in bonds, and then you set your allocation.
Over time if your percentages get out of whack Betterment will automatically re-balance your portfolio for you, with no need for you to remember to do it on a regular basis. Their site was also super easy to use, with all un-necessary options taken out to make it as simple as possible to use.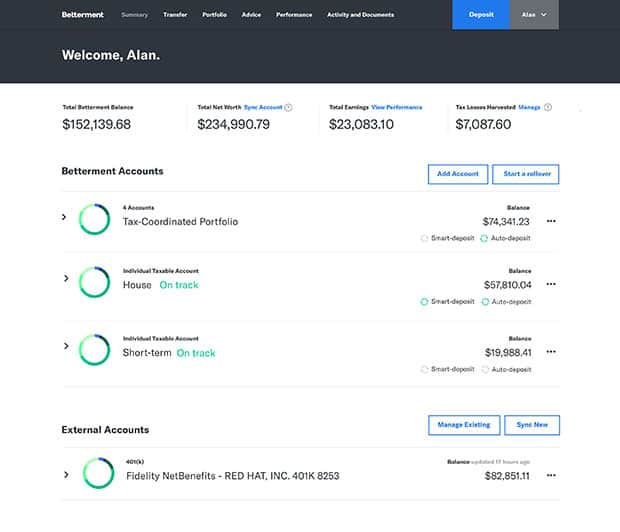 The one thing that I really wasn't sure about at the time I first discovered Betterment was the fact that their fees were pretty high in comparison to what I could get elsewhere, for having a slightly more hands-on approach. Their fee for most investors would be a 0.9% annual management fee, which while not being completely outrageous, wasn't exactly enough to get me as excited about the site. I did sign up for an account, but didn't use it a ton as the fees I could get elsewhere were lower.
A month or so ago Betterment announced lower fees for all investors across the board, with fees around 0.25% for most users. That was enough to get my attention, and we signed up for a Roth IRA and transferred over some money.
Betterment Video Review: Is The Site Really That Simple?
One question that I've gotten from several people in the past year about Betterment is whether it is really that simple to use, and whether a regular person would understand what was going on in their account. My answer is yes, it really is that simple. To prove the point and give a more extensive overview of the site, I decided to put together a video walkthrough of the Betterment.com demo site, explaining what happens on each section of the site. After watching the video, I think you'll agree that it is as simple as they say it is.

Want to check out the Betterment.com demo site for yourself? You can find by going to Betterment.com through this link then clicking on the "learn more" link at the top right. Next, go to the "How It Works" tab and you'll find the link to the demo site on that page.
Signup Bonus
Betterment is a great website and investing tool, and I highly recommend using it. If you want more details about just how it works, what you can invest in and the idea behind the site, check out the full Betterment.com review.
If you signup for an account today you can also get an account bonus of anything from a free month to 6 free months of fees depending on how much you add to your account within 60 days of signing up. Jump on that while they are still offering it! Get started through the link or banner below.
Open a Betterment account and get a bonus!