What The Government Can Teach You About Personal Finances
When it comes to the government and money there are a lot of diverse opinions. No matter what you think about the government's fiscal responsibility, one thing is for certain. Many Americans could learn at least one lesson from the government that will transform their personal finances.
What the Government Knows About Taxes
In the book, The Automatic Millionaire, David Bach spurs the question, How does the government always get their taxes?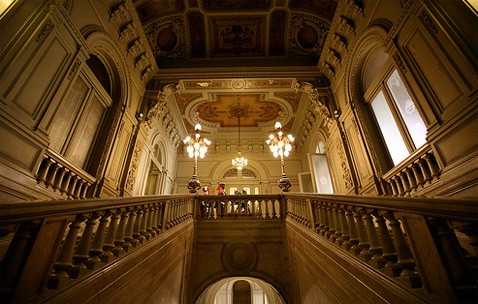 The government takes their tax payments off the top before you even have access to it. This is true unless you are self employed and the government then requires you to make a quarterly tax payment.
The government wants to have access to the money first. They don't trust you with the money because you might just blow it all before you get it. So they make you to complete a W-4 and they take their money before you get your money.
Sometimes we even get generous and pay more income tax than we should.
Do you trust yourself with money? If the government takes taxes out as soon as you get paid and you have paid all your taxes, don't you think that would be a good strategy for saving?
Almost every banks and investment broker have some automatic savings features.
6 Advantages of Automatic Savings
Simplicity – Many great financial plans fail because they are too complicated. It is far better to have a financial plan that works than one that just looks good on paper. If you are not disciplined enough to maintain the plan, it is too complicated. As an example, many people fail at budgeting because the budget is too complex. A simple budget is the solution.
Compensates for a lack of discipline – Many people acknowledge that saving money requires discipline. Discipline that too many openly admit they do not have. When it comes to automatic savings you only need to be disciplined enough to initiate the process. From there, the less attention you pay to your savings the better. Once you have set up your budget all you need to is cruise.
Emotional benefits – Some people find it emotionally burdensome to save. They think about how they could have got this or that. They then feel bad that they are saving so much for tomorrow without the chance to live it up today. However, when you 'forget' you are saving money you can mentally disconnect from the process. In addition, when it comes to saving with the stock market you'll have less worrying, analyzing, and fretting about the right time. When that predetermined day for your deposit arrives, it will be the right time.
Better for smaller accounts – If you are trying to save into something like a mutual fund or index fund, then smaller frequent payments actually give you access to funds that you might not otherwise have been able to buy. Many funds decrease their minimum amount required when you set up an automatic purchase plan.
Results – Don't argue with results. This is a proven and effective method for saving money. Since it has worked for generations there is no reason to think it is going to stop working now.
Time savings – Time is becoming an increasingly valuable commodity. Automatic savings help you have a larger rate of return and saves you time, energy, and effort in the process. Just think about it like a ball at the top of the mountain. You just need to give it a little push and it will do the rest by itself. All you need to do is organize your finances and then you no longer have any additional time investment.
Do you do automatic saving or investing? Why or why not?