This is a sponsored post that contains affiliate links.
I've been bitten by the side hustle bug on multiple occasions over the years.
I've started a variety of online and offline small businesses, with the goal of making enough additional income to save more for retirement, and to have a little fun money on the side.
If you're serious about making enough money to go full time, however, and want to turn your side hustle into more of a full time business, it's important to take your business, and your brand to the next level.
So how do you make your business feel more professional and lend it some legitimacy without spending a ton of money?
There are a variety of things that you can do to build a solid brand, without breaking the bank. Here are 5 that should get you off to a good start.
Brand Your Small Business: Choose A Name
Probably one of the most important things you can do when setting up your business is to come up a with a great name.
It can be easy to go wrong on this first phase, and choose something that doesn't make a ton of sense, is hard to remember or is just too long.
Instead, choose a name that gives a sense of what you do, gives a positive feeling, is keyword rich or that is very brandable. So what is a brandable or keyword rich name?
Brandable: A brandable name will be something that isn't necessarily keyword rich, but is usually memorable in some way. Names like Boing Boing, Twitter or Skype are brandable names, but don't necessarily mean anything by themselves.
Keyword rich: A keyword rich name uses keywords that give cues to what your business is about. Having keywords in your brand and URL can help cue potential customers in to what you do.
Why not do the best of both worlds and use a name that is both brandable and keyword rich? Choose something that makes sense for your business, stands out and that will work well for your online presence.
Get A Professionally Designed Logo
Finding a high quality, professionally designed logo should be relatively easy in this day and age. If you're not careful, however, you can end up paying thousands of dollars to someone who has little knowledge of what they're doing, without the promise of being able to collaborate with your designer or work with them on revisions, if needed. I've been through this process before, and it can be a pain if you get the wrong designer.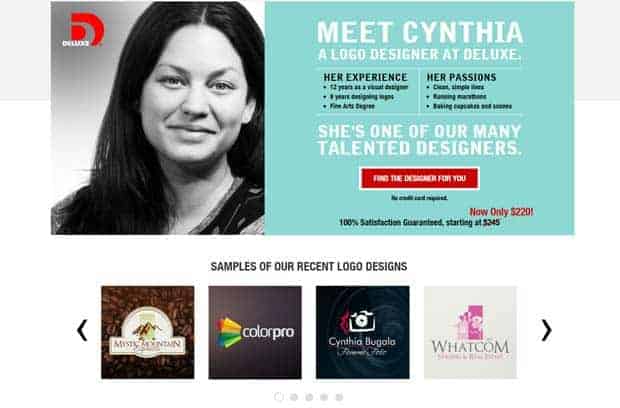 Deluxe Business Services

I've recently discovered an amazing deal on high quality design service through a company that already has a strong reputation, Deluxe Business Services.
If you check out their site, you can get a logo designed for your brand by a visual designer with an average of 14 years of experience, starting at only $245! That will get you up to 10 logo design concepts, 2 designers working on your project and up to 2 revisions! You'll get your final designs in vector format, as well as 11 other file formats. Not only that but you'll own all rights to the design – so you can use the final product on your website, on products you sell or on a business card.
I've got a deal setup with the folks at Deluxe, and if you order a logo design project via my link below, you'll get $25 off your already affordable design package.
Start your logo design project through this link with Deluxe Business Services!
Buy A Domain Name
Before settling on a brand name, it's important to make sure that the URL for that name is still available.
Once you've settled on a name, buy the domain name that matches your company's name. If the exact match isn't available, buy something that is similar, abbreviated or that matches the brand in some way. The key is to make sure the URL is short as possible, and is easy to remember for your potential customers.
Get A Website
Once your company has a name, a domain name and professional logo design, it's time to go live on the Internet.
Putting together a website is easier than it has ever been. These days are out of the box tools like WordPress that will allow you to setup a custom looking website with your new logo and a WordPress theme. All you need to get started:
A hosting company: Your host is where your website will live and how it will be served to the world. If you're just starting out you can get a cheap shared host for a few dollars a month.
WordPress: WordPress is the publishing foundation for your website. It allows you to create pages and posts on your site.
WordPress theme: WordPress comes with free themes, but you can buy a custom theme that allows you to customize your website's layout, upload your new logo and create a fully customized and mobile responsive look.
After you publish your website, don't forget to submit it to the search engines for indexing, and grab your local business listings on Google and other local search engines.
Snag Your Social Media Usernames
When you're setting up your website for your company, one of the first things you should do is snag your preferred username (usually your company's name) for all of the available social media platforms.
Make sure that the name is consistent across social media sites, and that it's easy to remember. Sites you should snag first include:
Facebook
Pinterest
Twitter
Google+
Instagram
YouTube
Start Building Your Online Reputation
Once you've come up with a company name, bought a professionally designed logo for your brand, and published a website complete with active social media accounts, it's time to start creating your online reputation.
Engage with other users on social media, especially people interested in the niche that your company resides in. Sell your product or service, and actively solicit testimonials for your company.
Do your best to always promote the best possible face forward for your business by giving your company a great name, an engaging brand a design, and an active online presence. You'll be glad you did!
Have your own tips for taking your business to the next level? Tell us in the comments!