Featured Rewards Card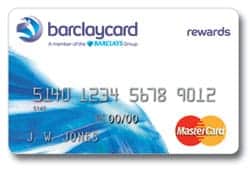 This month we're featuring a rewards credit card from Barclay's that can allow you to get a decent amount of cash back with no annual fee.  The Barclaycard® Rewards MasterCard® doesn't have rotating categories like some cards, instead you receive double points on purchases that you make every day. You get two points for each dollar spent in groceries, gas, utilities. All other purchases get you one point for each dollar spent.
Special $50 Cash Back Offer
You can get $50 cash back when you make your first purchase if you are approved for the Barclaycard® Rewards MasterCard®. Since the card works on a points rewards system, you will actually receive 5,000 bonus points — which is enough for $50 cash back. Once you make your first eligible purchase, you'll see your money.  Sign up and start earning points today!
Apply for the Barclaycard® Rewards MasterCard®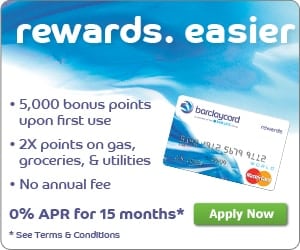 Credit Card Types I Recommend
On this page you'll see rewards credit cards. To view other types, click on the links below.