You Must Now Confirm Your Request –
Please Follow These Instructions:
Your request to sign up for the Money Matters Tips Newsletter has been sent to my system. You will now receive an email with a link that you must click on to confirm your request.
The email will look something like this: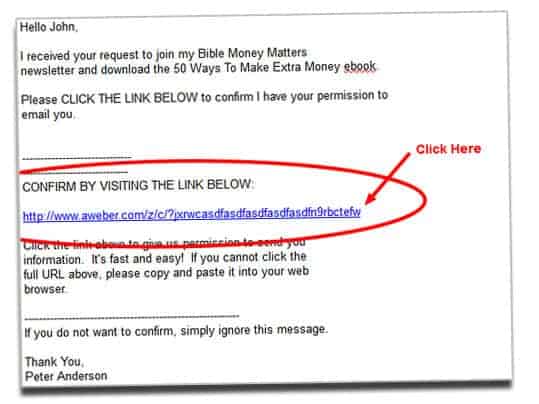 Once you've clicked that link in your email, you should then receive your first email which will include a download link for the ebook.
Need Help?
If you don't see the email in your inbox shortly, please check your spam box, or fill out the form again to have another copy of it sent to you.
If you continue to have difficulties, please contact me.
Whitelist My Email
Please make sure you whitelist my email address so you are sure to receive all emails I send you. Thanks!
Read Past Email Newsletters
Once you confirm your subscription, you'll start to receive regular email newsletters. While you wait, however, you can read our previous newsletters at the link below.
Follow Us On Facebook and Google+
We usually post new and exclusive content on Facebook and Google+ throughout the day (before they get sent in the newsletter). Follow our pages to stay up to date!