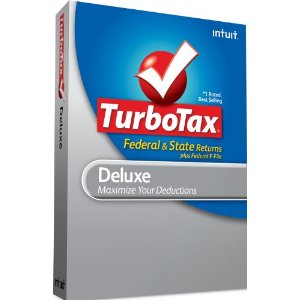 For the past week we were running a giveaway on this site for 3 copies of TurboTax Deluxe, courtesy of the good folks over at Intuit – makers of TurboTax and Mint.com. We had a ton of comments, tweets and people subscribing, and as of yesterday we had three winners chosen. They are:
Jenni S
Stephanie G
Henria O
Congratulations you guys, and I hope you're all getting a big refund in addition to your free filing!
I use TurboTax myself, and have for a couple of years now.  This past weekend I entered all of my tax data into TurboTax, and I'll be filing shortly.  The result?  I estimated my taxes pretty well this year, and as a result I get a tiny refund from state taxes, and I owe about $150 for federal.  Read my full TurboTax review.
Financial Blogger Conference
Are you a financial blogger, and want to meet up with a bunch of other financial bloggers to hang out, network, and figure out ways to increase your income?  Consider coming to the Financial Blogger Conference this year in Chicago from September 30th-October 2nd.  Head on over to the conference website to get further details
Great Posts From Around The Web This Week