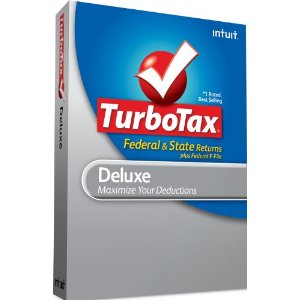 Tax day, April 18th, is fast approaching, and a lot of people have yet to file their taxes.  While I'm normally not a big fan of procrastinating, this time you may be in luck!  Why you ask?  Because Intuit, the folks behind such great software as Mint.com and TurboTax have agreed to give us gift cards containing pre-paid codes for TurboTax Deluxe Online 2010 to give away to 3 lucky readers. The code is redeemable at TurboTax.com and good for one free federal and state preparation and e-file with TurboTax Deluxe Online 2010.
I actually use TurboTax myself, and have for a couple of years now. I've used other tax software in the past, but I've just found TurboTax to be among the easiest to use, and for my money it works the best in finding all the deductions and credits that you have coming your way.
So how do you win?
1 Giveaway Via Email Newsletter
We'll be giving one of the pre-paid codes away via our email newsletter. How do you win?  Just subscribe below and we'll choose a random subscriber on Monday to receive the code.  Easy peasy.

2 Giveaways Via This Site
We'll be giving away two TurboTax codes on this site next Friday.  We'll give you an entry for each action performed, and then choose a random winner using Random.org. Here are the ways to win.
Like us on Facebook:  Head on over to the Bible Money Matters Facebook page and like us!
Follow us on Twitter and Retweet!:  Follow us on Twitter and then retweet the following:
Win A Free Copy of TurboTax Deluxe Online 2010 http://tinyurl.com/ttdfree via @moneymatters #giveaway #contest please RT
Comment:  Leave a comment on this post telling us which actions you've performed, and if you think you'll be getting a refund this year.
So one newsletter winner on Monday, and 2 winners next Friday.  Good luck!
This contest is now closed. Thanks for entering!
I Entered A Guest Post Contest – Help Me Win!
I also wanted to take a brief moment today to ask everyone's help.  I recently entered a Guest Blogging contest over at http://www.creditcardscanada.ca/, and my guest post went live a week or so ago. If my post is voted the best by the most number of comments, facebook likes, tweets and other social love, I could win $1000.  This weekend is the last before the winner is determined, so please help me out by going and commenting and sharing the post with all your friends via the social links at the bottom of the post page!  It won't help you in the TurboTax giveaway, but I'd be eternally grateful.
Thanks for your help, I really appreciate it!
(After you comment and like here, you can also vote for the post here, here, here, here, here, here, here.)

MY LATEST VIDEOS
Great Posts From Around The Web This Week
Here are a few of my must read faves from this week.