It was announced back in May that TradeKing and Zecco would be merging, pending regulatory approval. At the time it wasn't 100% clear what form the merger would be taking, what the name of the merged company would be, or how the websites, tools and products of the two companies would be changing once they merged.
Now that the companies are actually in the process of merging they have began to put more details out there about just how things will be changing.
Today I thought I'd talk a bit more about the TradeKing Zecco merger, how it came about, and how things will be changing for existing customers of both companies.

TradeKing And Zecco Merge
The history behind the mergers of TradeKing and Zecco is actually quite interesting. Apparently the CEOs have been friends since middle school. From Barron's:
When they met in eighth grade, in the principal's office, Don Montanaro and Michael Raneri didn't know they'd be friends for decades, much less business partners. The latter part came true on May 15, when their online brokerages, TradeKing and Zecco, agreed to merge.. The newly merged firm would have a combined client base of approximately 500,000 accounts with several billion dollars in client assets…

The plan is to unify the two entities under one brand and put the resulting firm on a single, best-of-both-worlds platform… The two firms already share a price point—both charge a low $4.95 commission on stock trades. Aside from low prices and social networking, TradeKing has focused on options and has a pretty rich educational site.

Montanaro, the co-founder and CEO of Florida-based TradeKing, was introduced to Raneri, now San Francisco-based Zecco's CEO, by their middle-school principal shortly after Montanaro's family moved to Connecticut. (No, they didn't get in trouble together.) "We were best buddies all through high school, and Mike was my intro into Quick & Reilly after I finished law school," Montanaro recalls. Quick & Reilly was an early discount broker and branched into online trading in the mid-1990s. "Mike had a 10-year run at Schwab after Q&R, so we've been colleagues and competitors for years. Now we're partners at the right time to really be winners in this space."
The two CEOs and their respective companies agreed to merge at this time in part because they wanted to "stop being distracted by one another", and make a move at competing with what they call the "big five" online brokers, Schwab, Fidelity, E*Trade, TD Ameritrade and Scottrade.
While some folks are skeptical that they can compete with those bigger companies, at least not right away, most seem to think that merging does give them a better chance at making a push at competing with them. The two companies are very similar in many respects, including in being known as great places to do low cost investing.
The two companies will keep the TradeKing name, while the logo will be redesigned to incorporate the "candlesticks" portion of the Zecco logo.

TradeKing Redesigned
As part of the merger process TradeKing has redesigned their entire website, not just their logo. Among the things that have been revamped as part of the merger:
Site navigation: They've rebuilt the navigation bar based on customer feedback, to make it much easier to get to what you need quickly.
New alerts center: You can now stay on top of big market moves via e-mail, SMS, or mobile apps with special triggers you define. Similar to a tool that Zecco had previously.
Upgraded stock, ETF and mutual fund screener: You'll now have an updated tool to screen stocks, ETFs and mutual funds based on your trading style.
Enhanced charts: There is a new and easier to use charting interface that will give access to more events, expanded indicators, and storable settings.
New research tools
New mobile apps: Zecco was known to have one of the best mobile apps out there, and now TradeKing will be launching newer/better apps as part of the merger. Trade stocks, options, and mutual funds, wherever you are.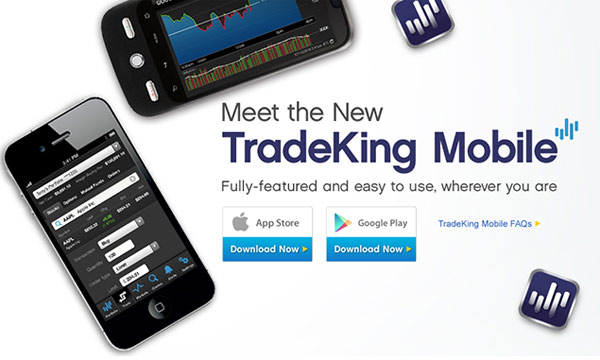 What Does It Mean For Existing Zecco & TradeKing Customers?
So what are the ramifications of the merger for existing customers of both companies? As of now the companies don't foresee too many changes that will affect customers in a negative way, the main changes will be in the branding of the new merged company, as well as in Zecco customers having to get used to the new TradeKing interface once they've switched over. Pricing will be remaining the same for both companies at $4.95 per stock or options trade plus, $0.65 per options contract, same as before. Account numbers and sign-in information will not change, but the sign-in process may be changing a bit after TradeKing received feedback lamenting the sign in process of the old site.
As mentioned above, customers of both companies will have access to the new redesigned and improved TradeKing site and mobile apps.
What Do Zecco Customers Have To Do To Move Their Account To TradeKing?
So now that TradeKing and Zecco are merging operations, what do existing Zecco customers have to do to move their accounts over to TradeKing? It shouldn't be too much of a bother. From the TradeKing site, here's all you have to do.
Go to Zecco.com
Sign in with your Zecco username and password and follow the on-screen prompts to move accounts over to TradeKing.
That's It! Now, you can access your account at TradeKing.com.
So basically it's just a matter of signing in with your old Zecco user/pass, and then following the prompts. Piece of cake.
You won't have to re-establish ACH relationships with the new accounts either since both companies used the same provider.
Conclusion
From the sound of it the merger should be a good thing for most customers. Pricing will be about the same as it was before, and the two companies will be bringing in some of the best tools from both companies and making them available to all the customers of the newly merged TradeKing Group, Inc.
If you were thinking about signing up for TradeKing or Zecco previously, with news of the merger their offerings probably just got even better as they now have more and better tools at the same low cost. Definitely worth checking out.
Sign Up For An Account With TradeKing