A while back I wrote a quick review of the PerkStreet Financial rewards checking account, and talked about how I thought it might be a good account to use for normal everyday spending because you can earn anywhere from 1-5% cash back on your purchases that you're making anyway. Not only are you earning cash back for your normal spending, but you're doing it with a debit card, which really isn't very common nowadays. There are a ton of accounts available that are rewards credit cards, but there are only a couple rewards debit cards that I know of.
If you've been reading this site for a while you know I'm a big fan of Dave Ramsey, of paying cash, and being wary of buying things on credit. Because of that when I heard of PerkStreet's rewards checking accounts I thought it was a great idea – because it would allow me to earn rewards without using a credit card. I looked forward to trying it out, but I haven't signed up… until now.
Signing Up For PerkStreet Financial
Signing up for Perkstreet Financial's Rewards Checking Account is advertised as an easy 5 minute process. I decided to put that to the test.

To signup for your own account go the PerkStreet Site. Once you hit on the "Apply For An Account Today" button, it'll start the process of your account application. The clock is ticking!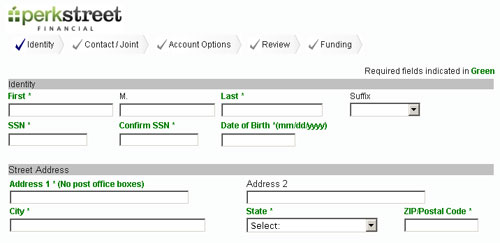 First you'll give your personal information as shown in the screenshot above, and then you'll be asked to add any joint account holders. (Be sure to have their social security number and driver's license handy as well).
Next you'll add account options (like if you want overdraft protection).
Finally, you'll decide how you want to fund your account.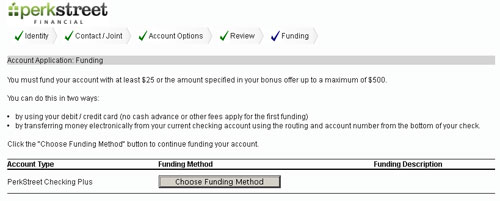 You can fund your account via credit or debit card, or by transferring money electronically from your current checking account. It will limit the amount you can add right away to $500, but you must add at least $25.
I was able to enter all of my personal information and set up my account funding option in just over 5 minutes! If you factor in that I was taking screenshots and writing this post at the same time, it would easily be under 5 minutes otherwise. So it was quick and easy just as advertised!
To recap, the information you'll need handy to open your account includes:
Name
Social Security Number
Date Of Birth
Driver's license
Debit card, credit card or bank account info to make the initial $25 deposit.
Account Review And Confirmation
After going through the application process you'll get an email confirming that your application has been received.
We are currently processing your application and will contact you within 2 business days to notify you of the status. Once your account is open, we will begin processing your deposit and send you an email with the subject "Welcome to PerkStreet Financial – Important Login Information".

The email contains log in instructions so you can access your account. Additional information about your account will be sent to you in a Welcome Kit through the mail.
So according to the email – while it may take only 5 minutes to sign up, it sounds like it may take up to 2 days for the account to be approved. Be sure to watch your email and spam folders for their welcome email as it will contain instructions for accessing your account.
Summer Cash Back Of 5%
Just about every month PerkStreet will announce new categories that are eligible for 5% cash back – a bit more than the normal 2% cash back. This month they have 5% cash back on "summer fun". What does that include?
From July 1 to July 31, you'll earn 5% cash back on all non-PIN purchases at Ben & Jerry's®, Dairy Queen®, Cold Stone Creamery®, Old Navy®, and on movie tickets (MCC code 7832)
So there you go. Sign up today and you'll get 5% cash back on purchases at those stores and restaurants. Seeing as I'm addicted to ice cream, and love a good movie, this may be a good month for cash back!
So how does cash back normally work? For the first 90 days all new accounts earn 2% cash back. After that, if you have an account balance of over $5000 you'll earn 2% cash back on all non-pin purchases. Below $5000 and you'll earn 1% cash back. Easy peasy.
Other Account Features
Beyond the cash back PerkStreet is just a great account that offers a ton of perks. Among them:
The most debit card rewards available
The largest free ATM network (37,000+)
Free checkbooks
Free online banking and bill pay
Fast phone service, 24/7
I checked before I signed up to make sure there were ATMs around my area. I want it to be convenient to get cash if I need to. I found that Perkstreet actually has more ATM locations near me than my current bank does. I only have 1 ATM in my area for my current bank, and saw at least 5 for Perkstreet within 2 miles (since they have free ATMs in most CVS, Walgreens and Target stores). Perkstreet for the win!
Conclusion
I've written about PerkStreet several times on this site, and talked about how I thought it was a great idea. I've even written for their blog as a freelance writer a few times. But I've held off on signing up for an account because I wanted to keep things simple.
After thinking things over, however, I realized that the 2% cash back was just too good to pass up. Add to that their great list of features, and the fact that Dave Ramsey recommends their account – I knew I had to just had to sign up.
If you're looking for a way to earn rewards without signing up for a bunch of rewards credit cards, or if you just want to make some cash back on your normal spending – I think you should give it a try as well.
Sign Up For Perkstreet Financial Rewards Checking
Have you already signed up for PerkStreet? If so, how are you using your cash back? Is the account everything that you had hoped? Tell us your thoughts in the comments!