A new site is launched!
Some of you already know that in addition to this website, I also run a couple of other websites. I have a fitness site called QuicktoFit.com, and now within the last week I have also launched my new logo design website LogosForWebsites.com.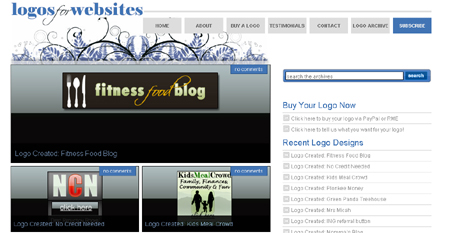 I have been doing quite a brisk business in the past few weeks through my free blogger logo site doing designs for a lot of my friends in the personal finance blogosphere, for other bloggers, webmasters and tons of folks who have an online presence with Twitter, Plurk, Digg or other social media.   Since I was getting so much work, I decided it was time to move up to my own hosted website at logosforwebsites.com.
Get your new logo now!
If you're in the market for a new logo, an entrecard badge, a twitter background or just an small graphic you can use on all your social media profiles, head on over to my website and I can whip something up for you in no time, at a reasonable price!  Here's a few examples of my recent work.
Head on over to logosforwebsites.com for more!
Want some more examples of my work? Head on over to my website!  Already decided to buy a logo?  CLICK HERE to go directly to the payment page. Already paid? Just go to our logo questionnaire and tell us what you're looking for – it's that easy!