I stopped by the mailbox last night on my way home from work, and when I opened it up there were two boxes inside from a company called Save1. I can't say that I had ever heard of Save1 before getting the boxes in the mail, but I was intrigued.What are they sending me?
I opened up the boxes and inside each one I found a bag of gourmet coffee.  They must know me pretty well if they're sending me coffee. I love coffee and I've got several articles about roasting your own coffee beans and how to save on coffee on this site. So far they've done well by me!
In the bottom of the box was a nice note from one of the founders at Save1 saying that they hoped I'd check out their site, and they hoped the coffee would help me to stay awake during the busy holiday season.
Ok, they were nice enough to send me a couple of bags of good coffee, I may as well check out their site, right?
Save1 History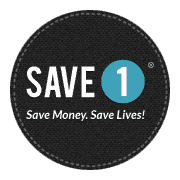 Save1.com is a startup company that launched only last month, the brainchild of a family who wanted to create a business that could help to make a positive change in the world. Read their story here.

MY LATEST VIDEOS
So what does Save1 do?  They're a coupon site, with a twist. When you use the coupons and deals found on their site, a part of the commission will go to feed hungry children around the world, via their partner organizations like Feeding America.  Their tag line is "Save money. Save lives!".
When you use a coupon or deal from Save1, we receive a small commission from the store where you make your purchase. We then give away a portion of the commission we earn to help hungry children.

The organizations we have selected are among the most credible and respected charities in the world, specializing in feeding hungry and malnourished children.
Even though the site only launched last month they've already given over 85,000 meals to needy families and counting. Not too bad of a start!
Why The Name Save1?
So one of the first questions I had about Save1 was why they decided to name the company Save1.  I assumed it had something to do with saving money, but why 1? In browsing their site I came across a video where one of the Co-founders, Gerrid Smith, talks about the idea behind the name.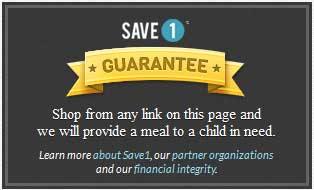 So the idea behind the name comes from the starfish story and the idea that we can't help everyone, but for the ones we do help – we've made a difference in their lives. Just do your best to "save one". Here's the starfish story:
A young girl was walking along a beach upon which thousands of starfish had been washed up during a terrible storm. When she came to each starfish, she would pick it up, and throw it back into the ocean. People watched her with amusement.

 

She had been doing this for some time when a man approached her and said, "Little girl, why are you doing this? Look at this beach! You can't save all these starfish. You can't begin to make a difference!"

 

The girl seemed crushed, suddenly deflated. But after a few moments, she bent down, picked up another starfish, and hurled it as far as she could into the ocean. Then she looked up at the man and replied,

 

"Well, I made a difference to that one!"

The old man looked at the girl inquisitively and thought about what she had done and said. Inspired, he joined the little girl in throwing starfish back into the sea. Soon others joined, and all the starfish were saved.
How Does Save1.com Work?
So how does Save1 actually work?  It's a concept similar to other shopping and coupon sites like RetailMeNot.com.  When you're shopping for something online, and you find it at a certain store, be sure to check with Save1 first, and see if they've got any coupon codes or special offers available for that store. If they do, you just click on their link or use their special code, and when Save1 receives their commission they'll use part of that to provide a meal for a hungry child.

So it's as simple as this:
Search for a coupon or discount
Use the coupon or discount
Feed a hungry child
Easy! You can also sign up for their deals email and get emails on a regular basis with hot deals and other offers.
Save1 In Action
I wish I had known about this site yesterday, I could have tried it out.  I was shopping online at Kohl's for some clothes, and I actually ended up using a 15% off coupon code from RetailMeNot.com in order to save on my order.
When I search on Save1.com for Kohl's coupons today, they have that same 15% off coupon code that I used yesterday, in addition to one for 20% off.  I could have purchased through their site and saved even more, and put my dollars to work in a more positive direction.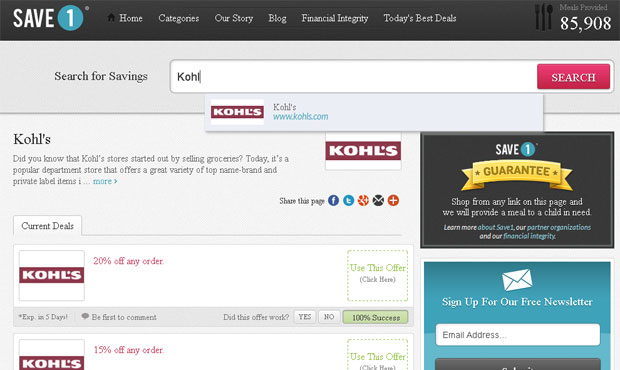 At least now I know about it and can check here first next time.
Interesting Concept That Has Promise
When I first saw that Save1 was just another deals site, I was hesitant to do a review or to check it out.  I get emails about sites like this all the time. Frankly, they're a dime a dozen. When I heard more about the concept, however, and how shopping via Save1 enables people to help others in need through little to no extra effort on their part, I knew I had to write about it.
While the site is still displaying the "beta" tag on the masthead, and in some respects it's still got some rough edges, I definitely think it's worth a look.  The site will improve with time, but their current mission of helping others is a worthy one.  Plus, they're working with some great organizations that I've dealt with in the past through our church (like Feed My Starving Children), so you know that the donations they're making will be put to good use.
Also, for  a limited time they're also offering to feed a hungry child for every like and share they get on Facebook, in addition to anyone who signs up for their email list.  Head on over, give them a like and a share, and check it out!