After the Fair Credit Reporting Act legislation was passed consumers were given the chance to check their credit files every year to check for errors or discrepancies, without having to incur any costs to themselves. The three credit agencies, TransUnion, Equifax and Experian, now will allow you to get one free credit report every year through the government site at AnnualCreditReport.com.  Personally I like to stagger my reports and get one of them every 4 months to stay on top of things.
While you get your credit report for free at the government site, getting your actual credit score used by companies in determining your creditworthiness will cost you an extra fee.    A couple of weeks ago we talked about how you could get your TransUnion credit score for free.  This week I thought I'd look at how you can get your Equifax credit score for free.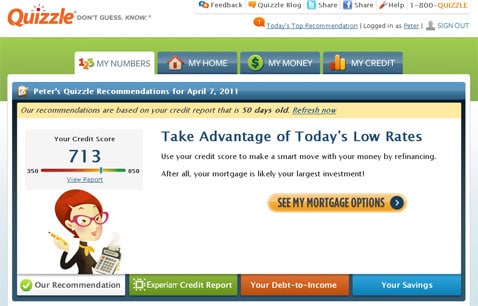 Free Credit Score AND Report From Quizzle.com
When I was setting up to do this review, I realized that I had been using Quizzle for quite a while longer than I had realized.  I actually signed up for the service way back in March 2008, and have used it to some degree ever since.  Back  in 2008 the site wasn't as comprehensive, and didn't have as many options to play around with as it does today, but it did still offer the free credit score at that time.
Before we get started, let's ask this – how is Quizzle supported, and how can they offer all of this great information for free?
The site was actually started by Quicken Loans, a home mortgage provider.  Essentially they're giving you all of this great information on their site for free, in hopes that you'll end up using them as your home loan servicer. While it sounds like they're going to be spinning off the Quizzle brand at some point, Quicken Loans is still worth a look.   (Read my Quicken Loans review here)

MY LATEST VIDEOS
When you sign up you will just need to provide name, address, date of birth, and email address and some other personal information.   You won't need to provide a driver's license number and social security number as some other sites ask for, but they will ask you to confirm some information from your credit file.  All in all, a seamless easy process to sign up.
So what information will you find on Quizzle?
Free Equifax Credit Score And Report
As mentioned above, you can get your free credit report from the government site mentioned above, but to get your credit score you'll have to either pay, sign up for a free trial with a credit card, or use Quizzle.  Quizzle isn't the only way to get your credit score for free, but it's definitely one the easiest as far as I'm concerned.  Here are some other sites that will give you a free credit score or report:
When you get your credit score and report from Quizzle, what you'll be getting is your report and score from the Equifax credit agency.  Here's a look at my credit score trending report.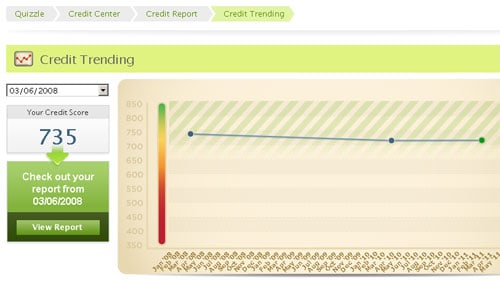 My Numbers
When you first login to Quizzle you'll be presented with a homepage of sorts called "My Numbers" where you'll be shown your credit score, as well as recommendations for Mortgages through Quicken Loans.  You'll also be shown a quick picture of your finances via debt to income ratio (if you've entered some other financial information), as well as a quick look at your Experian report.  It also has a tab showing any savings goals you've setup on the site.  In essence it's supposed to give you an overview of your finances.

My Home Section
The My Home Section takes a look at several different things surrounding homes and mortgages including looking at your mortgage and whether you can save, a section looking at your home's value (if you have one), looking at details of homes sold in your area (in case you're thinking about selling), and a section looking at the home buying process for new buyers.
My Money
The my money section looks at your family's money, and helps you to set up a budget and savings goals.  It  also has a debt planner that can help you to get out of debt. It will ask for income and expenses, and show you where you can improve. In several of the sections Quizzle partners will be promoted.
My Credit
The credit center has all the details about your credit report and score, and talks about how you can improve your situation. It will also show you graphs showing your credit and how it trended over the months and years.  You can also sign up for a  regular credit report and score via one of Quizzle's partners, more often than the two a year they give you.
Reasons I Use Quizzle
There are a lot of reasons to like Quizzle.
Can't beat the cost. ( Free! ) While you can get your credit score elsewhere, this is the only place I know of that you can get it for free without giving up your social security number or credit card.
Check your credit report and score twice a year: With Quizzle you can check your credit score and report twice a year.  So you'll be able to add that to the one report you'll get free from AnnualCreditReport.com, although here you'll also get your credit score.
Figure out how to improve your credit:  Check your credit report and Experian score in Quizzle and it will give you ideas on how to improve your score.
Sign Up For Your Free No Obligation Quizzle Account
So with all that said, have any of you used Quizzle?  If so, what do you think of the site, and how do you use it? Do you find it useful?