Last month PerkStreet Financial announced on their blog and Facebook page that they would be making some changes to their industry leading debit rewards program. I didn't comment on it at the time, but decided to today since the changed perks went into effect this morning.
Previously PerkStreet had a pretty simple perks program where there were two levels of cash back rewards. You could earn 1% cash back on all non-pin purchases, or you could earn 2% cash back if you maintained a balance of at least $5000. There were also special "PowerPerks" every month where you could earn 5% cash back at certain stores. Simple.
That rewards structure was scrapped in favor of a program that PerkStreet said would allow them to offer more perks to more people. The new program offers 1% cash back on all non-pin purchases, as well as 2% cash back when shopping at certain online stores (like Amazon.com, Walmart.com, Apple.com, BestBuy.com). You can also earn 2% cash back at the bricks and mortar locations of those online stores, if you maintain at least a $5000 balance. There is a maximum of $5,000 in purchases per year that can earn 2%. The rotating 5% PowerPerks remain under the new program. Also, you could also no longer get rewards Mastercards (they cost too much apparently), and instead you could get an account credit, but it would cost you $2 for every $20 credited.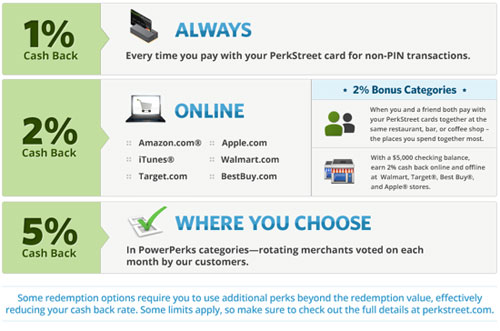 So essentially, under the new program the main changes are that the $5000+ balance customers are no longer getting 2% cash back wherever they spend their money. They'll now only get 2% cash back at certain online and offline stores, mainly Amazon, Walmart, Apple and Best Buy, and that 2% cash back is limited. Customers who have less than $5000 will get 2% cash back at those online stores as well. For those customers who have $5000+, which PerkStreet says are about 10% of their customers, they'll now be earning quite a bit less in perks.
Unfortunately I am one of those customers who'll be getting the short end of the stick. Instead of earning close to $600 (or more) in cash back perks every year, I'll probably get closer to $300 or so. That, and I can no longer get Mastercard rewards debit cards, but instead an account credit that costs me $2 to redeem. So in reality, that makes the rewards a bit less than 1%. That stinks.
Perks Program Change Backlash
As soon as the announcement about the changes was made there was a huge outcry from upset customers on the blog post, as well as on Facebook and Twitter. Many folks had signed up for PerkStreet mainly because of the 2% cash back rewards, and didn't mind maintaining a $5000 balance to get it. They now felt betrayed that they wouldn't be getting that perk anymore. Here's a sampling of the posts from Facebook: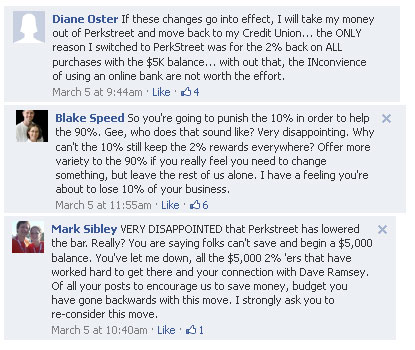 I'll be the first to admit that the decision to change the perks program had me a bit upset as well. I was a happy customer and had been maintaining a $5000 balance in my account for some time like a lot of others. I loved getting those nice rewards Mastercards in the mail every month or two. I felt I was getting rewarded for spending responsibly using debit instead of credit. Now the benefit of using a debit rewards card is looking a bit less attractive, and more complicated.
It was obvious that PerkStreet was having a bad few days in social media, and today's announcement from CEO Dan O'Malley acknowledges that the changes wouldn't be making everyone happy.
This is a quick reminder that the changes we announced last month become effective today, April 4th, 2012. Need a refresher? Click here.

While change is never easy, we needed to adapt our perks program to maintain a sustainable business through a tough economic environment. It was tough to tell some of our longtime, loyal customers that they're going to earn less. And we know it was tough to hear. We apologize for it.

We knew we would have to reduce value for some of you, but we challenged ourselves to add value for most of you. We spent months with the data and found a way for 90% of you to earn more. We added many retailer redemption options and we created a much simpler, faster statement credit option at a sustainable cost.
I think part of what made so many folks upset about the changes was that they were cast in the light that they were a good thing for PerkStreet customers, while in reality for a very engaged and disciplined 10%, they were in fact a very bad thing. I think most people can understand that PerkStreet is a business, and that in order to stay profitable they may need to change and adapt. But the way they went about making the change felt disingenuous to many.
Why I'm Sticking With PerkStreet
While I think the roll-out of the changes could have been handled a bit differently, I understand why they had to make the changes. It's a tough economic environment, and the perks that they were offering weren't allowing them to reach their business goals. The perks just weren't sustainable.
While the changes were cast in a light that made them seem like a good thing for all customers when they were announced, I think PerkStreet has now realized just how upset they have made a very vocal minority with the changes. Because of that I think they've walked it back a bit and have offered a more conciliatory tone, letting customers know that the changes aren't a good thing for everyone – but nonetheless are a necessary step for their business. I think that was what was needed from the start, and if it had been framed that way, there may have been less of a backlash. Hindsight is 20/20, right?
Despite the drop in cash back rewards, and the snafu with the announcement of the changes, I'll be sticking with Perkstreet for a few reasons.
The cash back rewards are still among the best for debit cards: There aren't a lot of cash back debit cards available on free checking accounts out there. PerkStreet, even with the changes, still offers one of the best cash back programs out there for debit cards. Yes, there are better cash back programs for credit card users, but if you don't want to go down that credit road, PerkStreet is still among the best.
They're working on improving product offerings: They've got a decent site already, but they're looking to improve on their offerings. They're currently working on some tools for mobile users, as well as ability to do remote deposits. They are also going to be releasing some cool envelope budgeting tools that I've had a chance to preview.
I know many of the folks at PerkStreet personally: Disclosure – over the past couple of years I've gotten to know some of the folks at PerkStreet through my role as a customer columnist for their blog, as well as getting to meet some of their staff personally at The Financial Blogger Conference last year. I know they're good people, and they're truly trying to be a different kind of bank at PerkStreet. Despite the stumbles I trust them to do right by their customers.
While I'm disappointed that I won't be earning as many perks going forward, I think their debit card rewards are among the best available and I know they're still a first class organization. As such I'll be sticking with them for the long haul.
What are your thoughts on the changes that PerkStreet is making? Would it make you reconsider using them, or not?
Read my original Perkstreet Review