Last night I had the privilege of attending my first regular season Twins baseball game at their brand new stadium, Target Field. My wife agreed to go to the game because it's my birthday this weekend, and while she is normally bored to tears by baseball, I can usually get her to attend at least 1 or 2 games a year.
We had a great time at the game last night. The Twins offense ended up having an off night, and were shutout 2-0. All the same it was a lot of fun walking around the new stadium, finding all the nooks and crannies, viewing the downtown Minneapolis skyline and just reveling in outdoor baseball in Minnesota once again. Yes it rained last night, and it wasn't a warm 75 degrees like at the Metrodome, but i far prefer outdoor baseball to the artificial indoor equivalent. Nothing like snuggling up to your honey under a blanket on a cool spring day watching baseball.
Do we have any other fans of outdoor baseball in the house? Leave a comment with your favorite outdoor baseball memory!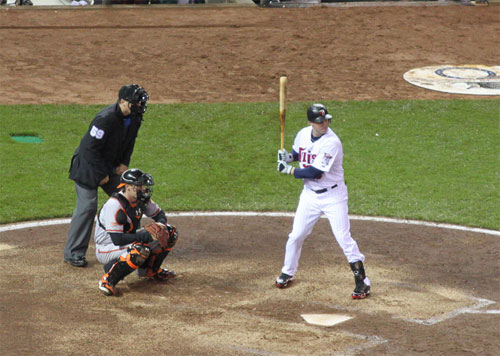 Post Roundup
Lots of good posts this week. Here are a few of them: