Over the last few weeks I've been making a lot of changes behind the scenes, things that most people probably wouldn't notice. In order to help make the articles here available for even more people I've been making Bible Money Matters compliant with several mobile platforms, in addition to launching an email newsletter just yesterday.
So without further ado, let's take a look at some of the new options you have to keep in touch with Bible Money Matters!
Bible Money Matters Email Newsletter
Bible Money Matters now has an email newsletter. In the newsletter I'll be sharing Bible Money Matters content, themed personal finance updates, tips for blogging success, and of course I'll be doing giveaways of cash and prizes on a regular basis.
If you sign up for the newsletter this week you'll get a coupon code in your first email that you can use to save $5 off the price of my new "Blueprint For How To Make Money with A Blog" e-book (which launches on Monday – you get exclusive pre-launch access if you sign up for the newsletter now!). Sign up here below:

Bible Money Matters For Mobile Browsers
There are quite a few people who check out the site every day from mobile browsing platforms like the iPhone, Android phones, Blackberries, and a variety of others. The problem is that the normal site just isn't optimized to be read from a mobile phone. I've now installed a plugin for WordPress that shows a different theme to mobile users – so that the site is more readable right off the bat. The plugin is called WP Touch Plugin for WordPress. If you're browsing from a mobile phone, it will now look something like the screenshots below.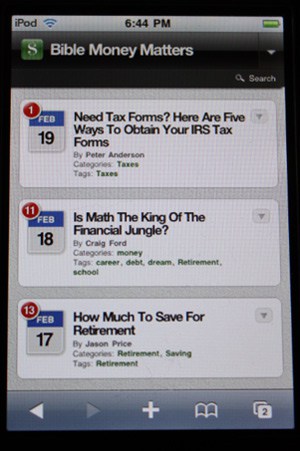 Bible Money Matters Iphone App
I recently found out that you can get an Iphone App for your blog. I jumped on the opportunity, and you can now download a free iPhone app for Bible Money Matters. The app will include all of our blog posts, our twitter feed and all our YouTube videos! Download it now by clicking on the screenshot below – and take our site on the go!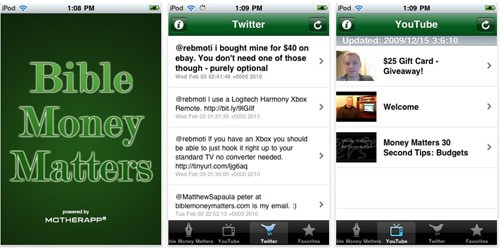 Bible Money Matters On Amazon Kindle
Bible Money Matters is now available on the Amazon Kindle e-reader device. It does cost .99 cents/month to subscribe, but there is a 14 day free trial if you want to give it a try. Bible Money Matters on Kindle.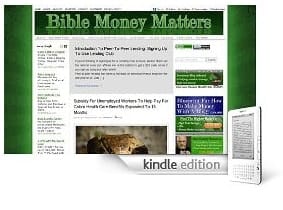 Thanks For Reading!
Thanks for reading Bible Money Matters, and we hope you stay in touch in these new ways in addition to just coming to the blog, staying in touch on Twitter and engaging with us on Facebook. If you do end up using one of these ways to view the site, leave me a note in the comments and tell me what you think! Both good and bad feedback are appreciated!