There has been no shortage of unique companies being launched in the discount stock broker arena in the past couple of years.
Among the most interesting to me were Motif Investing, where you can buy big bundles of stocks for one low fee, or Betterment, where you can get a fully diversified and regularly re-balanced portfolio for a low annual fee.
This past month when I was at the Financial Blogger Conference in St. Louis, I heard about another relatively new discount stock broker called Loyal3 that also has a unique offering.
Their idea? Completely free trades!
While you may think that the free trades come with a catch, or hidden fees that catch up to you later on, the trades really do seem to be free.

MY LATEST VIDEOS
Today I thought I would do a review of Loyal3 and talk about why it is an interesting option for beginning investors.
Loyal3 Background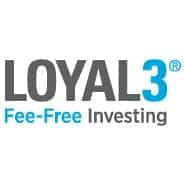 So what's the idea behind Loyal3, and what sets them apart from their competitors?  The company tagline prompts people to "Own what they love", and their stated goal is to make "stock ownership easy and fee-free for everyone".
Loyal3 charges no fees whatsoever. Making a trade or selling a stock is fee free. Not only that, but you can invest as little as $10 – even buying fractional shares in stocks like Apple, Google or Amazon.
Loyal3 was founded in 2008, and as of earlier this year received $18 million in Series C financing, so they're doing pretty well right now.
Here's how Loyal3 explains their platform:
We offer a technology platform where people can buy stock in their favorite brands in 3 easy steps, invest as little as $10 and pay no fees, really.

By using ownership to bring brands together with the people who love them, the LOYAL3 platform deepens brand engagement and creates more valuable and loyal stakeholders.
Here's a quick video looking at their service.
Loyal3 – Fee Free Investing
So how is Loyal3 able to provide free free investing?
Loyal3 partners with the companies whose stock you are buying to make their stock available to consumers fee free via the Loyal3 platform.
The company pays a fee to Loyal3, and in return they receive a variety of services from Loyal3.

Companies think of Loyal3 as a marketing expense in some respects. It helps them to create better engagement with their customers, and they get a variety of  tools and services from Loyal3 that make it worth their while.
In return they're happy to pay a fee to Loyal3 and make the trading free for consumers. Everyone wins.
How Does Loyal3 Work?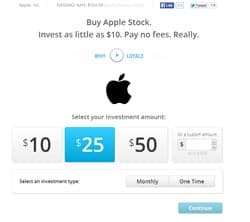 So how does the Loyal3 platform work, and is it easy to use?
To make a trade on Loyal3 you just have to do the following easy steps:
Go to Loyal3.com
Select the amount and frequency of a stock to purchase.
Enroll and setup your account.
Invest.  Even invest using a credit card!
It's super easy to sign up and start trading on the platform, it can be done in a few minutes.
The fact that you can use a credit card to invest on the platform may excite some people who engage in credit card rewards programs. For them it means that they can make cash back while investing.  Not many brokerages offer that as an option that I'm aware of.
NOTE: I opened an account with Loyal3 and invested $50 in some Google stock using my credit card.  It took me literally less than 5 minutes.
Important Things To Know About The Platform
There are some important things to know about Loyal3, as well as some caveats and account limitations.
There are no fees for enrollment, transactions, or account transfers.
No required minimum account balance.
Maximum purchase is limited to $2500 per stock per month.
IPOs require a $350 minimum account balance.
Orders are not real time. Batch orders are processed at the end of the day, meaning stock prices may have changed during the day. That shouldn't be a big deal if you're buying for the long term, but something to consider if you're trying to jump on a hot stock.
Limited selection of stocks. I counted 53 stocks available at the time I wrote this.
No IRA accounts.
Credit cards can only be used on monthly automatic investments, not on one time stock purchases.  If you want to use one for a one time purchase you'll need to set it up as an automatic monthly debit/stock purchase, and then cancel the automatic purchase later on.
Loyal3 – Interesting Idea For Beginning Investors
Loyal3 is an interesting company with an interesting idea – buying and selling stocks for free.  I'm all about keeping your costs low when you're investing, and having no fees associated with my investments is great.
The big caveat right now, however, is that only 53 different stocks are currently available on the platform. You're not going to be able to create a truly diversified portfolio using Loyal3.  Yes, you'll be able to buy shares  in some of your favorite companies like Apple and Google, but if you want to have a wide cross section of the market in your portfolio you'll probably need to look elsewhere.  For a truly diversified and low cost portfolio I still recommend Betterment.
If you're a beginning investor who wants to buy a few stocks here and there in a few solid companies, and want to keep costs low, Loyal3 is definitely a good option to consider.