Update: This bonus is no longer available.

Lending Club recently announced a nice new sign up bonus that they're going to be offering, and it is definitely for more money than when I originally signed up.  Lending Club is now offering a $100 sign up bonus for new lenders!
Steps To Get Your $100 Sign up Bonus
Getting your bonus is as easy as 1-2-3.
Sign up as a lender using this promo link: Lending Club $100 Sign Up Bonus.
Make an initial investment of $2,500 within 45 days of signing up.
Get your $100 bonus within 15 days deposited to your account.
Lending Club Terms & Conditions Of The Deal
Of course with a deal this good has to have terms and conditions, right?  Here they are.
To receive your bonus, all funds must be newly transferred to your account within 45 days of your registration date, continuously maintained in your Lending Club account and fully invested on the Lending Club platform within 45 days of your registration date. Your bonus, if any, will be deposited in your Lending Club account within 15 business days following the determination of your eligibility. This offer may be discontinued at any time without notice. Transactions in the secondary market (the trading platform operated in by FolioFN) do not count as "investing funds" or towards unlocking the bonus. This bonus payment is taxable so please consult with your personal tax advisor. You are responsible for any taxes related to this offer. Void where otherwise prohibited. This offer may not be combined with any other offer.
My Lending Club Returns
Since I started with Lending Club I've been pretty happy with the returns.  I started off slowly only investing a small amount, but slowly increased the amount I was investing every month.  In the year and a half or so that I've been investing – I've been careful about what loans I've invested in and now with 75 loans or so I've had zero defaults thus far.  I did have 1 loan that was 30-120 days late, but that loan is now current.  My net annualized rate of return is currently at 9.51%, although I've been carefully choosing some higher interest loans lately in order to boost that a bit.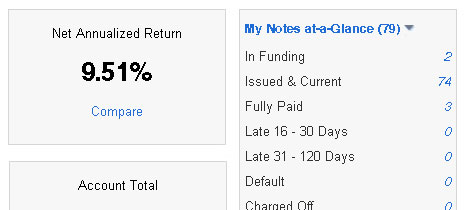 For more details about what criteria I use when investing with Lending Club, check out this post:  Lending Club Offers Good Returns If You Invest Wisely
For a complete look at Lending Club, read our full Lending Club Review.

MY LATEST VIDEOS