The following is an article by Liv over at craftspoliticshiphop.com. Not only does Liv have an interesting blog, she also happens to be my cousin.  Check out her site for all kinds of frugal recipes, fun crafts and other topics of the day!  Subscribe here!
---
So, we all know there's a definite economic crunch going on.  But that doesn't mean we should sacrifice the things we love, like eating. In fact, take this as an opportunity to try expanding your taste buds.
For example, eggplant is cheap and delicious, but I'd never tried it before I found one for 75 cents at the farmer's market.  Here's my eggplant recipe I made up:
Tasty Eggplant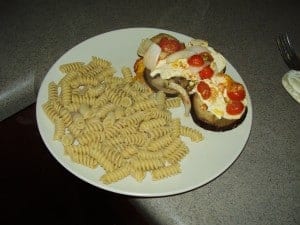 1 eggplant, cut into ½ inch rounds
2 c. cherry tomatoes, cut crosswise
6 oz. extra firm tofu, cut into strips
½ white onion, cut into small pieces
2 TB. garlic
½ c. El Pato brand tomato chili sauce
1 c. cheddar cheese, shredded
olive oil
salt
Preheat oven to 350. In a square glass baking dish, layer eggplant, then tofu, then garlic, tomatoes, and onion. Drizzle with tomato sauce. Drizzle with olive oil. Salt lightly. Cover with cheese. Bake for 30 minutes.
Make Your Own Mayonnaise
Or maybe you want to make a sandwich and want it to taste better than normal, try making your own mayonnaise. It's cheaper than the usual, and tastes better. Plus it feels good to make your own sometimes:
one large egg yolk
2 tsp. vinegar (white wine or apple cider will work)
¼ tsp. mustard
½ tsp. salt
¾ c. oil
Whisk the egg, vinegar, salt and mustard together. Then slowly (about ¼ tsp or ½ tsp at a time) add the oil. Keep whisking until it's all added (it'll take about 10 minutes) and thick.  Chill and enjoy.
So there you go. Enjoy!
For more ideas for keeping food cheap check out www.craftspoliticshiphop.com.