For a few years now I've been looking for ways to save money on our monthly mobile phone bill.
I've gone from being a user on one of the traditional big cell networks where we were paying $50+ month per phone, to the point where we've tried out several low cost mobile providers that allowed us to cut our bills to between $10-20/month.
While some of those providers have given us good service, none of them has had a completely free option.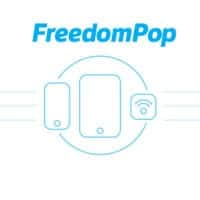 One provider that we've used over the years, mainly for their free mobile internet devices, is FreedomPop. A while back they launched a 100% free mobile phone service as well.
I signed up for service with FreedomPop when they first launched, but at the time the service was still in beta, and they only had one phone available. While it worked, it had hiccups.
This month FreedomPop asked me to take another look at their service, and sent me a nice Samsung Galaxy S5 to make that possible. Here's my second look at the service and an updated review of FreedomPop.
FreedomPop Cell Service
If you're unfamiliar with FreedomPop they are billed as the "100% free mobile phone and Internet service". They have no contracts, no commitments and you can cancel at any time.
How are they able to offer free mobile internet and phone service? They are a "freemium" service provider where they offer a basic plan that has no cost, and then they offer premium plans if you decide you want more minutes or data. They also offer add-ons at a small cost that can upgrade your service experience. But the basic service can be free for as long as you want.
They are able to provide lower cost and free plans because their service is a bit different than the ordinary mobile provider. Their service uses mobile data first for making calls and texts, which means your calls are being routed via VOIP. Mobile data is typically cheaper for the provider to buy versus cell voice time, and as such they're able to pass the savings on to you.
Unboxing My FreedomPop Samsung Galaxy S5
FreedomPop was kind enough to send a phone over for me to test out their service. I requested that they send an Android phone, preferably one of their Samsung Galaxy devices. Within a couple days I had a nice Samsung Galaxy S5 phone in my hand.
Here's a quick look at the phone as I unboxed it a couple of weeks ago.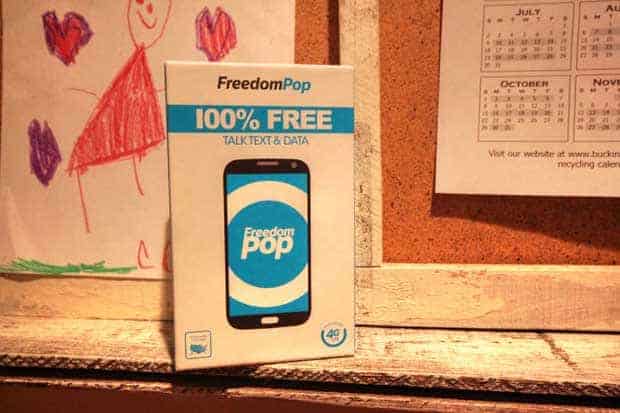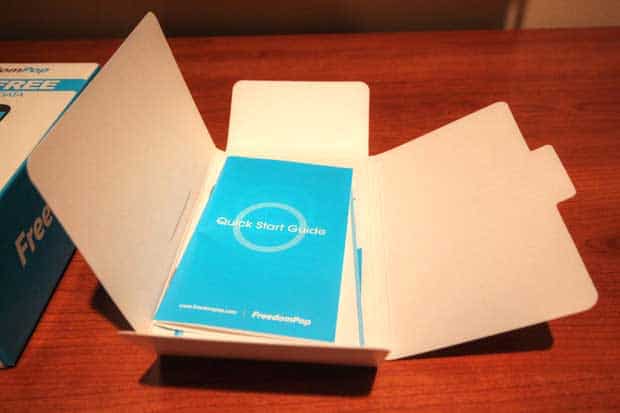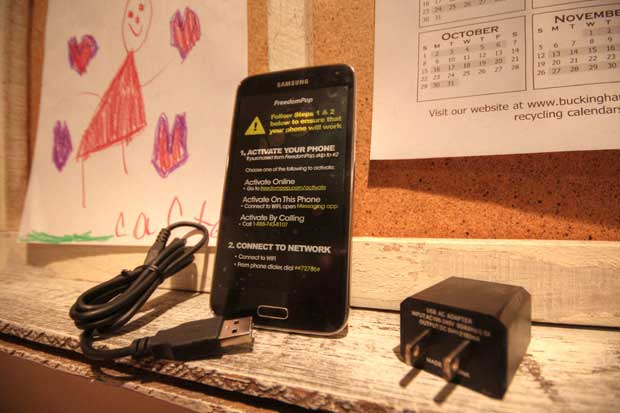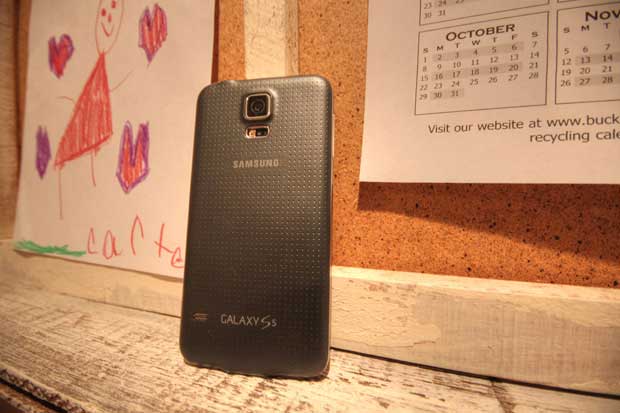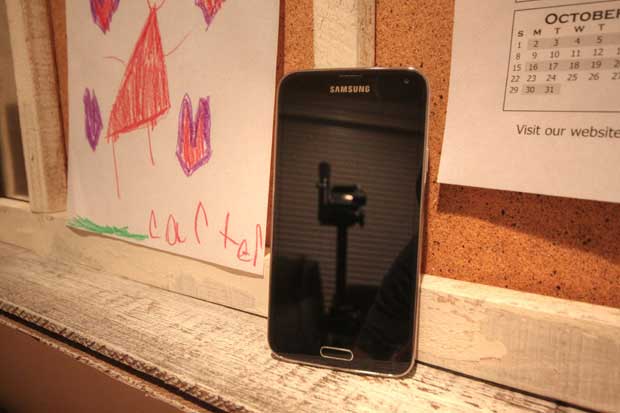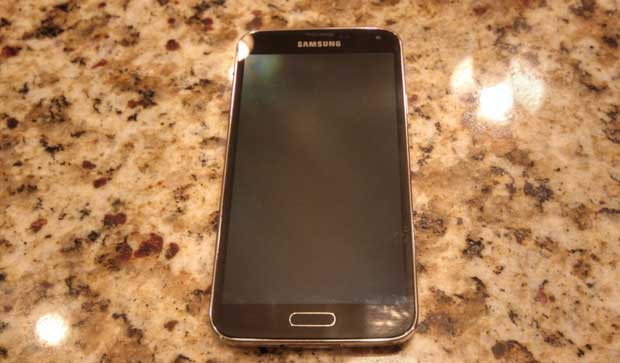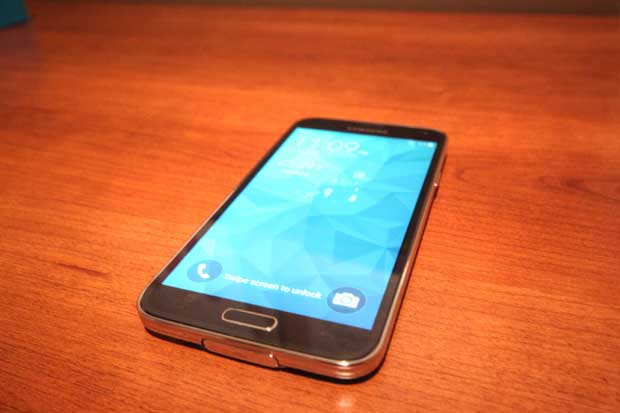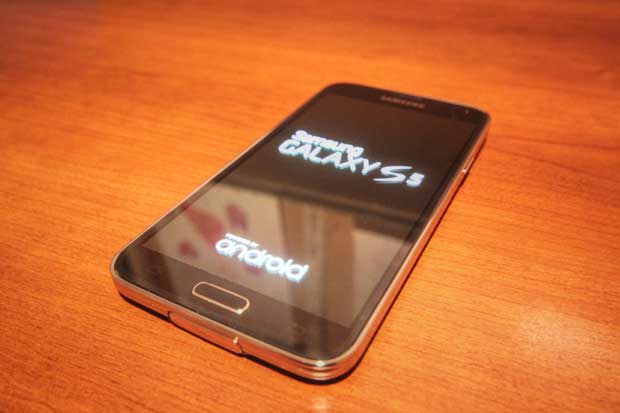 You can view all the photos I took of the FreedomPop Samsung Galaxy S5 here.
The Galaxy S5 that I received, and that you can purchase on the FreedomPop shop for about $120 or so has the following specs:
Internal Storage: 16 GB, 2 GB RAM
Card slot: microSD, up to 256 GB (dedicated slot)
Display Size 5.0 to 5.4 Inches
CDMA Network
Operating System Version: Android 6.0.1
Camera: 16 MP, phase detection autofocus.
Secondary Camera: 2 MP, 1080p@30fps, dual video call
Video: 2160p@30fps, 1080p@60fps, HDR, dual-video rec.
Bluetooth 4.0 & NFC
Removable Li-Ion 2800 mAh battery: Stand-by up to 480 h, talk time up to 27 h, music play up to 77 h.
Super AMOLED capacitive touchscreen, Corning Gorilla Glass 3
When I opened the phone and plugged it in the phone booted right up and took me to the Android home screen. Once I had set the phone up the first time the phone did require some software updates, including an Android update (to upgrade to Android 6.0 Marshmallow), as well as 3 separate Samsung software updates.
While being forced to do these updates right off the bat wasn't ideal, it's part of the deal these days with constant phone updates, and wasn't a deal killer. In fact it's good to know you're getting a phone that is still being updated and getting the latest upgrades.
Once the phone was ready to go I booted up the FreedomPop app to verify what my new number would be – and made a couple of phone calls. I was on a solid Wi-Fi connection so the calls went through great – no problems.
Phones Available With FreedomPop
Android phones of all stripes.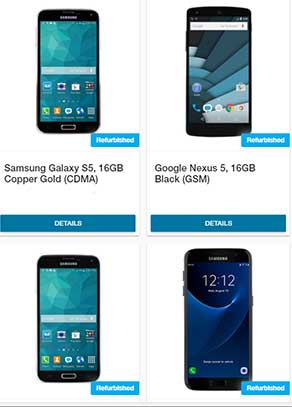 Some of the phones available for purchase on FreedomPop Shop currently include:
Apple iPhone 5S
Apple iPhone 5c
Apple iPhone 6 Plus
Apple iPhone 6s Plus
Apple iPhone 7
Samsung Galaxy S6
Samsung Galaxy S6 Edge
Samsung Galaxy S7
Samsung Galaxy Note 4
Samsung Galaxy Note 5
Google Nexus 5
LG G4
LG G5
LG G Flex2
FreedomPop also has a bring your own device (BYOD) program that means you can bring just about any CDMA Sprint certified phone to the service. To see if yours will work go to this link and then click on the "Bring Your Own Phone" link.
FreedomPop also offers BYOD for GSM Phones. Check it out here.
FreedomPop Mobile Plans
Mobile cell phone plans have been skyrocketing for a long time, with costs coming close to $100 per month for an individual line of service. According to Cowen and Co.:
The average customer of one of the Big Four cellular providers (AT&T, Sprint, T-Mobile, and Verizon Wireless) spends more than $90 per month for individual service—and the figure is $111 for iPhone owners.
With the costs for a traditional plan being so high, it's nice to see a provider that has plans that are actually affordable. Why pay more when you have plans like this:
100% FREE Plan: With the basic plan you get 200 voice minutes, 500 texts and 500MB of 4G data for no monthly cost.
$10.99/month: This plan gives you unlimited talk and texts, as well as 500MB of data.
$19.99/month: This plan gives you unlimited talk and texts, as well as 1GB of data.
$24.99/month: This plan gives you unlimited talk and texts, as well as 2GB of data.
$29.99/month: This plan gives you unlimited talk and texts, as well as 3GB of data.
$34.99/month: This plan gives you unlimited talk and texts, as well as 4GB of data.
$29.99/month: This plan gives you unlimited talk and texts, as well as unlimited data, although at reduced speeds after 2GB.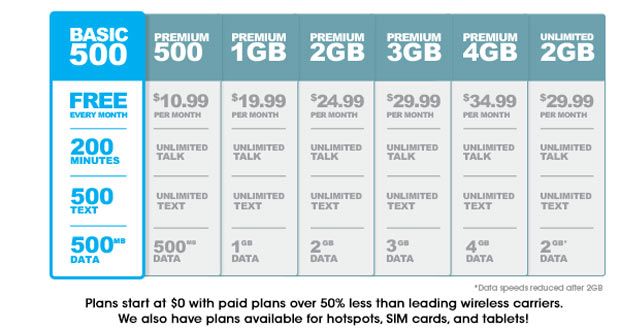 FreedomPop Family Calling Plans Now Available
In addition to the plans mentioned above, if you have a large family FreedomPop also recently released family calling plans.
In your FreedomPop Family Plan you can have anywhere from 2-10 lines. You can stay connected for free and enjoy unlimited voice, calls and texts, plus up to FREE 1GB of shared data! There is a $5 fee per line.
You can also purchase larger data plans, suitable to your requirements starting at just $15. FreedomPop is also offering an extra bonus 50 MB of free data for each family member — the bigger the family, the more opportunities for free data.
Free Plan: This plan gives you unlimited talk and texts, as well as 1GB shared data.
$14.99/month: This plan gives you unlimited talk and texts, as well as 2GB shared data.
$34.99/month: This plan gives you unlimited talk and texts, as well as 4GB shared data.
$74.99/month: This plan gives you unlimited talk and texts, as well as 10GB shared data.
$159.99/month: This plan gives you unlimited talk and texts, as well as 25GB shared data.
FreedomPop Family Plan also offers FREE Premium Voice, Group Messaging, Multimedia messaging and Visual Voicemail services to all of your lines, which typically costs $7.99/month (see below). Sign up through this link and get a free trial of the 4GB shared plan.
My Calling Plan
I am on the $19.99/month plan that gives you unlimited talk and texts, as well as 1GB of data. Since I don't do a lot of calling and texting, I'm unlikely to need unlimited minutes and text messages, but I use a decent amount of mobile data.
Premium Services I have added to my plan:
FreedomPop Premium Plus $7.99/month: I've got an added package that includes the following features – visual voicemail, data rollover, tethering (using phone as a hotspot), premium voice, multimedia messaging.
In addition to the above package that I have, you an also add the following services individually onto your account if you want, although they're not required.
FreedomPop Premium Voice $3.99/month: With Premium Voice your phone will detect the quality of your data connection, and if it falls below 400kbps, it will re-route calls to Sprint's 2G voice network. You get 200 Premium Voice minutes on the free plan, and 500 minutes on unlimited plans.
FreedomPop Ad Blocking $1.99/month: Block intrusive ads, pop-ups and video ads. Only on Android currently.
FreedomPop WiFi Hotspots $3.99/month: Turn your phone into a hotspot for WiFi devices.
FreedomPop MMS and Group Messaging $1.99/month: Send media files and group messages to any phone number.
FreedomPop Security $2.99/month: Internet security and antivirus protection for all your devices.
Phone Protection Plus $8.99/month: Protect your device from mechanical breakdown and accidents.
FreedomPop Private Internet $7.99/month: Worried about protecting your privacy? Get encrypted internet access on any device.
Your best bet in many cases is just to add the FreedomPop Premium Plus package for $7.99 and you'll get all the most requested features.
Testing Out The FreedomPop Service
I've been using the FreedomPop phone for a few weeks now. Here's a quick look at how the service has performed for me.
Calling Quality
The calling quality is definitely better than the last time I used the service. At that time the service was still in beta and some bugs were still being worked out. At that time I would hear echos on the line, calls would break up and at times drop. This time I haven't experienced any of that, it has definitely improved. The only problem I had this time was a couple of times a call didn't connect, but on trying again it connected fine.
Premium Voice
FreedomPop now also has the Premium Voice feature available, which is great. With Premium Voice your calls are re-routed to the 2G Sprint voice network if the mobile data connection is too slow or unreliable. So instead of being routed over mobile data on a VOIP call, it goes directly to the Sprint CDMA network for a voice call.
Having this option is a big thing for some folks, especially if they're in an area where the mobile data connection isn't the best. It has definitely been helpful for me since our area still has some pockets where the mobile data connection isn't ideal. I've been able to confirm that this works well by disabling the mobile data and Wi-Fi, and calls go through crystal clear on the voice network.
Text Messaging
Text messaging worked just fine when I used it to text several people in my contact list. So far I haven't had any issues with messages being delivered, although one time a message did take longer than expected to get through. I don't know if that was on my end or the other person's end.
Mobile Data Services
The mobile data is the thing I've used the most for checking my email, streaming Amazon Music, watching some videos and using it for Google Maps navigation.
It has been very reliable so far, and the only issue I've had is when I was far out of town where the mobile data connection dropped out. I've had that same problem with other Sprint MVNOs in that area as well, so it was expected.
Improved Customer Service
One thing FreedomPop vowed to improve was their customer service as they had some growing pains in their early years. They now have a fully dedicated team of customer service agents. You can find them here if you ever have trouble:
When I've had issues with something I've had the best luck on the Support forum where people tend to respond relatively quickly.
FreedomPop Has Matured
FreedomPop has come a long way since their beta launch way back in the day when I first tried them out.
Their service, while it is still low cost, has improved by leaps and bounds. They've improved their customer service, added cell network fallback for calls, and improved the reliability of their apps. They've also added on a whole host of updated phones that you can purchase, as well as adding to the list of phones you can bring to the service.
In the past I gave a recommendation to the service while understanding there were still some bugs to be worked out. The service has matured quite a bit, however, and I would definitely recommend checking it out today.
Get FreedomPop's Free Phone And Internet Service In Your Area
| Moble Virtual Network Operator (MVNO) | Mobile Network | Minimum Plan Price | Free Tethering | Review |
| --- | --- | --- | --- | --- |
| FreedomPop | Sprint | $0 (200 Min Talk (Over data) & 500 Text - 500 MB Data) | No | Review |
| Tello | Sprint | $5 (100 Min Talk & Unlimited Text - No Data) | Yes | Review |
| Twigby | Sprint, Verizon Wireless | $9 (300 Min Talk & Unlimited Text - No Data) | Yes | Review |
| Ting | Sprint, T-Mobile | $9 (100 Min Talk & No Text - No Data) | Yes | Review |
| UNREAL Mobile | Sprint | $10 (Unlimited Talk & Text - 1GB Data) | No | Review |
| Republic Wireless | Sprint, T-Mobile | $15 (Unlimited Talk & Text - No Data) | Yes | Review |
| Mint Mobile | T-Mobile | $15 (Unlimited Talk & Text - 2GB Data) If prepaid for 1 year. Prepay in 3,6, 12 month increments. Free shipping promo code: IRFREESHIP | Yes | Review |
| TracFone | Verizon Wireless, AT&T, T-Mobile US, Sprint, U.S. Cellular | $15 (200 Min Talk & 500 Text - 500 MB Data) If put on auto-renew save 5%. | No | |
| Google FI | T-Mobile, Sprint, U.S. Cellular | $20 (Unlimited Talk & Text - No Data) | Yes | |
| Total Wireless | Verizon Wireless | $23.70 (Unlimited Talk & Text - No Data) $25 without auto-pay. | Yes | |
| Cricket Wireless | AT&T | $25 (Unlimited Talk & Text - No Data) | No | |
| Boost | Sprint | $35 (Unlimited Talk & Text - 3GB Data) | No | |
| Straight Talk Wireless | AT&T, T-Mobile, Sprint, Verizon | $35 (Unlimited Talk & Text - 2GB Data) | No | |
| Visible | Verizon | $40 (Unlimited Talk & Text - Unlimited Data) | Yes | Review |