Have you heard of Ebates?  If so, do you use it?  If you buy items over the Internet (and don't most of us?), you are leaving cash on the table if you are not using Ebates.
What Is Ebates?
Ebates is a site that gives you cash back on your Internet purchases.  The company began in 1998 and is one of the first companies to offer cash back on purchases.
Ebates now has 12 million members and has given $85 million in cash back since they began in 1998.  They have over 1500 stores in their database, many of them among the web's top shopping destinations, so it's definitely worth a look if you plan on doing any shopping online anytime soon.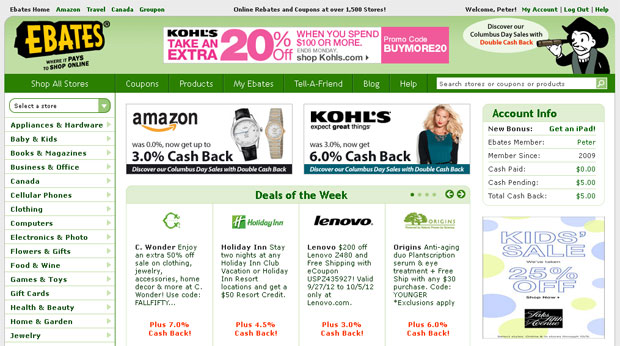 Signing Up For Ebates
Signing up for Ebates is extremely easy.  You just click on one of the links on this page, go to their site, and it will start walking you through the quick signup process. They advertise that you can join their site  in 15 seconds!

MY LATEST VIDEOS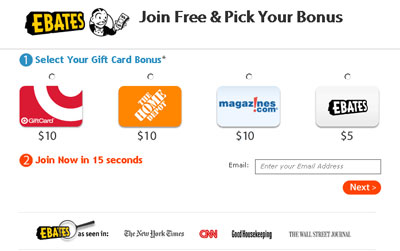 Just enter your email address and a password, and you'll be set to go.  From there you can connect your Ebates account to your Facebook account if you wish, and use that to login going forward.
How Does Ebates Work?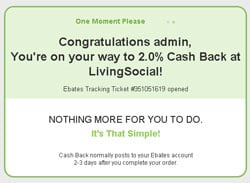 Let's say you want to snag a Living Social deal for a wings restaurant for $10.  Instead of going to Living Social's site, you log in to Ebates, then head over to Living Social via Ebates.  Now, when you purchase that $10 voucher qualifying you for $20 worth of food, you will also get 2% back at Ebates, or .20 cents in your Ebates account.
Sure, that doesn't sound like much, but what percentage in cash back you get varies by business.  Some retailers such as Omaha Steaks offer as much as 12% cash back, though most seem to offer 2 to 4%.
Also, sometimes purchasing from a certain business will earn you temporary double cash back.  Instead of earning 2.5% cash back as is standard, that business will offer you 5% cash back.
If you do all of your online shopping through Ebates, the cash back will accrue quickly, especially if you do your Christmas shopping online.  I love Amazon for Christmas shopping, and if I go through Ebates, I earn 1% cash back on toys and games.  If it is money I am going to spend anyway, why not get cash back for my purchases?
When Do You Get Paid?
Ebates checks are sent out 4 times a year, based on traditional quarters.  For instance, as long as you have more than $5.01 in your account, for the period of January 1st through March 31st, your check will be sent on May 15th.  If you have less than $5.01 in your account, the amount simply stays in your account, and when you do reach that threshold, your check will be sent out during the next payment period.
You can choose to get your payment as a Pay Pal deposit or a check sent to your house.  In addition, you could also choose to give it to charity or to send it to a family member.
Refer Friends to Ebates and Get Rewarded
If you love Ebates, share it with your friends and give them your referral link.  For every person who signs up with your referral link and makes one purchase of $25 or more during a one year period, you will earn $5.
Is Ebates Secure?
There is no 100% guarantee with any site you use, but Ebates was started by two Silicon Valley Deputy District Attorneys who used to prosecute online fraud and identity theft, so they know what they are doing, and they want to offer you the most secure site they can.  The site is TRUSTe certified, and is tested and confirmed secure daily by McAfeee security.
How Does Ebates Stay In Business?
How can Ebates give you cash back and continue to stay in business?  It is simple.  They have paired with over 1,500 other companies.  Each company that Ebates partners with gives Ebates a bonus for sending them business.  Ebates shares that bonus with their customers in the form of cash back.
Drawbacks to Ebates?
I have used Ebates and found the process easy and seamless.  My biggest drawback is that I forget to go through Ebates before making my online purchase, robbing myself of the my cash back.  Any easy way to avoid this drawback is to install the Ebates toolbar on your computer.  Then every time you make a purchase online through one of Ebates' partnering businesses, you can earn your cash back.  If I would have done this, I could have at least tripled the cash back I have received.
Now is the perfect time to join Ebates, if you haven't.  Most of us will do at least some online shopping for the holidays, so why not get cash back?  And the cash back makes a great snowflake to apply to debt, if you have it.
Sign Up For Your FREE Ebates Account Now!
Similar Programs