As a blogger, publisher and small business owner I'm constantly accepting payments for advertising on my sites, affiliate payments for companies I've written about and for services that I've performed for others. I also pay freelancers who write for this site every month, in addition to paying for regular blog expenses and services. In other words I'm constantly making and receiving payments online.
For most of the payments that I receive online (versus paper checks), I have used PayPal in the past. I've been using PayPal for many years, starting back in the early 2000s when eBay was extremely popular and PayPal was the payment method of choice for most auctions.
PayPal has worked great for me, with only a couple of caveats. One of the main caveats is that the service can get quite expensive if you're regularly accepting large payments. As of this writing the fee for accepting a payment in PayPal is 2.9% of the transaction + $0.30 per transaction. So if you someone pays you $100 for a service you perform, you'd pay $2.90 + .30 = $3.20.
Within the past year I became aware of a online payments alternative that had recently sprung up out of the cornfields of Iowa. It's called Dwolla, and while it has it's shortcomings, I believe it can be a viable and cheaper alternative to PayPal.
What Is Dwolla?
At it's heart Dwolla is a payments service that allows you to send or request money from those you work with as an individual or business. Here's how Dwolla explains it.
Dwolla is a payment network that allows any business or person to send, request and accept money. We're not like those other big payment companies that rely on plastic cards and charge hefty fees. Instead, we've built our own network that securely connects to your bank account and allows you to move money for just $0.25 per transaction, or free for transactions $10 or less.
Essentially Dwolla is very similar to PayPal in that it allows you to send and receive payments online (and in stores), but it isn't as expensive because they don't use credit cards that necessitate them charging hefty transaction fees. They only connect to your bank account. Because of that Dwolla is able to charge only .25 cents per transaction, or nothing at all if the transaction is less than $10. Over the long term that can mean big savings if you do a lot of online transactions.
Signing Up For Dwolla
Signing up for Dwolla is extremely simple.
To start, go to their site at the following link (referral link): Sign up for Dwolla
Enter your email address and a password to create an account. You'll receive an email that you need to verify.
Once you verify and login, Dwolla will ask you to confirm your phone number.
Next, it will ask for your address and ask you to create a PIN number.
Finally it will ask you to verify your Social Security number.
Once you're all signed up, you'll be able to link an external account to add funds to your account, or to withdraw received funds. You can also link social media accounts if you want to use the social aspects of sending and receiving payments. More on that later.
Cost To Use Dwolla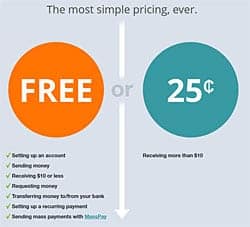 So let's start off with the main reason I started using Dwolla, and why a couple of companies I work with started using Dwolla. With Dwolla the cost of doing business is less. Instead of paying the 2.9% + .30 cents on every transaction that you do with PayPal, you only pay with Dwolla if the payment you receive is more than $10, and even then it's only a .25 cent transaction fee.
So if we look at a hypothetical $100 payment, here are the fees you would pay via PayPal and Dwolla:
Dwolla: $100 payment = .25 cents (.25 cent fee for transactions over $10)
PayPal: $100 payment = $3.20 (.30 cent fee plus 2.9% – $2.90)
As you can see, if you're regularly accepting large payments in your account, the fees can quickly add up. It makes sense to start using Dwolla to save on those pesky percentage fees.
Sending Payments
Sending payments with Dwolla is pretty easy, and is always free.
Here's how the process of sending a payment works. First, you type in who you'd like to send funds to. You can send them funds via email address like you do with PayPal, or via name or handle (via connected social accounts), phone number or Dwolla ID. Next, you type in the amount to send to the contact, as well as which account you want the money to come from. It can come from a Dwolla balance, or directly from your linked account. Finally, you type in your PIN number, which you setup when you were opening an account.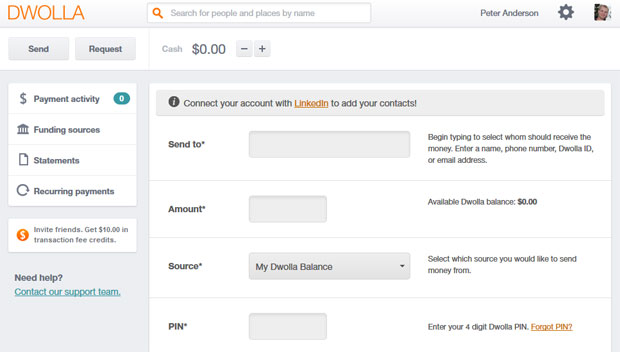 As mentioned above you can also link your account up with all of your social media accounts on Facebook, Twitter, LinkedIn and FourSquare, so you can actually search for your contacts and send them money through Dwolla.
For example, let's say you have a colleague on Twitter who did some work for you, and you want to send them a payment. You just link up your Twitter account, search for their Twitter handle, select it and then send them money. That user will then receive a direct message instructing them that they've received a payment. They can click on the link and either open a new Dwolla account to claim the money, or login to their existing account to claim it.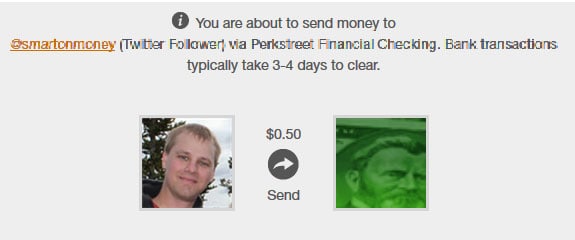 The sending of payments to social media contacts is one thing that sets Dwolla apart from PayPal, it makes sending payments that much easier and connected.
Receiving Payments
Receiving payments with Dwolla is also pretty straight forward. You can request payment and send it to one of your contacts. You'll receive an email from Dwolla notifying you once you've received a payment, and as long as it was sent directly to your email or linked social accounts it should go directly into your account. The fee to you is always .25 cents as the funds receiver, unless it is less than a $10 transaction.
If you will be receiving payments regularly in your Dwolla account you can also set up a hub page where people can just enter the amount to send to you, and send it via the hub page.
Another nice thing about receiving payments is that you can setup your account to do automatic transfers to your outside account. So whenever you receive a payment, it can automatically be transferred to your linked account. I have mine set to do this and it makes receiving those payments extremely automatic. No need to login on a regular basis to withdraw my funds.
Dwolla Mobile Applications
Dwolla has mobile apps available for both iOS and Android phones and tablets. The apps will allow you to do most of the things that you can do on the website including checking your balance, sending and requesting payments, and checking via GPS to find locations that accept Dwolla near you.
I'll be the first to admit that I don't really use the app, but in reading the reviews on the Itunes store and Google Play store, it sounds like the apps are still is a bit buggy of a work in progress. I'm sure it will improve in time.
Pros To Using Dwolla
There are quite a few pros to using Dwolla.
The cost is lower than alternatives: The fact that the transaction fees are only .25 for large transactions is a big plus. Much cheaper than many alternatives.
Nice interface, simple to use: It's simple to use as a sender or receiver of funds. It's easy to send money to people you know via their email address, or via a linked social media account.
Less identity theft risk than with credit cards or checks: You never have to give out personal information when sending or receiving payments, only an email address. So there's never a risk of having your personal information stolen.
If you don't believe in credit card use, this is a good credit card free alternative: Using Dwolla is a good way to avoid using
Cons To Using Dwolla
There are several cons to using Dwolla as well, a couple of them pretty large ones.
Not a ton of people or companies are using them yet: This is a pretty big con in my view, and until more people start using Dwolla, it's probably going to be mainly a secondary payments option for me. There just aren't a ton of businesses or individuals using it in my area yet.
No credit cards option: You can't add a credit card as a backup funding source for your account. While it is part of the reason their fees are so reasonable, and it may not be a big deal for many folks, it could be a deal killer for others.
Slowish transfers: Transfers can be a bit slow at times. It can take 2-4 days to transfer money into Dwolla from an outside bank, and then 2-3 days to transfer from Dwolla to your bank. So it could be 5-7 days to wait for money to be in your bank account from a payment received from an outside bank. Dwolla to Dwolla transfers are instant and have no delay. Here's a full explanation of the delays here. UPDATE: Dwolla has emailed to inform me that transfers can now be quicker. "Approved businesses, governments, and non-profits can now send bank transfers in 1 business day, as opposed to the 2-4 days or more that it takes some payment platforms to process a bank-sourced transaction. For all members, Dwolla transfers money to a bank or credit union within 1 business day, helping vendors or customers cash out fast." So transfer times can now be a bit quicker.
Dwolla: A Good Payments Network That Needs More Widespread Adoption
I've been using Dwolla for a while now to receive payments from several companies, and it has been extremely easy to use. The fees are lower than other services, and the functionality works well too. The main problem I'm finding so far is that not enough companies are using them, and as such it makes it tough to use them often enough. Once there is a larger number of companies and individuals using them, I'm sure they'll become my go-to payments network.
Sign up for your free Dwolla account here
Have you used Dwolla? What are your thoughts?