If you've been reading this site for a while now you probably know that I'm a big proponent of budgeting, paying cash for the things you buy, and in general not using credit in most situations. I think that so many people that are in financial dire straights right now would be so much better off if they had only planned ahead, saved up an emergency fund, and not used credit when they didn't need to.
Avoiding Credit, But What About Rewards?
I know my advice may come a bit late for some who have already put themselves in a hole, but it's never too late to start doing things the right way. Take the time to start thinking about how you spend. While you're getting out of debt only buy the things that you absolutely need. Make a decision to no longer buy things on credit and create new debt. Only buy things on debit or with cash. Get a game plan and start getting out of debt using a plan like Dave Ramsey's 7 Baby Steps, or Crown Financial's Money Map.
For some people the thought of not using their credit cards is almost unbearable because of all the rewards that they get from spending using their card. I know I've been in that boat as well, keeping one cash back rewards credit card for the last few years, and using it when spending on big things to get the cash back. Granted, I pay extremely close attention to my finances, and I only spend on my credit card when I have the cash to pay it off right away. Others, however, may not be as disciplined with their spending, and studies have shown that people end up spending in the neighborhood of 12-18% more when using their credit card.
Now there is a better way to get cash back rewards, even when you're only spending money on the basics and paying with debit! You don't even need a credit card any longer! You can just open a bank account with Perkstreet Financial!
Cash Back Rewards… From A Debit Card!?
Before the last year or so there really hasn't been a good way to get cash back rewards for spending your own money. The only way to get rewards was to sign up for a rewards credit card and spend a bunch of money. You could still get rewards without paying interest, but you had to be extremely careful.
Now Perkstreet Financial has come out with their rewards checking account that allows you to earn rewards for spending your own money, and you can earn those rewards even on a lot of your regular bills! Here's how it works.
Earn 2% cash back on all purchases for the first 3 months, regardless of balance.
Earn 2% cash back after 3 months if your account balance is greater than $5000.
Earn 1% cash back after 3 months if your account balance is less than $5000.
Alternate non-cash rewards include music and coffee perks. (I'd suggest going with the cash!)
So as you can see it's pretty simple. Just sign up for an account and start getting rewards! (Read our full review here)
Tell Us How You Would Use Your Cash Back – And Win A $10 Starbucks Card Or $25 Cash
I've been working with Perkstreet Financial off and on over the past few months, writing a few articles for the Perkstreet blog and having a few interesting chats with the COO and co-founder, Jason Henrichs, a fellow Christian and Minnesotan. Through those contacts Perkstreet has reached out to me and offered to give away 10 – $10 Starbucks gift cards to Bible Money Matters readers. To make the pot even sweeter I'll also give out $25 cash via PayPal to one lucky grand prize winner in order to help fund their goals! How can you win one of the 10 gift cards or the $25 grand prize?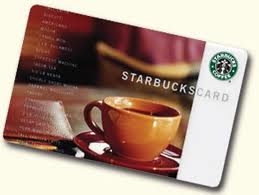 How To Enter
No purchase is necessary, and you don't have to open an account with Perkstreet in order to win (although you can get bonus points for opening!).
1 Entry: Tell us in the comments how you would use the cash back that you could earn with a cash back Perkstreet account. Would you use it to pay off debt, save up for a vacation or add to your emergency fund? Let us know.
10 Entries: Open an account with Perkstreet Financial through our link and tell us about it in the comments (We can tell as our links are affiliate links – showing when an account is opened via our site). You'll earn an additional 10 entries.
So it's easy to enter, just leave a comment and/or open an account! The contest will remain open until October 11th at noon central, at which time we'll choose 11 lucky winners!
So let's start it up in the comments with the contest entries. How would you use your cash back rewards?