If you've been married you're probably familiar with all the preparations that go into getting ready for the big day.  You plan the wedding and reception, buy your wedding dress or get fitted for a tuxedo.  You pick out flowers, and you create a guest list.  In most cases people will also create a gift registry, registering for gifts at a variety of places like Target, Crate & Barrel or various other department stores.
Registering for gifts can be a lot of fun, however, how many of those wedding gifts actually end up being used 5 or 10 years down the road.  How many of them end up just gathering dust in some kitchen cabinet?
A week or two ago I received an email from the folks at Betterment.com announcing a new product that they're going to be launching today that I believe will be a great for people getting married, as well as others.  An investing gift registry.
Betterment Gifts is an online registry for people who are planning on registering for gifts in any number of scenarios – engaged couples, families having children, new graduates and so forth.  Basically Betterment allows people to register for cash gifts in lieu of physical products, so that the cash can be deposited directly into the gift receiver's Betterment account, and the money can grow and enjoy the benefits of compound interest over time.  So let's take a look at the idea of an investing gift registry in this Betterment Gifts review.
Click here to view the video on Youtube
UPDATE: Betterment Gifts has now been discontinued.
Gift Giving Stats
Gift giving for special occasions is big business. Let's take a look at a few stats around gifts and giving.
93% of couples register for wedding gifts. (Brides magazine 2011 American Wedding Study)
53% of consumers would prefer to receive cash as a wedding gift over anything else. (American Express/Echo Research)
$2 billion worth of gift cards will go unredeemed this year. (Time Moneyland)
78% of couples use the Internet to aid in wedding planning. (The Wedding Report)
$100 is the average price of a wedding gift in 2012. (WeddingGiftRefund.com)
$466 is the value of a $100 gift if it was invested and compounded at 8% annually for 20 years.
75% of American families said they had so filled up their garages with stuff, they couldn't fit their cars in. (Life at Home in the Twenty-First Century)
So as you can see, most people who get married are going to be registering for gifts, and over half would prefer to receive cash instead of gift cards or physical things.  In many cases there is good reason for them to want cash instead, with billions in gift cards going unredeemed every year.  Not only are billions in gift cards unredeemed every year, but we already have such a surplus of stuff.  Why not ask for a cash gift instead through a registry like the one at Betterment, and instead watch a small $100 gift grow over the years with the benefit of compound interest?

MY LATEST VIDEOS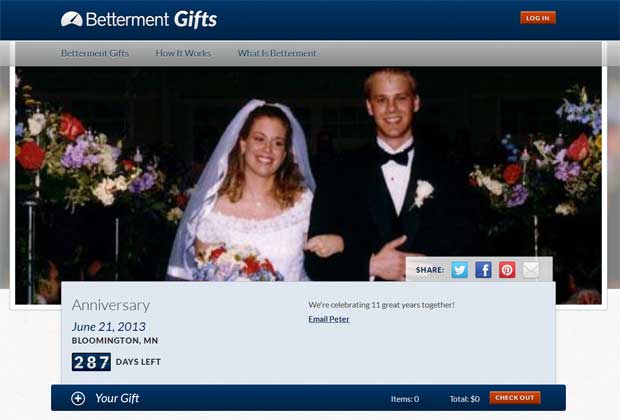 Setting Up Your Betterment Gift Registry
Setting up your Betterment Gifts registry is super easy, it can be done within 5-10 minutes.  I setup an example registry for this post and it only took me 10 minutes, even with distractions of doing screenshots and writing this post. Here it is in case you want to check it out.
To setup your registry you would just have to go to https://gifts.betterment.com.  From there it's a pretty quick step by step process.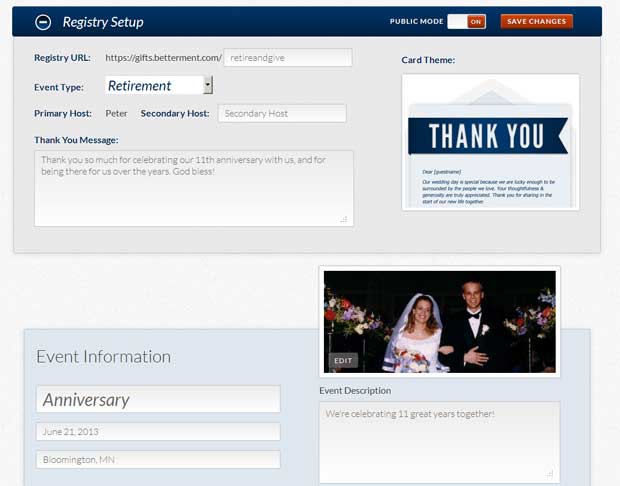 Login to your existing Betterment account, or Create a new account.
Click "add new registry" once you're signed in.
On the page that comes up, type in a preferred URL for people to go to, choose an event type and write in a thank you message you want to appear when people give.
Next, you'll be entering an event name, date and location, as well as a description of the event. You can also add a photo if you want.
Finally you'll be adding a goal (choosing which Betterment account to deposit cash to), and adding as many gift types as you want, and how much they are.
Once you've entered all the details, you can save your registry and set it public at the top of the page.  That's it.
When you're done creating your registry you just send people to the URL you created in step 3 above, and they'll be taken to a page like the one I linked above where they can give money towards your goals.
Giving A Gift Through A Betterment Registry
So how does it work when you give money to a Betterment registry?  It's extremely simple for your guests, family and others to give you a gift. They just choose what kind of a monetary gift they'd like to give, and then click on the "checkout" button. It will take them to a page where they will see a summary of their order, and be able to checkout using a credit or debit card.  That's it!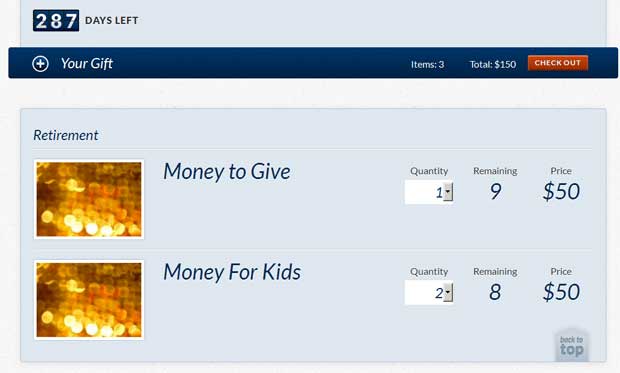 What Does It Cost?
So at this point you're probably wondering what the catch is, and where the hidden fees are in this product.  What will your guests have to pay in order to give you money?
Unlike a lot of other online registries that allow cash donations, Betterment doesn't charge any fees beyond the normal annual fees for assets under management, 0.15% – 0.35%.
Gift Registry Pricing:
Credit Card Fees: $0
Transaction Fees: $0
Hosting Fees: $0
Purchase fees: $0
The only fee is the normal annual fee of 0.15% – 0.35% that you pay through your Betterment account.
So your guests won't pay any fee in order to give you money, and you'll only be charged your normal maintenance fee.  Not too bad.
Having An Investment Registry Just Makes Sense
Registering for gifts is something that everyone does nowadays for weddings, graduations, baby showers and a variety of other events.  It's expected at many of these events that people will bring some sort of gift, whether it's something practical like dishes, or in some cases cash. I like the idea of adding in an investment registry to the mix, and allowing people to help you build a more solid future through investing.
What do you think about the idea? Would you use an investment registry like Betterment Gifts for your wedding or other big event?
Open A Betterment.com Account, Get A Signup Bonus.