Darren Rowse over at ProBlogger.net recently hosted an article that gave a list of 30 Bloggers To Watch.
After the post went live Darren gave a challenge to others in the blogosphere to make their own lists of bloggers to watch in their own niches. I decided to join in the fun!
My list contains a lot of newer blogs, and blogs that have hit their stride in the past year. All of them are valuable additions to your RSS reader. Some of the bigger blogs in the personal finance niche may not appear, but that's OK as you've probably already heard of them anyway!
If you want to follow these people, and over 200 others in the personal finance niche, check out my personal finance twitter list! So without further ado, here's my list of 50 Personal Finance Bloggers To Watch in 2010.
50 Personal Finance Bloggers To Watch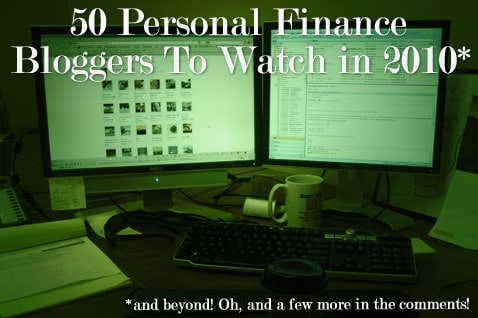 This list isn't in any particular order, I've just listed 50 of my most favorite personal finance blogs of the past year who I expect big things from in the coming years.
So there you have it. My list of the top 50 personal finance blogs to watch this year. If those aren't enough blogs, head on over to WiseBread.com's Top 100+ Personal Finance Blogs list. There are a ton of other great blogs there to check out!
Thanks for stopping by! Before you go, please subscribe to this site via RSS or email, and follow us on twitter and facebook!
Have some other great personal finance blogs for everyone to check out? Feel slighted that you weren't included? Leave a comment with your url below, and we'll make sure it gets approved!