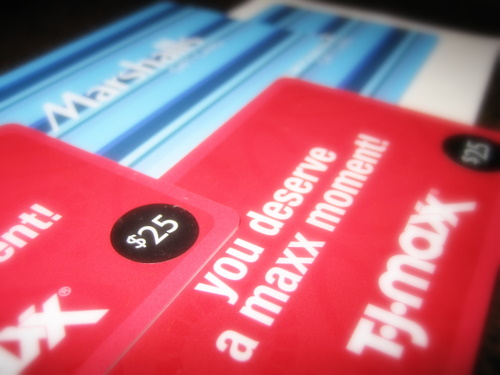 A few days ago I was contacted by some folks over at Marshalls and T.J. Maxx who have been doing some blogger outreach. They were wondering if I'd like to have some $25 gift cards to their stores in exchange for blogging about my shopping experience there. Of course I agreed, but only on the condition that they send my wonderful readers some gift cards as well!
They agreed, and Marshalls and T.J. Maxx have been kind enough to send us $50 in gift cards to give away, 1 gift card for for each store.
I'll be going shopping this Saturday, the weekend before Christmas, and finding out just how frugal I can be while shopping at Marshalls and T.J. Maxx. Will I be able to find gifts for my family with $25 at each store? Stay tuned for details of my shopping trip early next week!
The prizes in this contest will include:
1 $25 Marshalls Gift Card
1 $25 T.J. Maxx Gift Card
How Do I Win?
Ok, so now you know what the prizes are, but how do you win? Well, I'm going to make it pretty easy.

MY LATEST VIDEOS
For one entry, you can subscribe to this site via email. If you're already subscribed, leave a comment and let us know.  Otherwise, all new subscriptions from today on will be entered.

For another entry, fill out the form below with your frugal shopping tip. We'll pick some of the best tips and include them in the post.
Enter now!
So there you have it – 2 super easy ways to win some extra shopping money to clean up at the after Christmas sales!
Stay tuned because I'll be posting next week about my frugal shopping trip to T.J. Maxx and Marshalls. Find out if I'm as frugal as I think I am!

Contest runs until 12/26 at 12pm Central Time. We'll announce a winner shortly after the contest ends. Get your entries in now! Your chances of winning are really good!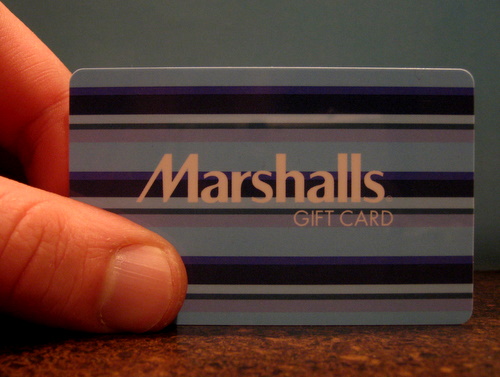 Reader Frugal Shopping Tips:
Saint: In my town, there is a store called "Savers" which I frequent because they have good quality used clothes. All the items for sale have a color-coded price tag, and each day, one color is picked to be the daily special. Any item whose price tag is that color only cost 99 cents that day. For instance, last week, I bought a suede suit coat in mint condition for 99 cents. The original price was 8 dollars. What a deal!
Miranda: Look for things you will actually use. Spending money is still spending money, even if that useless item is a "great deal." Don't buy just because it's on sale.
FFB: Wait until after X-mas for great clothing sales as most stores will be looking to get rid of their winter merchandise!
Craig: Shop with cash ONLY! Leave the credit card at home.
Kaye: I shop at Dollar stores for Christmas gift bags, boxes, and paper. I save time, money, and get really cute packages that decorate the tree they are under.