If you've been paying attention to the news within the past few months, you've likely been hearing a lot about the rise of the "robo-advisor".  Robo-advisors is the term given to any number of automated investing services that have popped up in recent years that aim to make investing easier, more affordable and in some instances negate the need for a traditional financial advisor.
While their investment recommendations vary to some degree, many of them use algorithms based on Modern portfolio theory (MPT) to aid in choosing diversified investments and asset allocation based on your risk tolerance.  MPT helps to maximize expected return for your portfolio based on your risk profile.
Continues after Advertisement
---
---
While to some degree I think it's a good idea for most people to still have some form of professional help when it comes to their finances, I do think for most investors using an automated investing service makes a ton of sense.
Today I thought I would do a review of Wealthfront, one of the top and most well respected automated investing services available today.
UPDATE: Sign up for Wealthfront via this exclusive Bible Money Matters link to get an extra $5,000 managed for free:
Sign up for Wealthfront and get $15,000 managed for free
Wealthfront History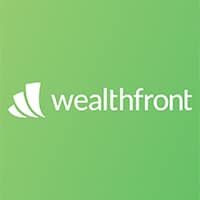 Wealthfront was founded in 2008 by Andy Rachleff and Dan Carroll, and is based in Palo Alto, California. It originally went by the name of KaChing, but within a year or so rebranded as Wealthfront. In December of 2011 they debuted their online investment advisory service to the masses. In 2012 Wealthfront launched a daily tax-loss harvesting service. From 2013 to 2014 the company went through some tremendous growth, growing by over 450% in one year.  By 2015 Wealthfront has more than $2.5 billion of assets under management.
Wealthfront never holds your portfolio when you invest with them, they just manage it.  The portfolio is actually held with Apex Clearing Corporation, similar to if you were to invest with Betterment, Motif Investing or TradeKing, who also use Apex.
Awards & Mentions
Wealthfront has garnered quite a bit of attention, and has received quite a few awards over the past few years.
CNBC 2013 Disruptor 50 listing
CNBC 2014 Disruptor 50 listing
CNN Money's list of the 15 best financial websites and apps for 2014.
Kiplinger's Best Online Investment Advisers of 2014
ETF.com 2014 ETF Strategist Of The Year
Australia Wealth Investor's top 50 fintech innovators for 2014
Wealthfront and others have been disrupting the financial services sector, and look to be poised for further growth in coming years.
How Does Wealthfront Work?
When you sign up for Wealthfront you start by completing a questionnaire that is aimed at determining your risk tolerance.  Once your risk tolerance is determined asset allocations are set that will remain the same regardless of how much you have invested.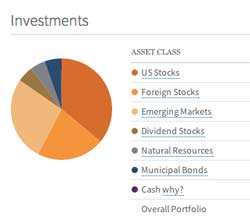 The portfolios are based on a mix of 11 asset classes that includes both U.S. and international stocks and bonds. They invest mainly via the following ETFs, although that is subject to change.
U.S. Stocks (VTI)
Foreign Stocks (VEA)
Emerging Markets (VWO)
Real Estate (VNQ)
Dividend Stocks (VIG)
US Government Bonds
Corporate Bonds (LQD)
Emerging Market Bonds (EMB)
Municipal Bonds (MUB)
TIPS (SCHP)
Natural Resources (DJP)
When you invest with Wealthfront your diversified asset allocation will depend on the tax status of your account (taxable or tax deferred), and what is the most tax efficient method of investing for you.
In essence, you'll get a highly diversified, low cost portfolio that is suited to your level of risk, time horizon and other factors.
Here's a quick video from Wealthfront that talks about what they do.
Signing Up For Wealthfront
Signing up for Wealthfront is a quick process. Here's what you'll need to do.
Once you begin the signup process it will first have you go through a risk tolerance assessment.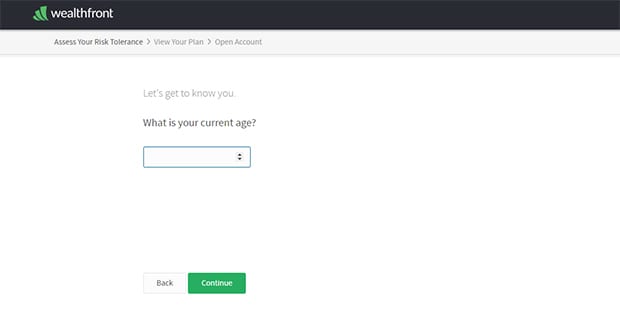 Once you've answered all the questions, it will give you a quick rundown of what assets and allocation that they would suggest for you, in both a taxable account and retirement account.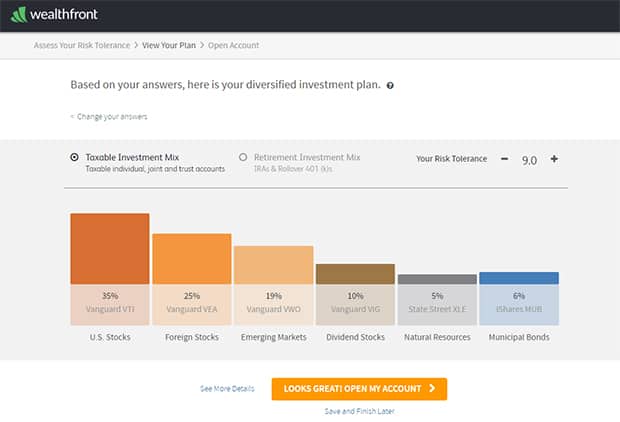 If everything looks OK, you're ready to open your account.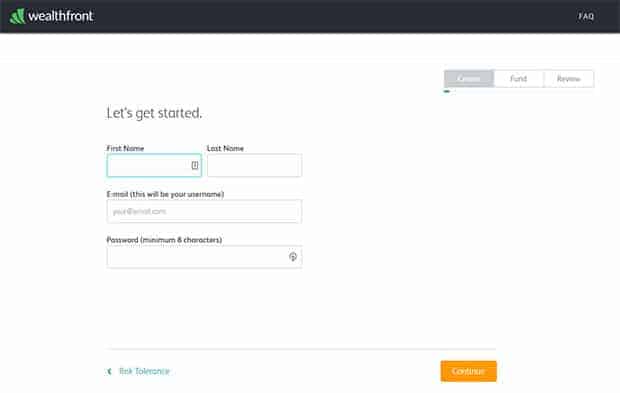 Available account options with Wealthfront include:
Standard taxable account
Joint investment account
Trust account
Traditional IRA
Roth IRA
SEP-IRA
Once you choose which account type you want and hit continue, it will take you through the process of entering all of your basic information including:
Full name
Address
Birth date
Phone number
Social security number
Income
After filling out the basics it will ask you to fund your account.  Your options for funding the account include:
Bank transfer (3-5 business days to get started)
Wire transfer (1 business day to get started)
Account transfer (5-10 business days)
Once you submit your application and confirm your email address you just have to wait for your account to be approved.  After approval you can login to your account dashboard to confirm transfers, view your account summary, view your plan, transactions, documents and more.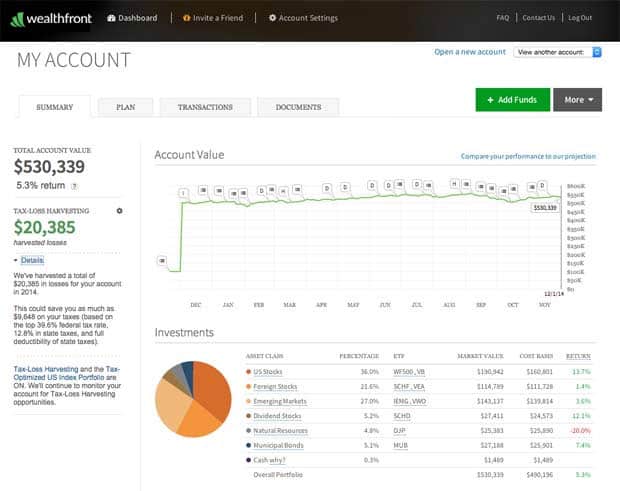 Wealthfront Features
So what are some of the features that you get when you open a Wealthfront account?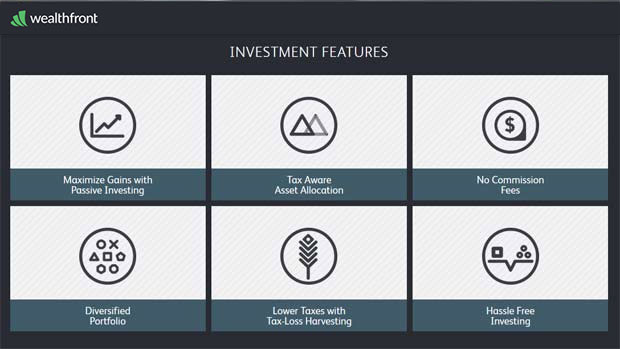 Proven passive investing strategy that gives you a diversified portfolio

So what do you invest in when investing with Wealthfront?
We invest with an equity orientation to maximize long-term returns. Each of our selected asset classes is represented by a low cost, passive ETF. We continuously monitor and periodically rebalance your portfolio to maximize your chance of investment success for the long run. We also attempt to minimize your taxes by analyzing the taxes likely to be generated by any given asset class, and then allocating different asset classes in taxable and non-taxable (retirement) portfolios. We use Modern Portfolio Theory (MPT) to identify the ideal portfolio for each client. 
Your portfolio will consist mainly of low cost ETF index funds that will be tailored to your risk tolerance, with intelligent dividend reinvestment and regular portfolio rebalancing. It is fully diversified.  For a complete look at the Wealthfront strategy you can check it out here.
Tax aware asset allocation and tax loss harvesting
Tax-loss harvesting essentially takes investments that have declined in value and selling them at a loss, generating a tax deduction. The tax deduction helps to reduce your taxes.  Wealthfront's service allows daily tax harvesting to be possible, which can help to maximize gains versus a traditional year end tax loss harvesting. This service is available at no extra cost to investors with $100,000 or more in assets.  UPDATE: Tax loss harvesting is now available to all investors, no minimum!
Wealthfront also invests in index funds which tend to have little turnover, and as such will likely realize lower capital gains taxes.  They also use dividends to rebalance your portfolio throughout the year, lowering capital gains. They optimize asset classes and allocations depending on whether an account is taxable or tax advantaged.
No commission fees
With Wealthfront you're never going to pay fees for purchase of the ETFs in your account.
Fees, Charges & Minimums For Wealthfront
What are the fees that you'll have to pay for the Wealthfront investment service?  The good news is they offer some extremely competitive rates, and if you have below $10,000 in assets you'll be able to invest for free!
Wealthfront does not charge an advisory fee on the first $10,000 of assets under management. On amounts over $10,000, we charge a monthly advisory fee based on an annual fee rate of 0.25%. The only other fee you incur is the very low fee embedded in the cost of the ETFs you will own that averages 0.15%.

Fees
You pay the following fees to Wealthfront:
$500-$10,000: FREE – No fees.

0.25% annual fee of assets over $10,000.
NOTE: Sign up via the exclusive Bible Money Matters link, and get an extra $5,000 (total of $15,000) managed for free!
So if you have $30,000 in your account and  you signed up via our link, you'll have no charge for the first $15,000, and a 0.25% fee on the second $15,000.
When you sign up you'll also have the chance to refer other users to the service to earn $5,000 more per user in free asset management, beyond the first $15,000.  If you know enough people who want to sign up, you could definitely increase the amount managed for free very quickly!
Account Minimums
An account with Wealthfront does come with a minimum balance. As recently as earlier this year it was $5000, but they recently dropped it to be only $500, which is doable for most people.
Our account minimum is $500, which entitles you to a periodically rebalanced, diversified portfolio of low cost index funds enhanced with our daily tax-loss harvesting service (for taxable accounts).The account minimum required to qualify for our Tax-Optimized Direct Indexing service is $100,000.

So to open an account, you'll need a minimum of $500.  Why not start with $500, and then fully fund your Roth IRA for the year ($5500 for 2015)?
There is also a minimum withdrawal of $250, and you can't withdraw below the account minimum of $500.
If you withdraw all of your funds it will transfer your  money and close your account for you, with no exit fees.
Wealthfront – Great Low Cost Investment Advisory Service
When I first heard about Wealthfront a few months ago, I wasn't sure if it would be a service that I could recommend.  After doing my due diligence, however, I believe they're a great service that would be beneficial for a lot of people.
They've got an easy to use site, a tax efficient investment strategy and automatic re-allocation and dividend reinvestment to boot. Add to that the fact that they're free to use for users who are just starting out – with a low $500 minimum, and you really can't lose!
I'd highly recommend giving them a chance if you're looking for an easy place to start investing – that will work for you over the long haul.
Sign up for Wealthfront and get $15,000 managed for FREE