This weekend was an extremely beautiful one here in the Twin Cities area.  We had temps in the 80s, blue skies and a slight breeze. Perfect weather in my opinion!
I was able to get out and take some photos with my new Canon EOS Rebel T1i down at one of the popular lakes in our area, and I got some great shots of the bumblebees as they hopped from plant to plant partaking in their sweet flowery goodness!
In related insect news, I also discovered some wasp nests on the side of our garage this weekend. Luckily the nests weren't very far along and i was able to dismantle them before all the wasps had moved in.  Before I did though, I got a couple of pictures of those as well.  Don't these bugs just look scary up close?
Thankfully I wasn't stung when I took down the nests.  The last time I was stung by a wasp it stung me right on the eyelid, causing my eye to balloon up. I couldn't see for several days out of that eye!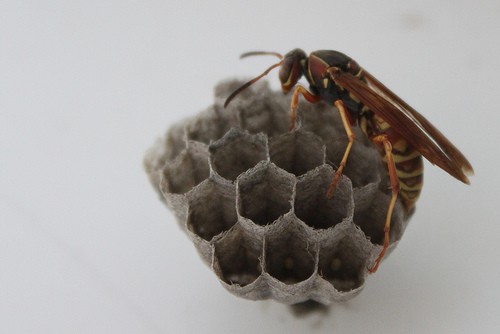 2nd Quarter Estimated Taxes Are Due Today!
If you're self employed, or have self employment income, don't forget that your second quarter estimated tax payment is due today!  For more details about how estimated tax payments work, check out my article on the topic:  Estimated Tax Payments
Carnivals
I was included in several carnivals this past week, and was honored to be chosen as the editor's pick in several of them.
Good Reading For This Week
Lots of good personal finance reads for the coming week. Here are a few of them.
Last Edited:

17th June 2009
Related Posts