Well the DOW futures this morning said that the DOW would jump by 380 points or so.  When the markets opened, the DOW shot up over 400 points right out of the gate.  Right now the markets are up about 450 points.  Nice to see some positive action in the markets.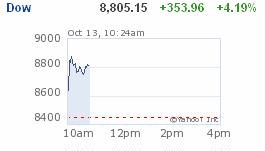 Continues after Advertisement
---
---
In other news over the weekend, investors seem to be cautiously optimistic on news of pledged government aid:

Wall Street is snapping back from last week's devastating losses on growing hopes the stock market will finally find some footing. Investors are cautiously optimistic after the Bush administration and European governments pledged coordinated actions to help the crippled financial system. The Treasury has said it plans to buy U.S. bank stocks.
Here's to hoping for a big rebound in the market.
I also noticed this morning that Biblemoneymatters.com just passed 150,000 page views on the site since our launch.  Thanks to everyone for visiting the site, and making it more successful than I could have ever imagined!
Here's a bit of good reading as you get ready for the day!